About Asgard's Secrets
Ascension Enhancement Bundle.
Sold in conjunction with the Ascension to Asgard event.
Grand seeds are not included.
You can choose the rank of the material, but not the type.
Not applicable for Emerald Waterfalls.
Eligible for earning VIP points.
It may not be considered a particularly advantageous deal.
List
Bundle 1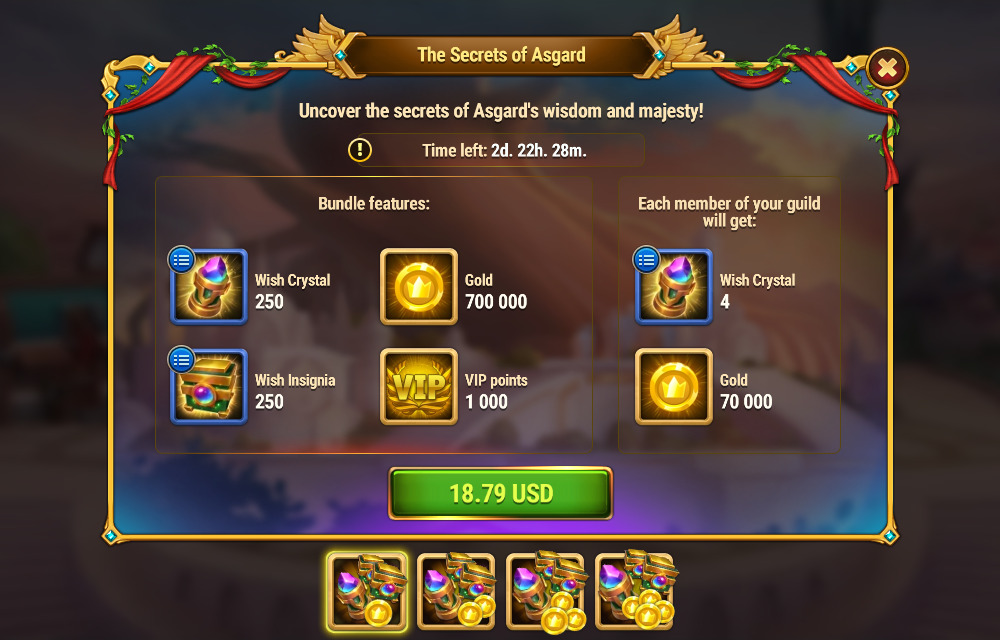 Bundle 2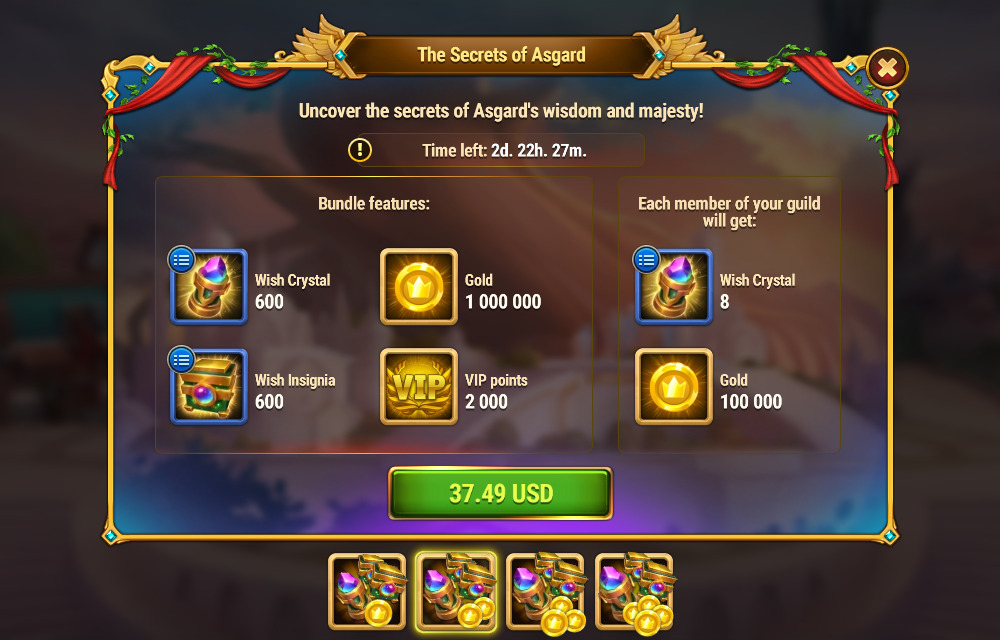 Bundle 3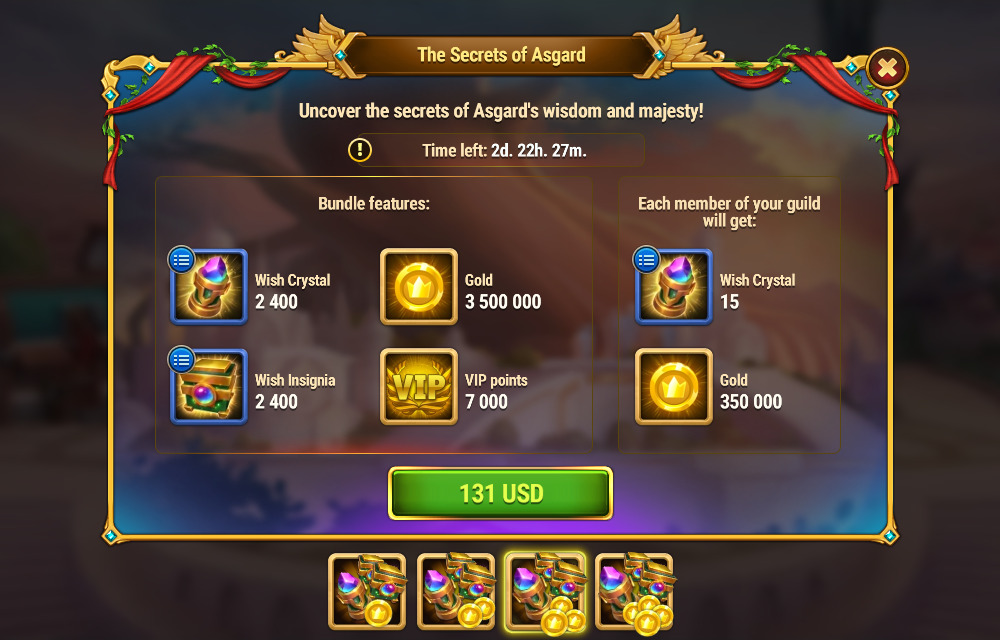 Bundle 4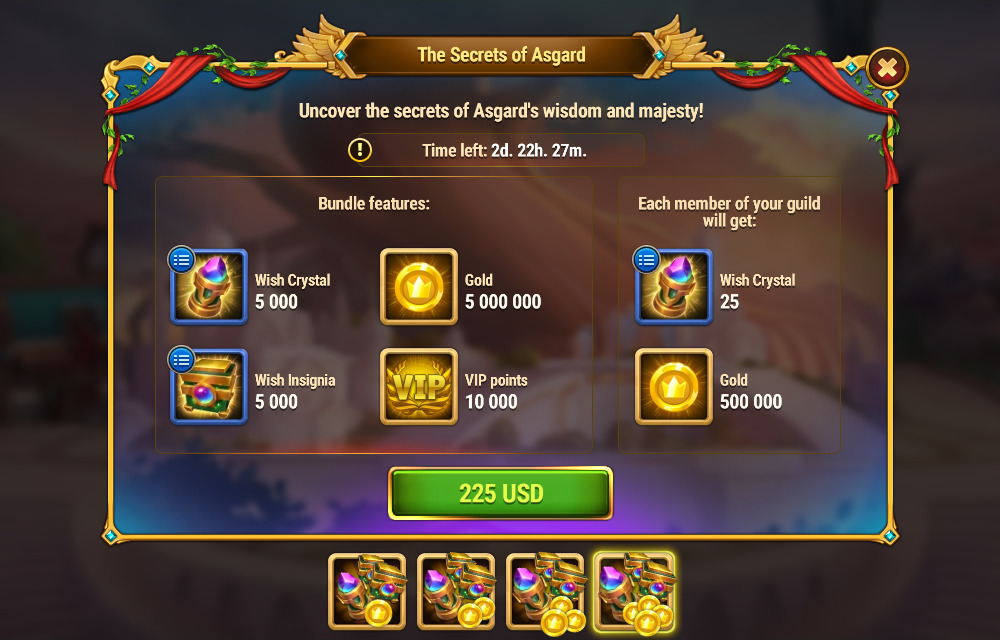 Comparison between Asgard's Secrets and Astral Providence
All bundles are compared assuming they were exchanged for top-tier materials (as these are the scarcest in the end).
In the case of Astral Providence, we assume a VIP15 player spent the necessary amount to purchase the bundle during an Emeralds x4 sale, and used the Emeralds to run Astral Providence. (For instance, if we consider an Emeralds x5 sale, the expected value would be 1.25 times this amount).
The Astral Providence calculation is based on the actual value of 20 sets of 100-round runs.
Sharing to guild members is not included in the comparison conditions.
The impact of the Emerald Waterfalls and other factors are not included in the comparison conditions.
Bundle 1
| | | |
| --- | --- | --- |
| | Bundle 1 | Astral Seer |
| Eternal Seed | | 8 |
| Crystal | | 1,297 |
| Vibrant Crystal | | 690 |
| Radiant Crystal | 250 | 324 |
| Insignia | | 660 |
| Greater Insignia | 250 | 329 |
Bundle 2
| | | |
| --- | --- | --- |
| | Bundle 2 | Astral Seer |
| Eternal Seed | | 16 |
| Crystal | | 2,595 |
| Vibrant Crystal | | 1,381 |
| Radiant Crystal | 600 | 6,47 |
| Insignia | | 1,321 |
| Greater Insignia | 600 | 659 |
Bundle 3
| | | |
| --- | --- | --- |
| | Bundle 3 | Astral Seer |
| Eternal Seed | | 57 |
| Crystal | | 9,173 |
| Vibrant Crystal | | 4,879 |
| Radiant Crystal | 2,400 | 2,288 |
| Insignia | | 4,668 |
| Greater Insignia | 2,400 | 2,328 |
Bundle 4
| | | |
| --- | --- | --- |
| | Bundle 4 | Astral Seer |
| Eternal Seed | | 97 |
| Crystal | | 15,614 |
| Vibrant Crystal | | 8,305 |
| Radiant Crystal | 5,000 | 3,894 |
| Insignia | | 7,946 |
| Greater Insignia | 5,000 | 3,962 |
Rewords
Wish Crystal
Wish Insignia
vent Page
Other Way
Ascension Season
Ascension Resource Gift
Related Bundles
The Secret of Asgard (Old Ver.)
Wisdom of Asgard
All Crystals! x2 Bundle
All Insignia! x2 Bundle