What is Light and Dark Artifacts?
Events for Light and Dark Titan Artifacts event.
Cosmic Artifact Chest are the main prize.
It would not be a hindrance to lightly flushing them out.

Official Announcements
On January 27, 2 AM UTC a brand new special event will start! Complete quests to earn Cosmic Artifact Chests that contain Crown and Weapon Artifact fragments for Light and Dark Titans and other valuable resources!
See you in the game!
Flavor Text
Even the brightest light can be blocked by an impenetrable shield. Even the deepest darkness can be dispelled by a burning blade. The great artisans of Ghirwil City rediscover the long-lost craft as they create new artifacts for Light and Dark Titans!
Quest Order
1. Log in (MAX 3)
2. VIP Level (MAX 7)
3. Reach VIP points (MAX 9,000)
4. Spend Emerald (MAX 120,000)
5. Spend Energy (MAX 16,000)
6. Open Outland Chest (MAX 230)
7. Upgrade any titan's skin (MAX 40)
8. Summoning spheres (MAX 150)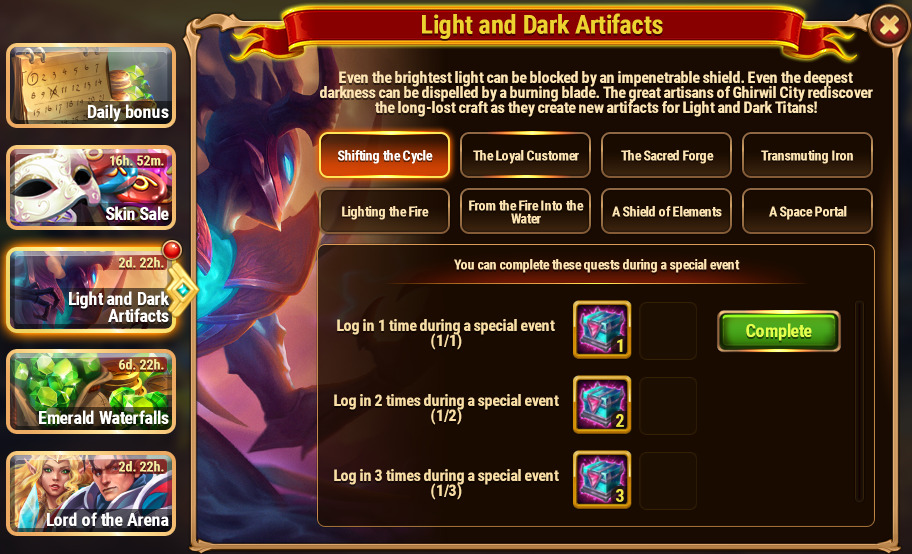 Resources needed to Complete the quests
Number of Titan Skins needed (Level 0 -> Level 40 : 82,265)
All Quests
Cosmic Artifact Chest
Event History
Friday, January 27, 2023 (3 days)
Sunday, July 02, 2023 (3 days)
Tuesday, December 05, 2023 (3 days)
Bundle
Related Event
Shining Ascension
The Color of the Night
Related Articles
Titan Artifact
Difference 5 Elements Titans
Double Totem System
Clash of Worlds