What is the Honey?
Available at the Summer Festival event.
Root box available only in the event screen.
In terms of the value ratio of the contents, the value is concentrated in the grand prize, the Summer Festival coin.
Not in matryoshka format.
The emission rate of the grand prize is high for the first 10 or so events. Therefore, it is felt that the grand prize is more likely to be given out to those who do not work too hard for the event.
Results show that it actually starts at 20% and is estimated to be about 10% in the end. Some believe that the probability is not changing, but that the BLP is set at the 3rd, 9th, and 24th times.
Those who are lucky have an ejection rate of over 25% for the grand prize, and those who are extremely unlucky have a track record of 2%. Extremely large individual differences.
Most people settle for results of 10% to 20%, but there is no guarantee of a stable result. So I can only say that most people…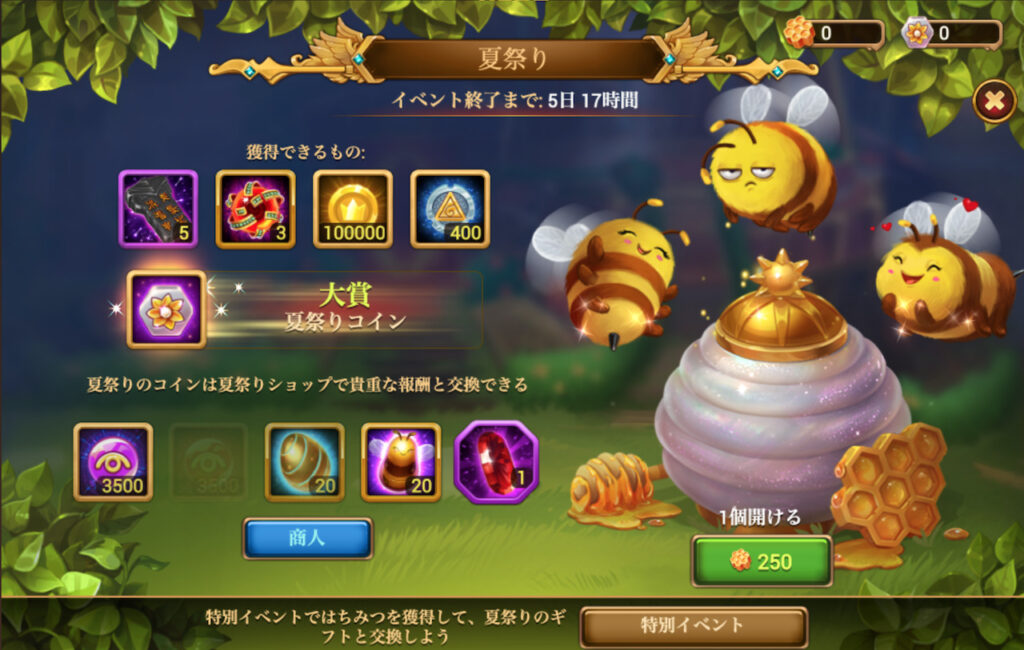 Root box discharge rate
Honey, 1,165 pieces opened. For your reference.
(Thanks to DASHIMAKI-TAMAGO and japanese-chat for their help!)
Summer Festival coin x1 : 161 (13.8%)
Great enchantment rune x5 : 168 (14.4%)
Chaos Core x3 : 207 (17.8%)
Gold x100,000 : 311 (26.7%)
Artifct Coin x400 : 318 (27.3%)
Estimated Value of Honey
Including Gold: 899 Emerald
Without Gold: 886 Emerald
Honey Value Ratio
Summer Festival coin : 76.8%
Great enchantment rune : 8%
Chaos Core : 11.4%
Gold : 1.5%
Artifct Coin : 2.3%
Expected value: 25,000 Honey (100open)
Summer Festival coin : 14
Great enchantment rune : 72
Chaos Core : 53
Gold : 2,670,149
Artifct Coin : 10,922
Event Page
Event Shop
Event Item(Summer Doll)
Event Quests
T.B.D.
Mini-Game