Exploring the Champion's Treasure
This exclusive offer is available alongside the Space Battle event.
While it may not provide the best value for your money, it offers considerable flexibility, especially when you plan to utilize the event store.
If you're looking for a better deal, it's worth considering purchasing emeralds during a x4 sale.
Subscribers can take advantage of VIP benefits.
Additionally, it allows you to participate in Emerald Falls (if it happens to coincide with the event).
All Champion's Treasures
Bundle 1
Bundle 2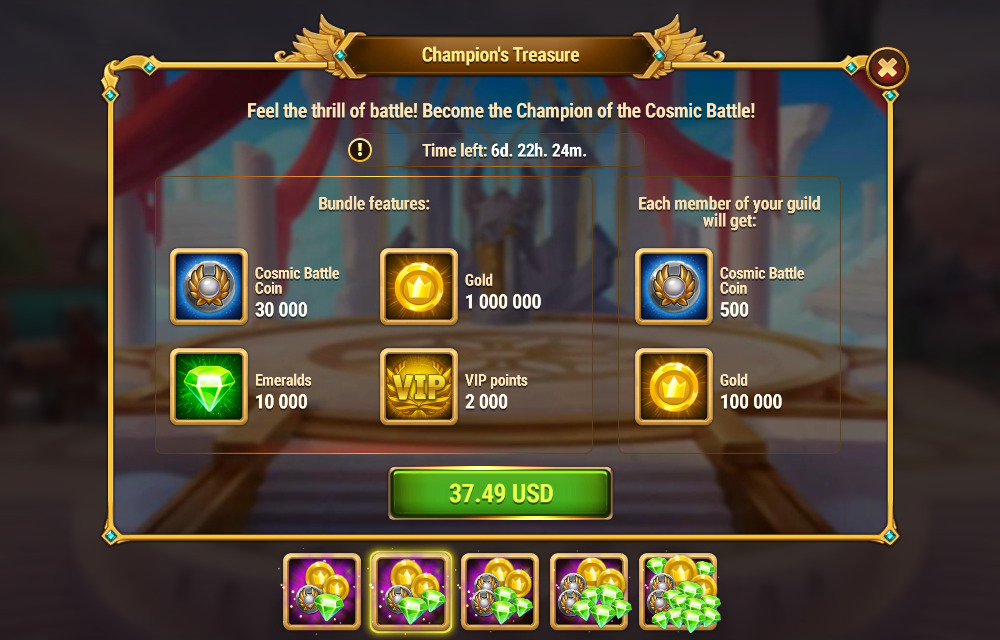 Bundle 3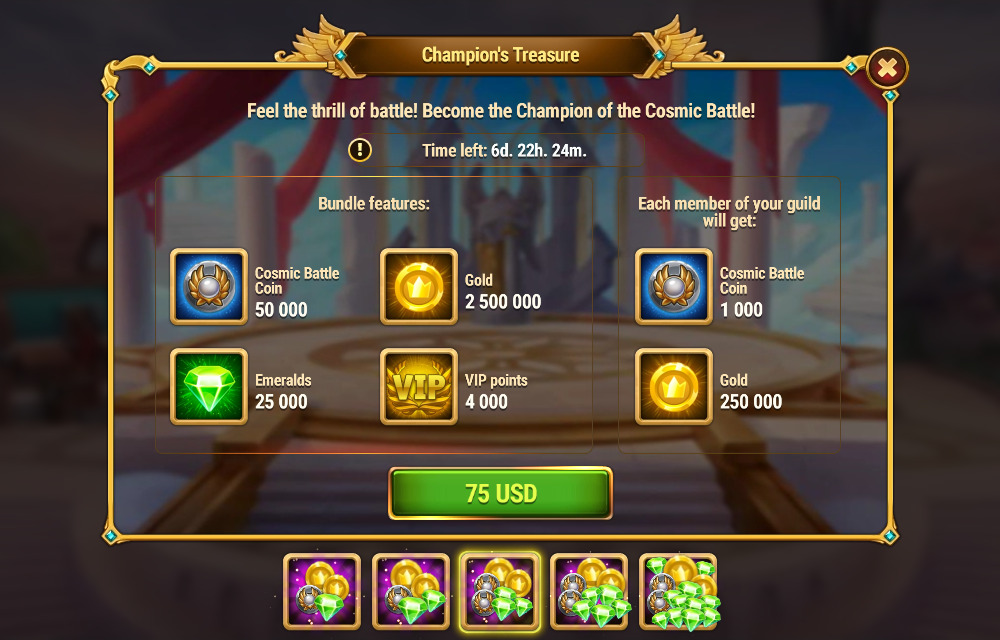 Bundle 4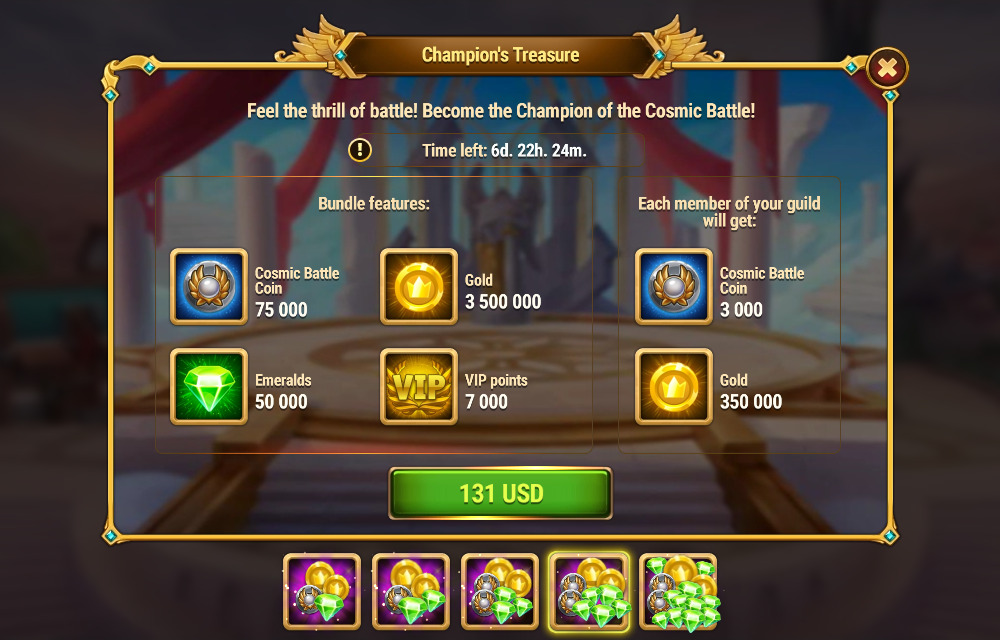 Bundle 5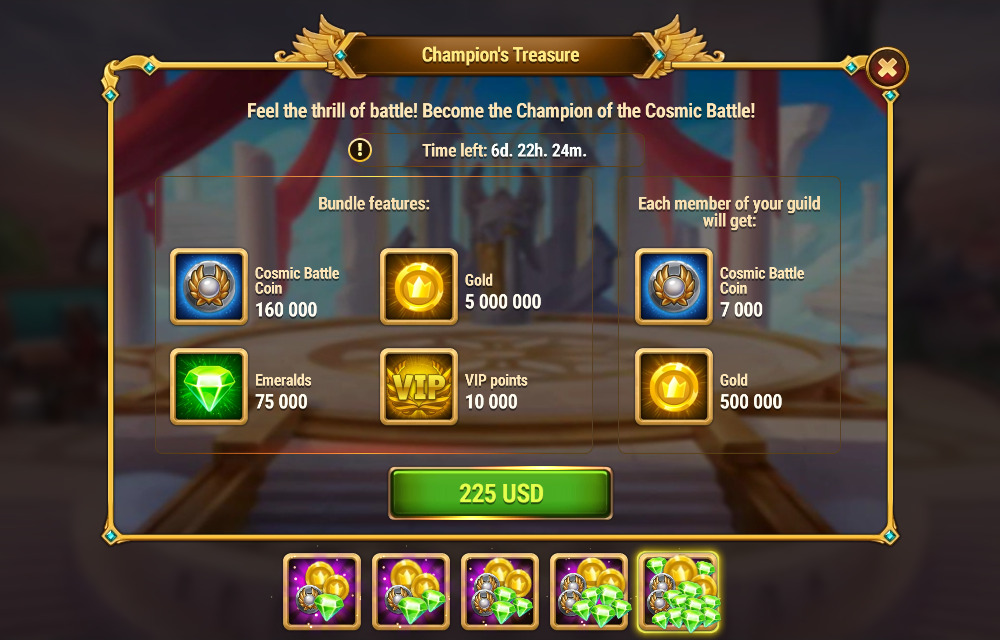 Estimated Emerald equivalent for each bundle
Bundle 1 = 11,350 Emeralds(x1.9)
Bundle 2 = 25,500 Emeralds(x2.2)
Bundle 3 = 51,250 Emeralds(x2.2)
Bundle 4 = 89,250 Emeralds(x2.2)
Bundle 5 = 157,500 Emeralds(x2.2)
Estimated Emerald equivalent for each bundle(in Guild will get)
Bundle 1 = 15,265 Emeralds(x2.6)
Bundle 2 = 34,200 Emeralds(x2.9)
Bundle 3 = 69,375 Emeralds(x2.9)
Bundle 4 = 137,825 Emeralds(x3.3)
Bundle 5 = 266,250 Emeralds(x3.7)
Estimated Emerald equivalent for each bundle(in Quests will get)
Bundle 1 = 12,650 Emeralds(x2.1)
Bundle 2 = 28,175 Emeralds(x2.4)
Bundle 3 = 55,175 Emeralds(x2.3)
Bundle 4 = 97,425 Emeralds(x2.4)
Bundle 5 = 174,425 Emeralds(x2.5)
Estimated Emerald equivalent for each bundle(in Quests will get & Guild will get)
Bundle 1 = 16,565 Emeralds(x2.8)
Bundle 2 = 36,875 Emeralds(x3.1)
Bundle 3 = 73,300 Emeralds(x3.1)
Bundle 4 = 146,000 Emeralds(x3.5)
Bundle 5 = 283,175 Emeralds(x4)
Play Guide
Cosmic Battle
Cosmic Battle Shop Guide
2nd Event
1st Event
Decoding Cosmic Battle BAN Specifications and Voting Patterns
Heroes That Could Possibly Save the Day in Cosmic Battle
Cosmic Battle Day 1: Jorgen's Dominance
The Pass of a Warrior