Cosmic Battle Shop Overview
Visit the Limited Time Shop during the Hero Wars "Cosmic Battle" Special Event.
Utilize the event currency called "Cosmic Battle Coin" to make purchases.
The shop is set to be available one day longer than the end of the event.
The cost performance of Gift of the Dominion is based on the average amount spent under the best conditions. For example, Legendary is an about average of 6 pieces of orange +4 equipment.
Equipment chests may have different cost performance depending on what was chosen. Rare fair equivalent value by selected outcome.
List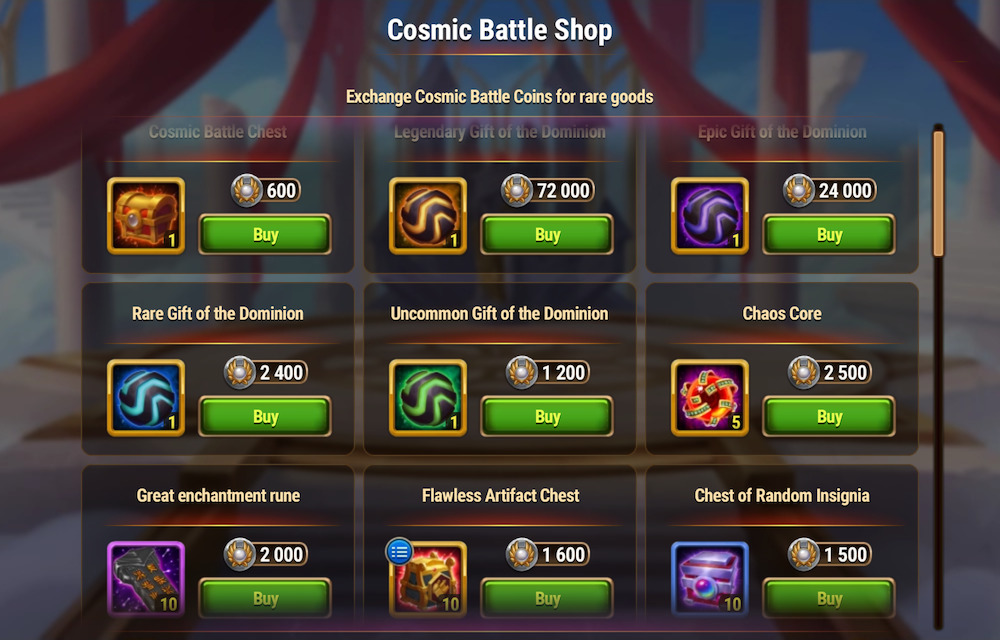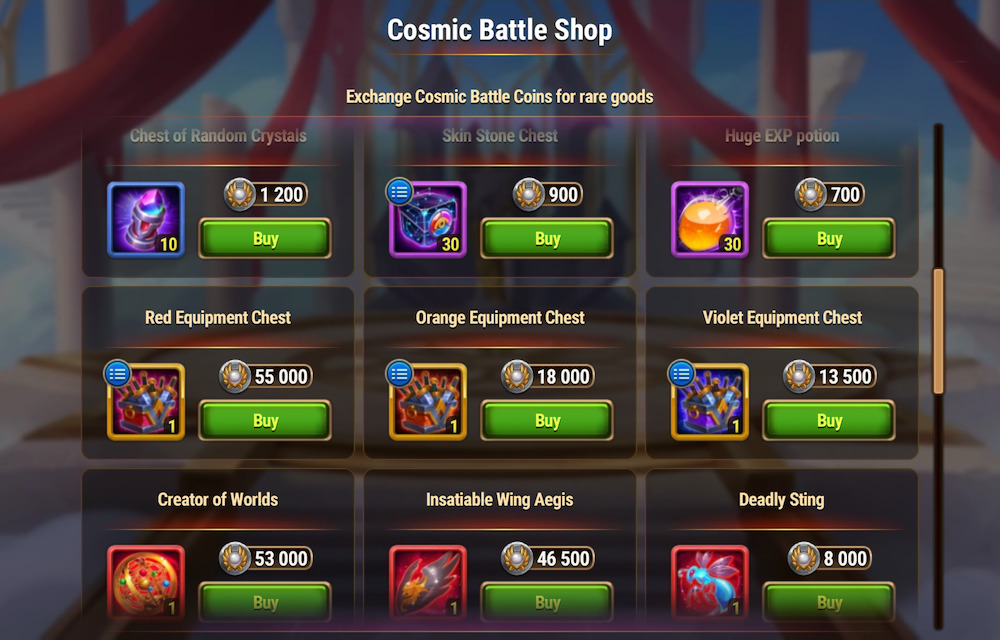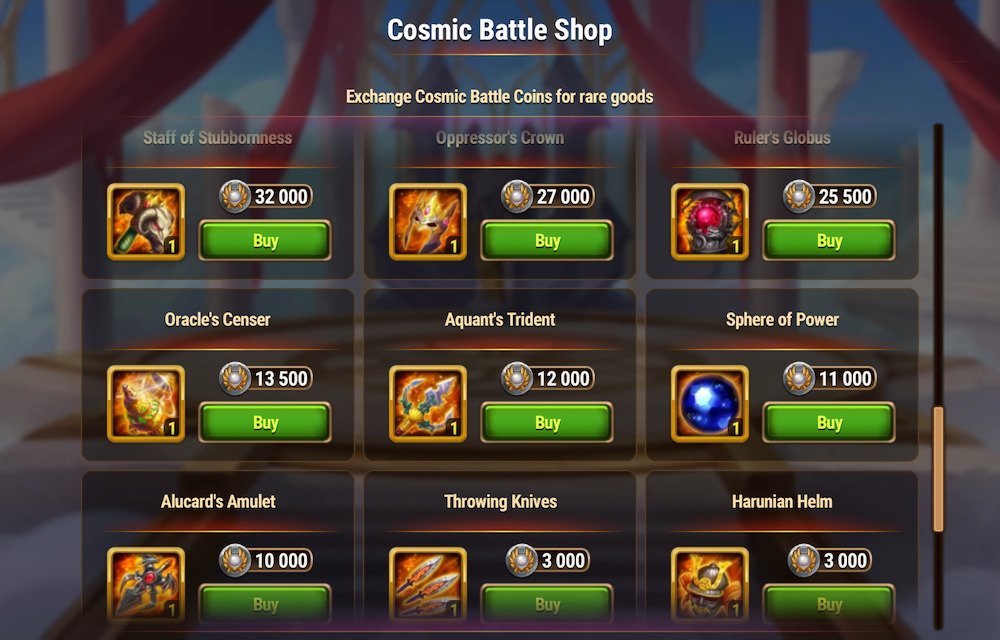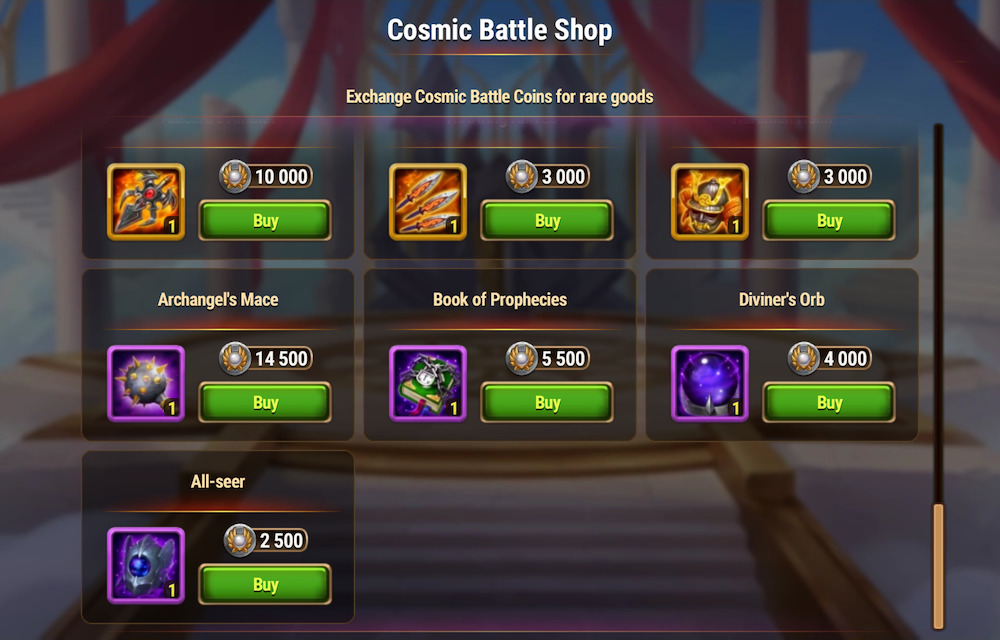 Recommendations
In terms of a balanced requirement, Skin Stone Chest, Great Enchantment Rune, and Chest of Random Crystal appear to be promising choices. Skin Stone and Rune rates don't seem too bad either.
In terms of cost-effectiveness, Legendary Gift of the Dominion, Alucard's Amulet, and Throwing Knives look promising. Depending on your development status, these may also be the best choice in some cases.
Each person's judgment may vary depending on their individual development status and strategy, but with the items listed in these recommendations, you shouldn't have any regrets.
Cosmic Battle Shop Pricing
Items exceeding 100% offer better value than standard method (ex. Rarity Fair).
Items falling below 100% offer low value than standard method (ex. Rarity Fair).
Cosmic Battle Chest lacks an adequate number of statistics, and the estimated value is not yet precise enough.
1 Cosmic Battle Chest : 600 Cosmic Battle Coin(worth 218 Emerald / 72.5%)
1 Legendary Gift of the Dominion : 72,000 Cosmic Battle Coin(worth 41,000 Emerald / 113.9%)
1 Epic Gift of the Dominion : 24,000 Cosmic Battle Coin(worth 10,800 Emerald / 90%)
1 Rare Gift of the Dominion : 2,400 Cosmic Battle Coin(worth 750 Emerald / 62.5%)
1 Uncommon Gift of the Dominion : 1,200 Cosmic Battle Coin(worth 115 Emerald / 19.2%)
5 Chaos Core : 2,500 Cosmic Battle Coin(worth 960 Emerald / 76.8%)
10 Great enchantment rune : 2,000 Cosmic Battle Coin(worth 1,000 Emerald / 100%)
10 Flawless Artifact Chest : 1,600 Cosmic Battle Coin(worth 480 Emerald / 60%)
10 Chest of Random Crystal : 1,500 Cosmic Battle Coin(under investigation)
10 Chest of Random Insignia : 1,200 Cosmic Battle Coin(under investigation)
30 Skin Stone Chest : 900 Cosmic Battle Coin(worth 384 Emerald / 85.3%)
30 Huge EXP potion : 700 Cosmic Battle Coin(worth 150 Emerald / 42.9%)
1 Red Equipment Chest (Piercing Gaze) : 55,000 Cosmic Battle Coin(worth 23,200 Emerald / 84.4%)
1 Red Equipment Chest (Ace in the Hole) : 55,000 Cosmic Battle Coin(worth 23,360 Emerald / 84.9%)
1 Red Equipment Chest (Enslaved Demon) : 55,000 Cosmic Battle Coin(worth 23,200 Emerald / 84.4%)
1 Red Equipment Chest (Helm of Clear Thoughts) : 55,000 Cosmic Battle Coin(worth 18,400 Emerald / 66.9%)
1 Orange Equipment Chest (Shining Armor) : 18,000 Cosmic Battle Coin(worth 7,200 Emerald / 80%)
1 Orange Equipment Chest (All-Seeing Eye) : 18,000 Cosmic Battle Coin(worth 7,200 Emerald / 80%)
1 Orange Equipment Chest (Creator's Feathering) : 18,000 Cosmic Battle Coin(worth 7,200 Emerald / 80%)
1 Orange Equipment Chest (Dwarven Hardbane) : 18,000 Cosmic Battle Coin(worth 7,200 Emerald / 80%)
1 Violet Equipment Chest (Panoptic Orb) : 13,500 Cosmic Battle Coin(worth 5,000 Emerald / 74.1%)
1 Violet Equipment Chest (Staff of Morana's Nimbus) : 13,500 Cosmic Battle Coin(worth 5,000 Emerald / 74.1%)
1 Violet Equipment Chest (Cosmic Tremor) : 13,500 Cosmic Battle Coin(worth 5,000 Emerald / 74.1%)
1 Violet Equipment Chest (Book of Fate) : 13,500 Cosmic Battle Coin(worth 6,600 Emerald / 97.8%)
1 Creator of Worlds : 53,000 Cosmic Battle Coin(worth 26,400 Emerald / 99.6%)
1 Insatiable Wing Aegis : 46,500 Cosmic Battle Coin(worth 23,200 Emerald / 99.8%)
1 Deadly Sting : 8,000 Cosmic Battle Coin(worth 4,000 Emerald / 100%)
1 Staff of Stubbornness : 32,000 Cosmic Battle Coin(worth 15,960 Emerald / 99.8%)
1 Oppressor's Crown : 27,000 Cosmic Battle Coin(worth 13,400 Emerald / 99.3%)
1 Ruler's Globus : 25,500 Cosmic Battle Coin(worth 12,800 Emerald / 100.4%)
1 Oracle's Censer : 13,500 Cosmic Battle Coin(worth 6,800 Emerald / 100.7%)
1 Aquant's Trident : 12,000 Cosmic Battle Coin(worth 5,760 Emerald / 96%)
1 Sphere of Power : 11,000 Cosmic Battle Coin(worth 5,600 Emerald / 101.8%)
1 Alucard's Amulet : 10,000 Cosmic Battle Coin(worth 5,600 Emerald / 112%)
1 Throwing Knives : 3,000 Cosmic Battle Coin(worth 1,600 Emerald / 106.7%)
1 Harunian Helm : 3,000 Cosmic Battle Coin(worth 1,600 Emerald / 106.7%)
1 Archangel's Mace : 14,500 Cosmic Battle Coin(worth 6,920 Emerald / 95.4%)
1 Book of Prophecies : 5,500 Cosmic Battle Coin(worth 2,800 Emerald / 101.8%)
1 Diviner's Orb : 4,000 Cosmic Battle Coin(worth 2,000 Emerald / 100%)
1 All-Seer : 2,500 Cosmic Battle Coin(worth 1,280 Emerald / 102.4%)
Cost Performance Ranking
1 Legendary Gift of the Dominion : 72,000 Cosmic Battle Coin(worth 41,000 Emerald / 113.9%)
1 Alucard's Amulet : 10,000 Cosmic Battle Coin(worth 5,600 Emerald / 112%)
1 Throwing Knives : 3,000 Cosmic Battle Coin(worth 1,600 Emerald / 106.7%)
1 Harunian Helm : 3,000 Cosmic Battle Coin(worth 1,600 Emerald / 106.7%)
1 All-Seer : 2,500 Cosmic Battle Coin(worth 1,280 Emerald / 102.4%)
1 Sphere of Power : 11,000 Cosmic Battle Coin(worth 5,600 Emerald / 101.8%)
1 Book of Prophecies : 5,500 Cosmic Battle Coin(worth 2,800 Emerald / 101.8%)
Worst Ranking
1 Uncommon Gift of the Dominion : 1,200 Cosmic Battle Coin(worth 115 Emerald / 19.2%)
30 Huge EXP potion : 700 Cosmic Battle Coin(worth 150 Emerald / 42.9%)
10 Flawless Artifact Chest : 1,600 Cosmic Battle Coin(worth 480 Emerald / 60%)
1 Rare Gift of the Dominion : 2,400 Cosmic Battle Coin(worth 750 Emerald / 62.5%)
1 Red Equipment Chest (Helm of Clear Thoughts) : 55,000 Cosmic Battle Coin(worth 18,400 Emerald / 66.9%)
1 Cosmic Battle Chest : 600 Cosmic Battle Coin(worth 218 Emerald / 72.5%)
1 Violet Equipment Chest (Panoptic Orb) : 13,500 Cosmic Battle Coin(worth 5,000 Emerald / 74.1%)
1 Violet Equipment Chest (Staff of Morana's Nimbus) : 13,500 Cosmic Battle Coin(worth 5,000 Emerald / 74.1%)
1 Violet Equipment Chest (Cosmic Tremor) : 13,500 Cosmic Battle Coin(worth 5,000 Emerald / 74.1%)
5 Chaos Core : 2,500 Cosmic Battle Coin(worth 960 Emerald / 76.8%)
1 Orange Equipment Chest (Shining Armor) : 18,000 Cosmic Battle Coin(worth 7,200 Emerald / 80%)
1 Orange Equipment Chest (All-Seeing Eye) : 18,000 Cosmic Battle Coin(worth 7,200 Emerald / 80%)
1 Orange Equipment Chest (Creator's Feathering) : 18,000 Cosmic Battle Coin(worth 7,200 Emerald / 80%)
1 Orange Equipment Chest (Dwarven Hardbane) : 18,000 Cosmic Battle Coin(worth 7,200 Emerald / 80%)
Play Guide
Cosmic Battle
Decoding Cosmic Battle BAN Specifications and Voting Patterns
Heroes That Could Possibly Save the Day in Cosmic Battle
Cosmic Battle Day 1: Jorgen's Dominance
The Pass of a Warrior
Cosmic Battle Chest
Champion's Treasure