About the Special Offer
24-Hour Sale.
Similar to VIP10 Shop.
Bundles are displayed differently for each VIP, confirmed for VIP15 and VIP0-12. Only pet bundle is the same for all.
Titan Artifact bundle is a good deal. However, you won't get the totem.
Overall, x4 sale and other bundles are more recommended.
Note that expensive items are on the left and less expensive items are on the right.
Not eligible for Emerald Waterfalls.
Eligible for VIPs.
Variants with different contents exist and any of them will be displayed.
Bundle List (VIP15)
Pattern A
Skin Stone A-1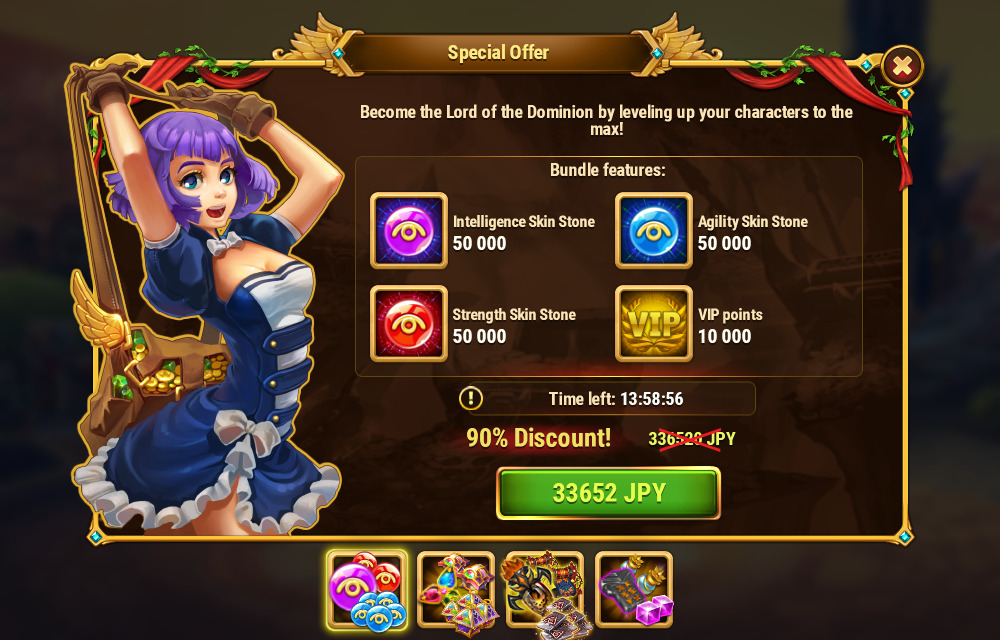 Skin Stone A-2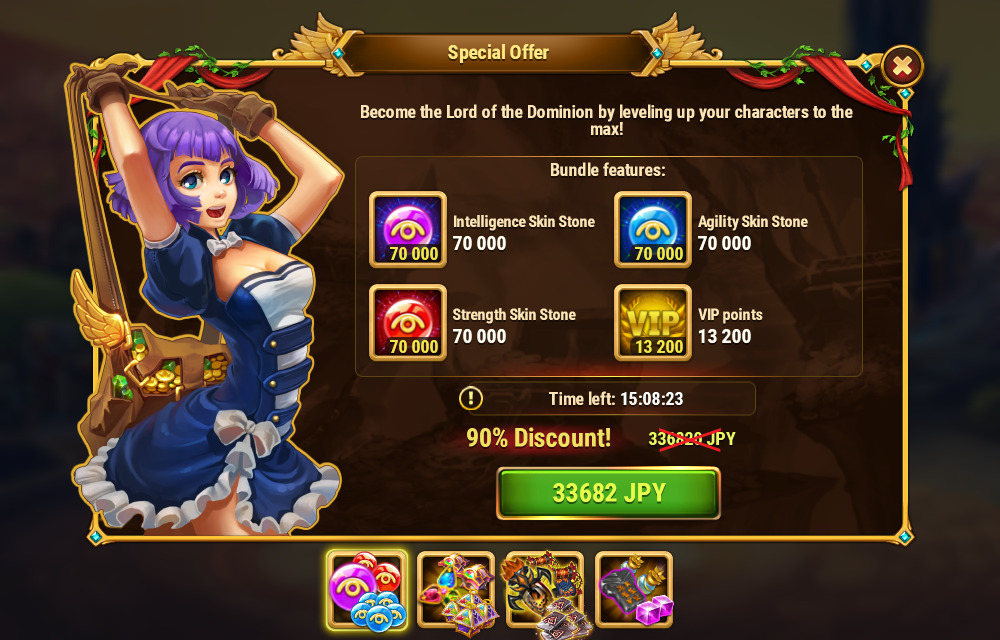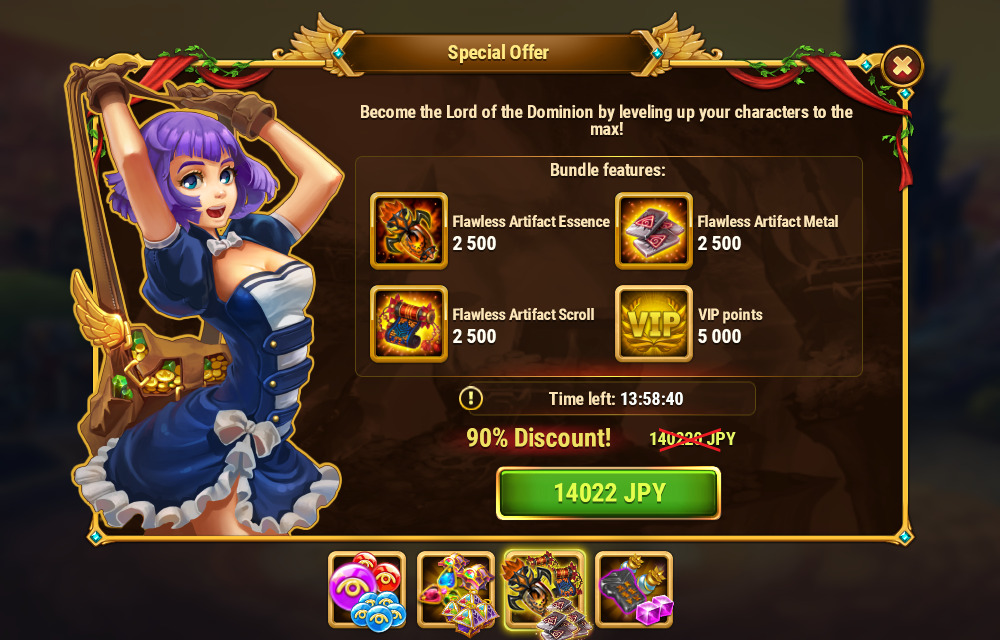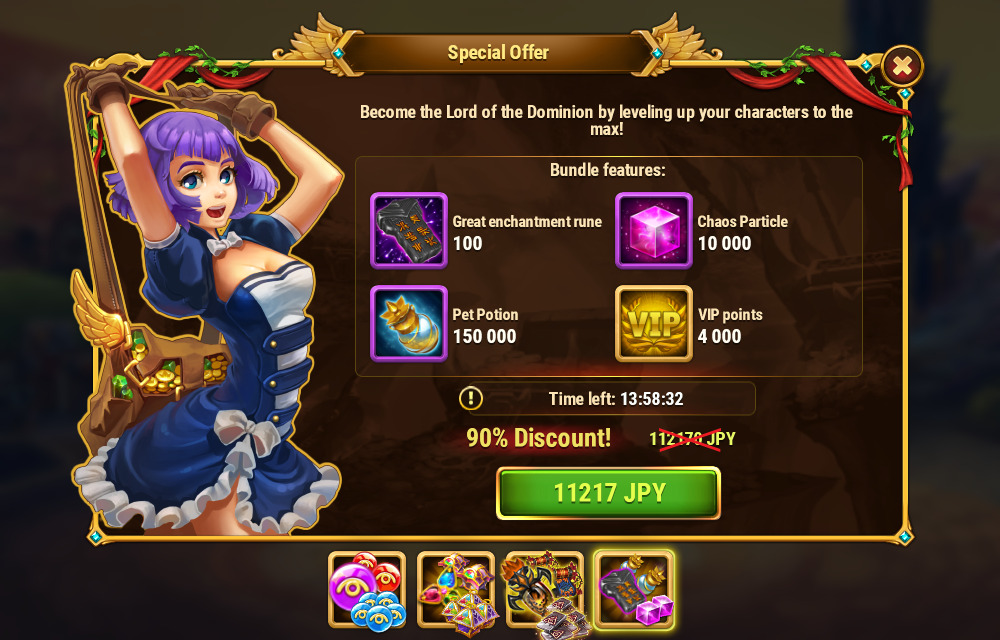 Titan Artifacts A-1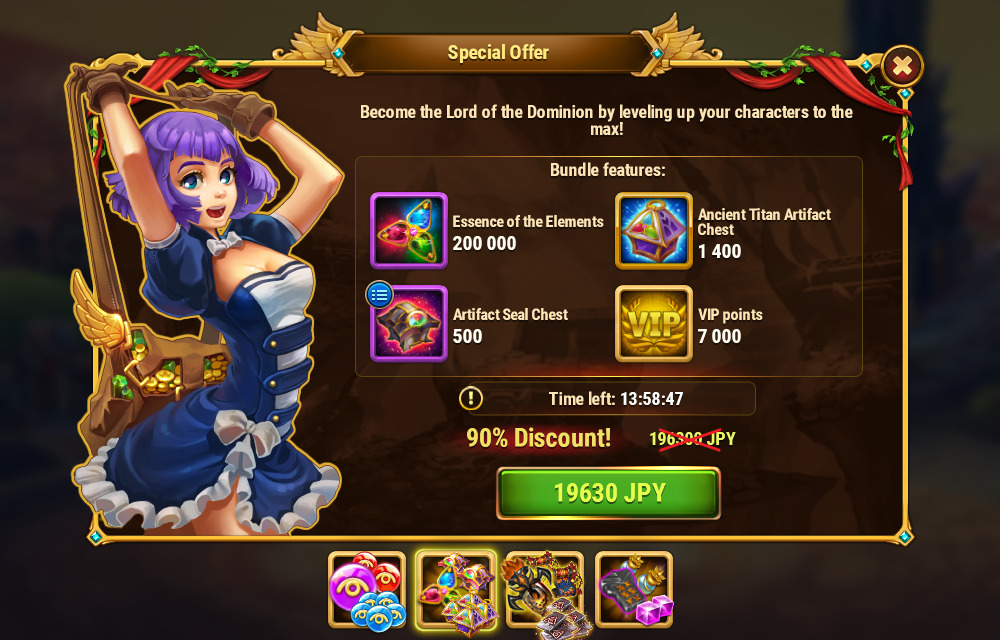 Titan Artifacts A-2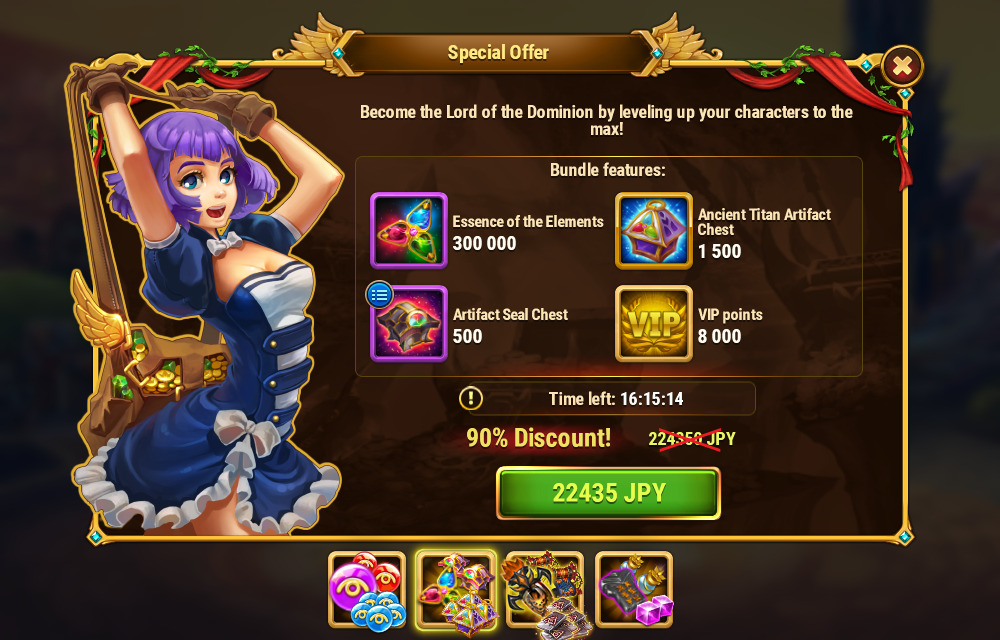 Pattern B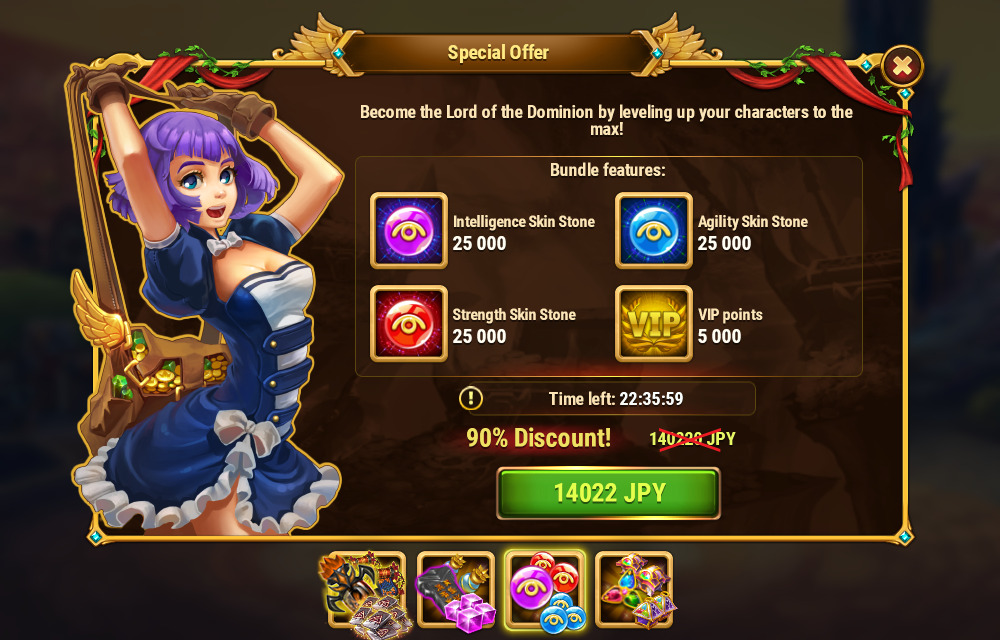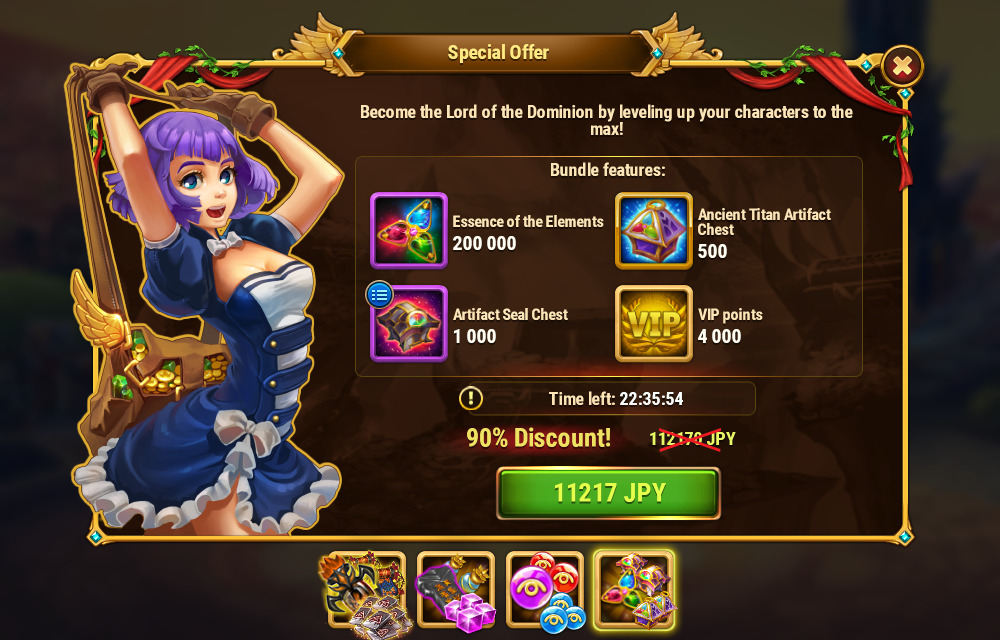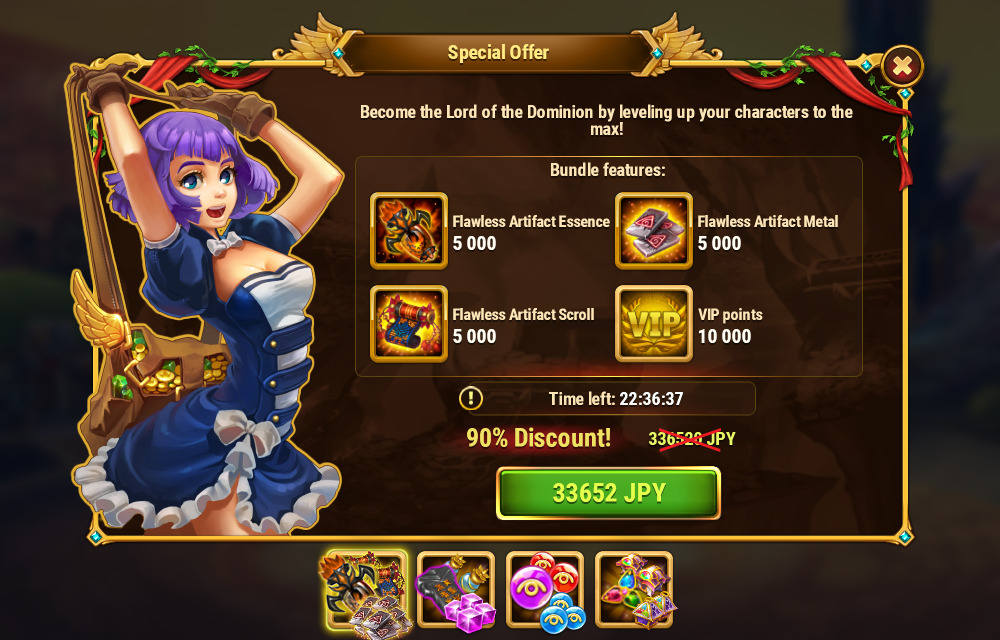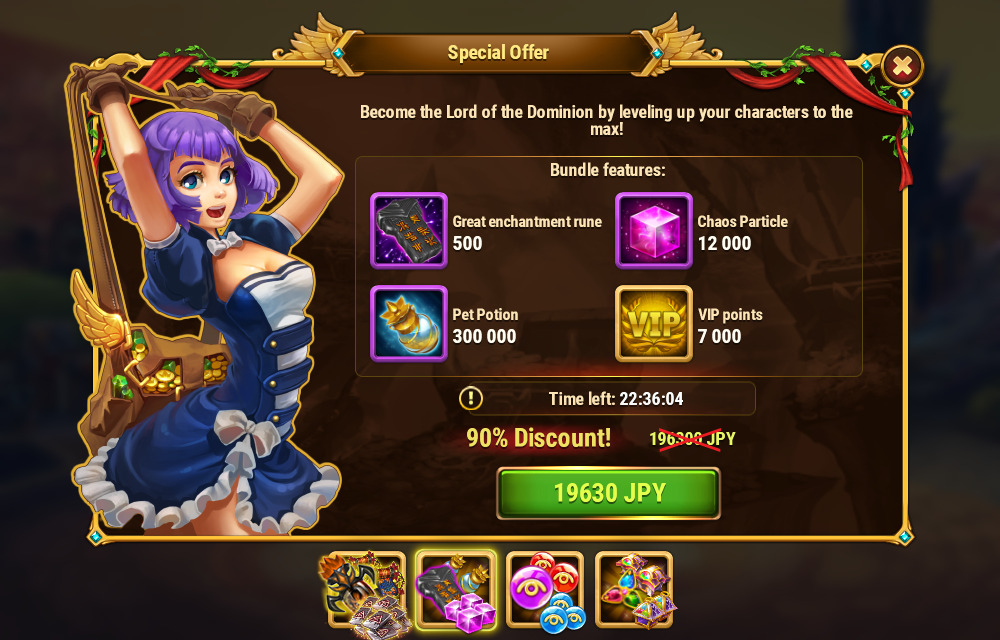 Estimated Emerald equivalent for each bundle (VIP15)
Pattern A
[Skin Stone A-1] : 192,000 Emeralds(x2.6)
[Skin Stone A-2] : 268,800 Emeralds(x3.4)
[Titan Artifacts A-1] : 360,400 Emeralds(x8.5)
[Titan Artifacts A-2] : 394,000 Emeralds(x8.2)
[Artifacts] : 72,000 Emeralds(x2.4)
[Pet] : 95,000 Emeralds(x3.9)
Pattern B
[Skin Stone] : 96,000 Emeralds(x3.2)
[Titan Artifacts A] : 158,000 Emeralds(x6.5)
[Artifacts] : 144,000 Emeralds(x2)
[Pet] : 164,000 Emeralds(x3.9)
Bundled Root Box Description
Ancient Titan Artifact Chest
Bundle History
Thursday, September 22, 2022 (24 hours)
Friday, October 28, 2022 (24 hours)
Tuesday, November 01, 2022 (24 hours)
Wednesday, November 09, 2022 (24 hours)
Wednesday, November 16, 2022 (24 hours)
Monday, January 02, 2023 (24 hours)
Monday, January 09, 2023 (24 hours)
Tuesday, February 28, 2023 (24 hours)
Thursday, March 16, 2023 (24 hours)
Thursday, April 06, 2023 (24 hours)
Thursday, May 04, 2023 (24 hours)
Monday, May 15, 2023 (24 hours)
Sunday, June 04, 2023 (24 hours)
Related Bundles
Special Offer (VIP0-14)
Skin Stones Bundle
Cyber Monday
Secrets of Outland
Compare Skin Stones Bundle
Titan Artifacts Bundle
Titans of the Dominion x2 Bundle
Titan Artifacts Bundle
Artifacts Bundle
Valkyrie's Artifacts x2 Bundle
Valkyrie's Artifacts (Regular Ver.)
Valkyrie's Artifacts (Legacy of the Great Ones Ver.)
Pets Bundle
Dominon Pets Bundle
Dominon Pets x2 Bundle
Great Storm Treasures