What is the Wings of Flame?
The 19th mini-event after K'arkh ,Andvari, ..and any.
The main prizes were a Astaroth Doll and Astaroth Soul Stone.
You could say that this event is for collecting Astaroth Soul Stone.
If you're not interested in the Astaroth Soul Stone, I think it's fine there.
There is a dedicated bundle and a daily bundle.
Flavor Text
The light of myriad flames has painted the walls of Strongford a crimson red: Astaroth has come to the city. His strength and power thrill and terrify all at once, his dark past troubling those that know of it. What are you up to, demon in an angel's guise?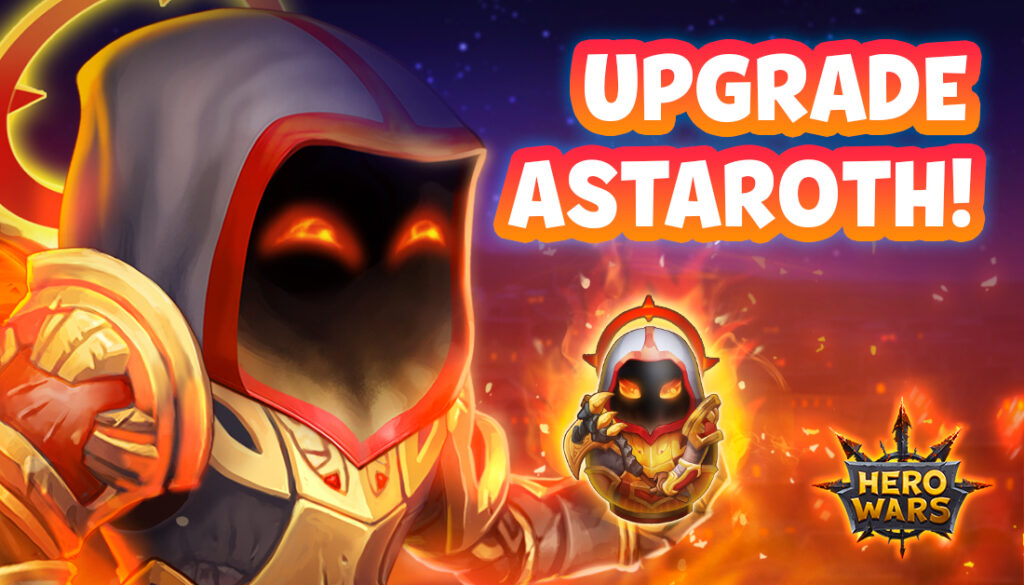 Wings of Flame Quest Order
1. Log in (MAX 3)
2. Get VIP (MAX 4,500)
3. Spend Emeralds (MAX 65,000)
4. Spend energy (MAX 15,000)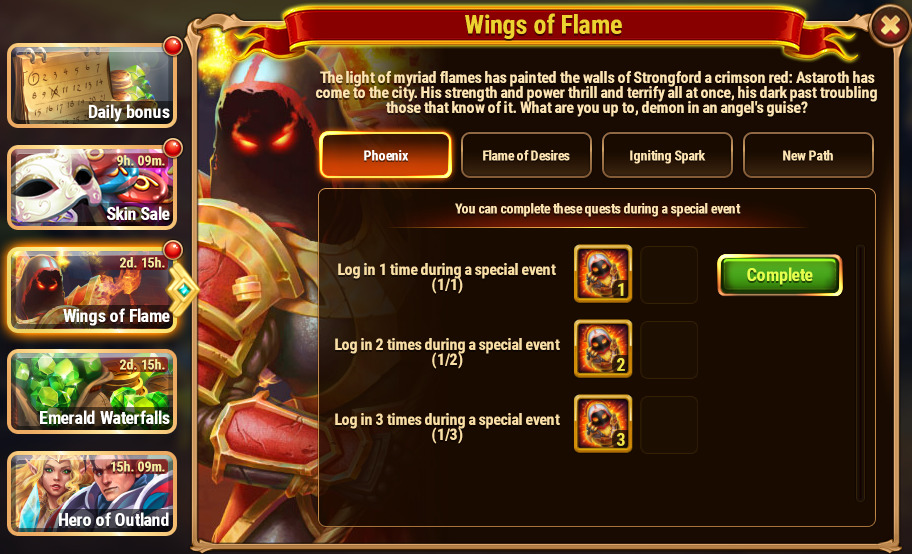 All Quests
Wings of Flame Playing for a Good Deal
Use Emeralds in your campaign. 50 Emeralds worth each day is especially recommended. This will allow you to efficiently complete the quests No. 3 and 4.
If you combine the purchase of Valkyrie's Favor, you will achieve 100 VIP!
Collect Astaroth Soul Stones
Astaroth's Soul Stone is also available in the Campaign.
Limited reason to stick with this event if you want to train.
Wings of Flame Quest Prizes
You can obtain Astaroth Soul Stone, and Astaroth Doll.

Astaroth Doll
T.B.D.
Event History
Tuesday, October 04, 2022 (3 days)
Mini-event in the same style
Hero Bundle
You can get a large amount of Astaroth Soul Stone.
Equipment fragments are uniformly x5.
There are many types of equipment fragments, so it is difficult to get the one you want.
Cost performance is not promising.
Considering the sharing with guild mates, there is a certain meaning to low price bundles.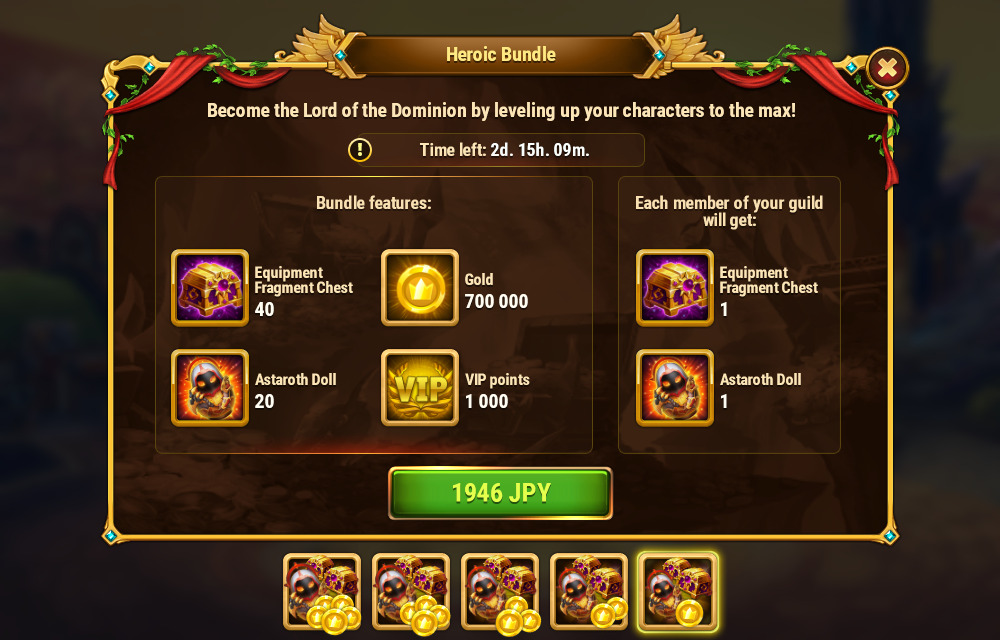 Bundle List
Estimated Emerald equivalent for each bundle
1,946JPY bundle = 9,190 Emeralds(x1.6)
3,891JPY bundle = 20,390 Emeralds(x1.7)
7,783JPY bundle = 45,450 Emeralds(x1.9)
13,620JPY bundle = 79,100 Emeralds(x1.9)
23,349JPY bundle = 137,200 Emeralds(x2)
Estimated Emerald equivalent for each bundle(in Guild will get)
1,946JPY bundle = 19,108 Emeralds(x3.3)
3,891JPY bundle = 40,226 Emeralds(x3.4)
7,783JPY bundle = 75,204 Emeralds(x3.2)
13,620JPY bundle = 128,690 Emeralds(x3.1)
23,349JPY bundle = 206,626 Emeralds(x2.9)
Daily Bundle
During this event, there will be daily bundle sales.
The bundle contents are not specifically related to the event.
Titans of the Dominion (Only 10.4)
Dominon Pets (Only 10.5)
All Crystals! (Only 10.6)