Report
Totems of Darkness and Light have been implemented.
After a short interval, a mini-event will be held.
It seems to be a bug, but the behavior of the Earth Totem has changed, so Guild War and ToEs should be careful.
Upcoming Events
9/30 (Fri.) – 10/2 (Mon.): The Coll of Darkness (Darkness Titan Keros Event)
10/4 (Tue.) – 10/7 (Fri.): Wings of Flame (Astaroth Mini-Event)
10/7 (Fri.) – 10/10 (Mon.): Darkness Titan Mort Event  
Darkness and Light Titans List
It appears to be as follows.
Darkness Titans
Tank: Brustar
Marksman: Keros
Support: Mort
Super Titan: Tenebris
Light Titans
Tank: Rigel
Marksman: Amon
Support: Iyari
Super Titan: Solaris
Official FAQ
Titles are tailored to the content.
Double Totem Hotkeys
Q. how will the hotkeys change while using 2 totems
Currently we have 'q' key for totem and 1-5 respectively for titan attacks
So, while using 2 totems, what will be the hotkey for the other?
A. There will be another hotkey added! The left totem will be activated by pressing the "Q" button and the right one by pressing the "W" hotkey.
Additional dungeon quest rewards
Q. I'm getting close to lvl 70.000 rapidly. Could you please gently remind N€xt€r$ to re-evaluate continuing the summoning sphere rewards beyond that level? I'm pretty sure, everyone would be happy with those, especially those who are long past there, receiving tones of spheres retrospectively. Thank you
A. Sure! I've already shared your request with devs and it's in the backlog, but it might take them a while to get to it.
About the Games of the Elements
Q. Everybody should have the same offer for silver sphere including the ones with 18 fragments. This has to be fixed ASAP. No more different offers to different players.
A. We see your feedback and we want to let you know that our developers received it and will consider it in the future. And now we want to address your questions about the ongoing bundles.
– The opportunity of getting a Totem fragment now is not devaluing players who got it way back, because it granted them a significant bonus to their gameplay all this time: they were able to win more often and get higher rewards for that all this time.
– Yes, we wanted to make it easier for all players to get older Totems before the release of the new Dark & Light Totems, so these special bundles allow players to buy a Totem Fragment of existing elements before the release of the new content.
– Why different players got different offers? As we said earlier, all special offers are given to players individually according to the special algorithm. We understand now that this algorithm disappointed you and doesn't look fair so we will revise it in the future.
We got all of your feedback and shared your concerns with the developers, so they will keep in mind your feedback in the future, but there won't be any changes to the algorithm for ongoing bundles. If you have other concerns, please share them with us, so we will consider them too!
Darkness and Light Titan Soul Stone
would you please ask Nexters to explain one thing in connection with this utter greedy non-sense? Namely, if the new titans will not be available for summoning in the circle for who knows how many months, then how the heck are new players who start HW after the initial event supposed to be able to get them?? Or it's just "sh!t happens", and they will have to lack the new titans for an undefined period of time? I think, this is a great and greatly unfair disadvantage towards future players (If there will be any after all these greedy updates). So please try to find an answer for this and thank you.
Yes, as we said before Soul Stones of the new Titans will not appear immediately in the Summoning Circle, but there definitely will be another way to get them. As with the other new Heroes and Pets – the first and main opportunity to obtain new Titans Soul Stones is during a dedicated event in the game.
Elemental Tournament Coins and Darkness and Light Titan
Q. So, we wont be able to convert Elemental Tournament Coins to get the artifacts of 4 new dark\light titans. People who already have artifacts MAXED for earth, water and fire will still be getting those artifacts at altar of elements. That is like 75% ( 4 new /16 total (4 new + 12 earth/water/fire) wasted resources. Looks like Nexters did not think of this scenario. Anyone with common sense will not spinning at altar when they know 75% of artifacts cannot be used.(excluding the seals of course). Please star this if you see a point.
A. As we already mentioned in our posts, once released, the new Artifacts for new Titans can only be obtained from the Altar of the Elements when opening Titan Artifact Spheres or purchased with Emeralds. But I see your point and will share it with the devs!
The 9.30 release changed the behavior of the earth totem.
Q.Hello, we have been noticing that the earth totem is able to block the Fire and Water totems without loosing health points, is this a bug or a new "feature"? I hope this is a bug because it makes water and fire totems redundant. Please fix it asap!
A.Thank you for reporting the Totem skills issues. The developers are aware of them and working on a solution as a priority, but it will take them some time. We will definitely let you know as soon as the issue is resolved. Sorry for the inconvenience!
Main Updates
Addendum
What is Guaranteed Totem Drop
Clash of Worlds
New
The Coll of Darkness
Comparison of the Elements
The First Titan Team
Titan Stat
Titan Soul Stone
Titan Level
Titan Skin
Titan Artifact
Difference 5 Elements Titans
Patron List
Guild DASHIMAKI-TAMAGO 2022.Week39
Guild War:Web31-Gold league,Place 1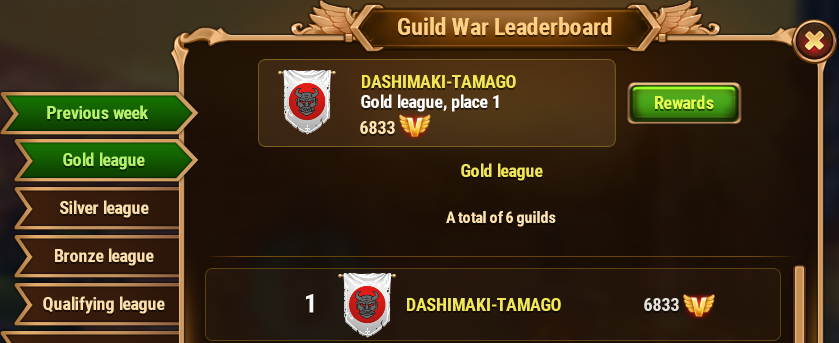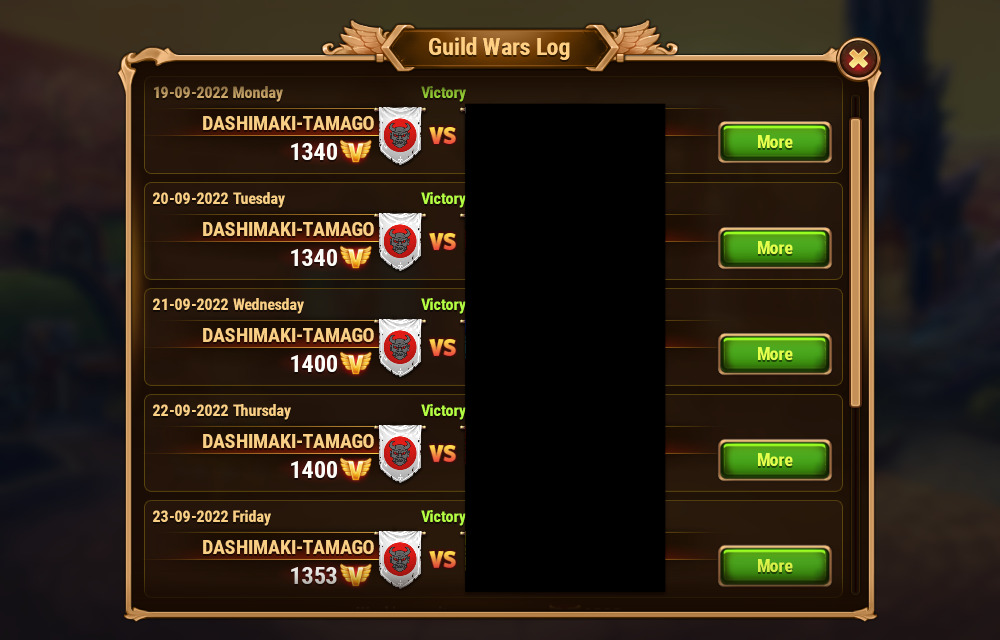 Guild Raid:Place 9