Report
Upcoming Events
Official Community Manager FAQ
Titles are tailored to the content.
Winterfest Period
Q. Is it still a 2-week event, i.e. from December 16th to December 30/31st this year?
A. Yes, it will be a 2-week event. And the tree will be there for one more week as usual, but you won't be able to decorate it anymore. So I am not sure if you will be able to use the New Year Emerald gift on that.
New Year Emerald gift
Q. As a guild, we count on the New Year Emerald gift (e.g. 2022 emeralds received on 1/1/2022) AND the Winter Claus 10K emeralds/50K Baubles (we used to receive the present on January 1st too) for decorating the tree to get more presents for the whole guild. As Nexters prepones this coming event 1 week earlier, will we still have the tree around by January 1st? Are we going to get 2023 FREE emeralds this year at all?
A. As to the New Year Emeralds gift – that's a good tradition, I don't think we will abandon it anytime soon.
x4 sales on Winterfest
Q. Will we see 4X sales during the Winter Fest, or not?
A. Can't say, but once again – there are traditions that we don't want to break.
New Year's Surprise Event
Q. Is a NEW, Surprise Event being prepared for the 1st week of the New Year?
A. Well, yes and no. Something will start at the start of the New Year, some people will be excited for it, some will be less so. It won't be something completely new, but it will be cool.
Winter Fest Celebration Live-stream
Q. Will Daniel AND Tanya host a Winter Fest Celebration Live-stream, give away 100 Aidan, and sing some X'mas Songs for us? Many thanks!
A. Tanya is busy with posts, gifts and all that goodness, but you will definitely see Daniel very soon. Like, tomorrow soon! Maybe he will sing the X'mas songs for you if you will ask him nicely, who knows!
Will the titan artifact gifts contain ToE scrolls ?
Q. Will the titan artifact gifts contain ToE scrolls ?
A. Hi! Yes, Elemental Tournament Certificates will be among the things you can get from the new Titan Upgrade Gift Box!
CoW to have 2 battles instead of 3 per week
Q. Any chance the developers are interested in another survey concerning CoW, this time with the question of 2 battles per week instead of 3?
A. Maybe! But I think we have a general idea on where you stand on this one 🙂 Right now the devs are polishing a few new CoL-updates for the CoW and discussing possible bigger changes, but there is nothing that is set in stone that we can share just yet
Spooky Fest always showing
Q. Can the dev team fix the issue of Spooky Fest always showing?
A. I've seen the task for it, it's there but it's in the backlog due to high load on the team before the New Year craziness. I remind them about this every week, they will get there once they will have a moment to breathe!
Main Updates
Addendum
Winterfest
Winter Skin List
New
The Color of the Night
Dark Particle
Cosmic Artifact Chest
Guild DASHIMAKI-TAMAGO 2022.Week49
Guild War:Web31-Gold league,Place 1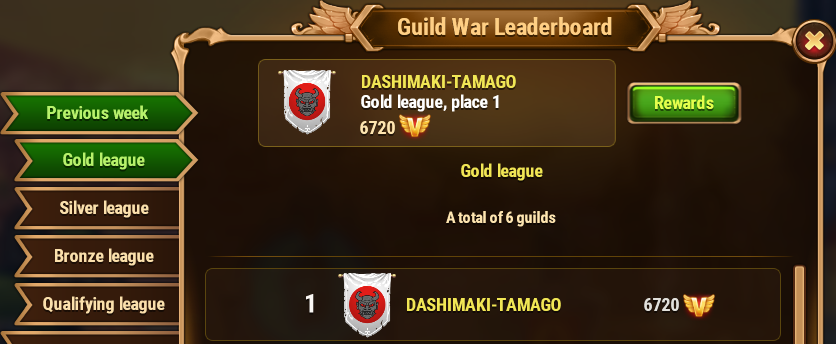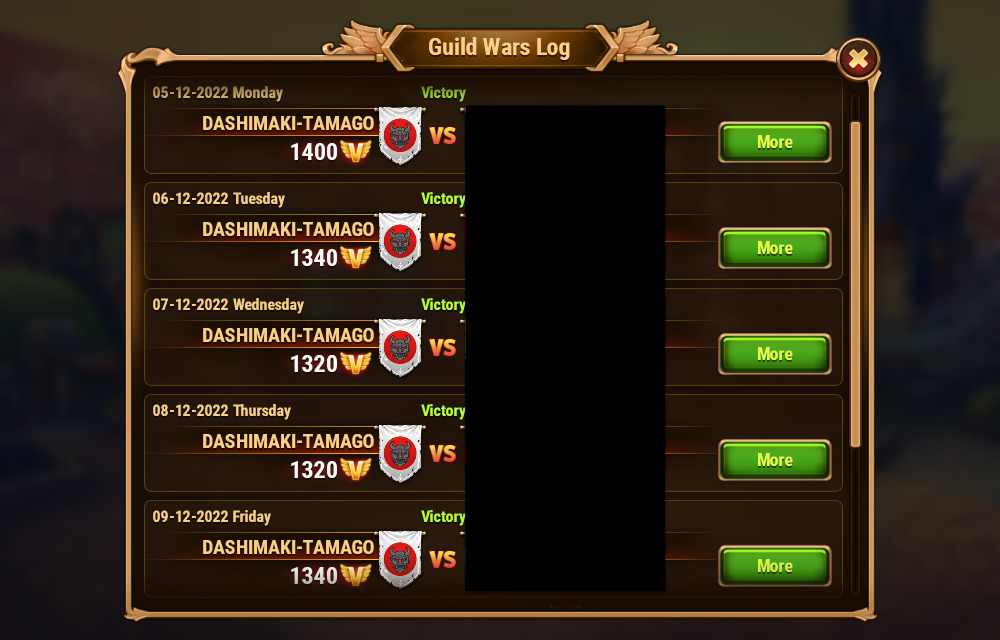 Guild Raid:Place 12

CoW: Season1 Temporary Place 22