2023 Rord Map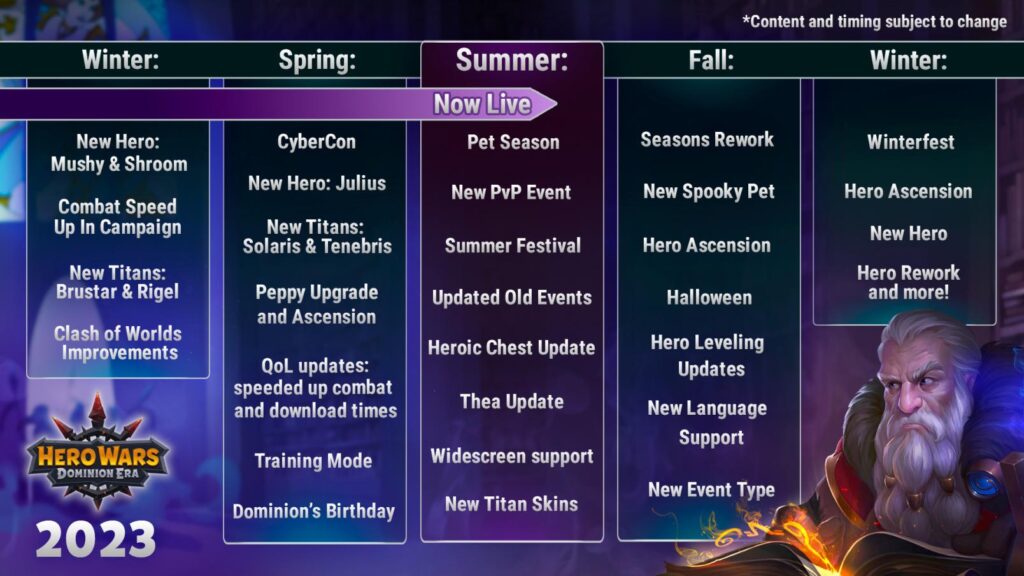 The release plan for 2023 has been announced, and players are curious about what to expect. Let's attempt to interpret the situation based on the current status quo in August 2023.
Summer: Updates
Widescreen Support
A feature release intended for smartphone play, but there is a bug that needs a high-priority fix.
New PvP Event
Details are still unknown, but it's scheduled for August.
Heroic Chest Update
The current specs are outdated, and despite a strong 60% off sale, it's still not worth spending emeralds on. Perhaps a review should align it with the current value of soul stones.
Updated Old Events
One of it is Emerald Waterfalls. The continuous balancing of similar content may cause values to fluctuate, making it recommended to pay closer attention. The update may favor non-paying players for training, but it could also encourage emerald consumption and VIP strengthening.
New Titan Skins
Titan skins have been added to three support titans with three elements. It is unknown at this time if any other updates are in the works.
Fall: Updates
Seasons Rework
The reworking of the season has already been announced with new specifications from Eternal Summer Season 2. Further seasonal event reworks in the Fall are also possible.
New Spooky Pet
Pets are added around the fall, one each year. It's labeled "Spooky" and may have a Cain-like vibe.
Hero Ascension
Peppy already received the ascension skill for 2023, and it looks like another hero will get it too.
Halloween
Similar to the Summer Festival, there may be a change in specifications for the Spooky Festival event.
Hero Leveling Updates
The efficiency of team level increase has improved, making it easier to reach level 130. However, new players may find it harder to level up their heroes to match their team level. There's a possibility of revising the level cap to 140 or higher ???
New Lauguage Support
Several languages have been added, and more are being requested.
New Event Type
Trials of new event types are ongoing, including a rework of the Heidi event and consideration of different events.
Winter: Updates
Winterfest
In previous years, Winterfest's importance decreased once a certain number of winter skins were collected. The fact that it's included in this list suggests improvements are planned.
Hero Ascension
The plan is to add ascension skills to a different hero than in the fall update, and this release may even cross over into the new year.
New Hero
It's unclear if this refers to a year-end hero or something else. As per tradition, it's likely that two or three new heroes will be introduced during the winter, including a year-end hero.
Hero Rework
Hero reworks in the winter update will be highly visible alongside new heroes. Dante and Ishmael became strong heroes after a rework before the end of the year, making physical DPS heroes especially noteworthy.
And More!
Every year, new features are introduced during the fall and winter. In 2023, a new guild raid boss is expected, raising expectations for more exciting updates.
Throughout
Throughout the entire process, players are concerned about the lack of explicitly stated content that corresponds to major updates of previous years, such as Titan implementation, pets, Ascension, and Titan's Dark Light addition. The main focus this year appears to be on improving events rather than major content. look, The development pace appears to be accelerating, with features being added and improved at a rate that seems unprecedented since around 2020/2021. As more game modes and events are added, players may experience longer playtimes, prompting requests for quality-of-life updates. It's important to remember that these updates are part of the mid-term plan and not firm promises. Specific event details and updates will be confirmed when the events are prepared.
Official Message
Click To Learn More About This Year Updates
We've previously provided a rundown of upcoming events for August, and now we're eager to delve into more comprehensive details about our plans. Below is our roadmap for 2023 – it includes our major releases and updates, both past and upcoming!
With this information, you are now fully updated and aware of what to anticipate in 'Hero Wars: Dominion Era' through the end of this year!
But we have to warn you: this list is not exhaustive as we wanted to tell only about the releases that we are sure about, so there still might be some surprises along the way!
Also, the exact time-frames for these releases might change a little, please bare this in mind!