Report
Upcoming Events
Events in August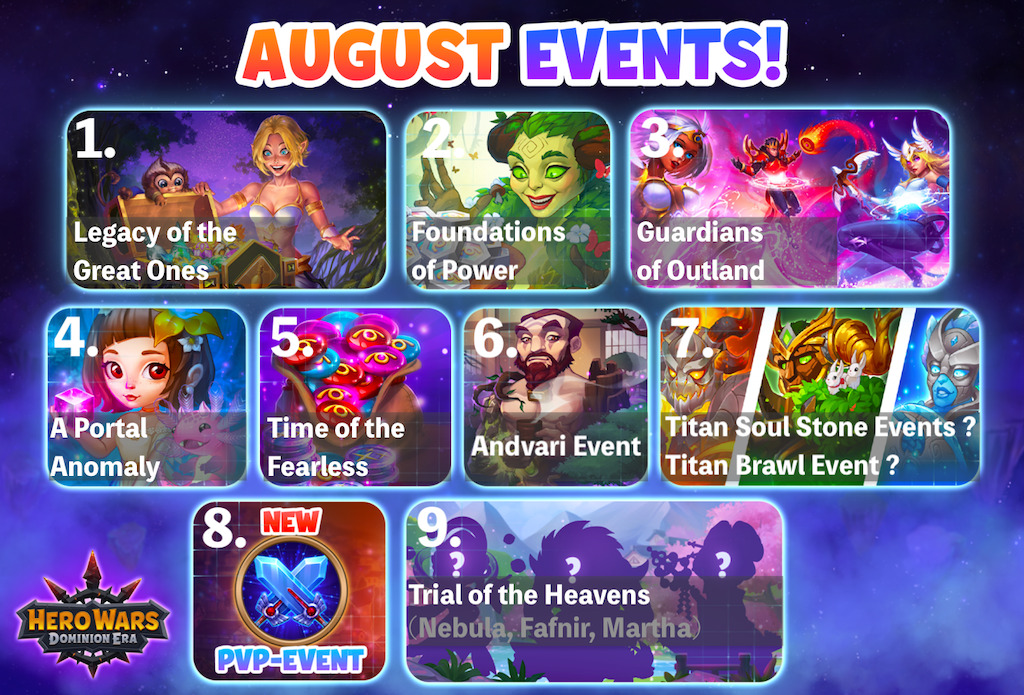 The official announcement has revealed 9 events, presented in no particular order and without known dates. Among these events, the dates for the following 6 are currently unknown.
1. Legacy of the Great Ones
5. Time of the Fearless( > Perhaps x4 sale)
6. Andvari Event
Perhaps an adjusted version of the Thea event.
7. Titans Event
Titan Soul Stone Events or Titan Brawl Event
Titan Soul Events
Clash of the Titans
8. PvP Event
Details unknown. Once took the form of a brawl.
Mojo's Brawls
9. Trial of the Heavens
Skin additions are Nebula, Fafnir, and Martha.
August's Heroes of the Month are Andvari
Andvari can be effectively utilized as an offensive tank and is a popular choice for control teams or countering Dante K'arkh.
The fact remains that obtaining the Soul Stone can be somewhat challenging due to the need for a trade with Skin Stones. However, the ability to gather them here brings great satisfaction.
Hero of the Month
650,000 Anniversary Boxy's Gift
Announcement image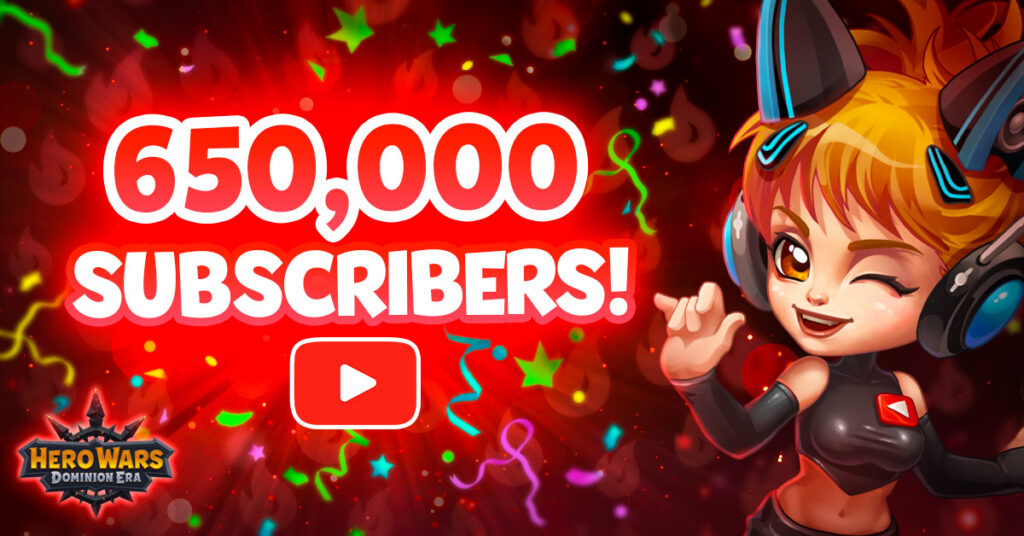 More luxurious than usual!
Boxy's Gift
Anti-cheat Script Measures
This has been a topic of discussion in the past on several occasions. As requested by users, we have now promptly transitioned to automatic processing, making it impossible to redo battles.
A new cheating script
How you proceed with the cheating script
Official Message
Hey everyone! Today, we will update the battle processing system, so any battle (in Guild War, Clash of Worlds, and Guild Raid modes) interrupted due to an error will be completed in Auto battle mode — these changes will optimize the battle processing results, ensuring fair play for everyone and also forbid an ability to affect battle results with exploits.
Official Community Manager FAQ
Titles are tailored to the content.
Future Availability of Beach Skins
Q. what will happen to the beach skins with the new season system? Will newer players still be able to get those? Will older players will be able to get those?
A. Beach skins are exclusive during the Eternal Summer season. In the future, there will be an opportunity to obtain these and past beach skins in 2024 and beyond. The method of obtaining them is currently unknown.
Decrease in Season Over run Rewards?
Q. Why do we only get 5 end of season loot boxes, instead of 10, which all the previous seasons get too?
A. Because the total rewards for the battle pass are calculated according to a specific algorithm, and individual positions in the reward lineup may vary from season to season
Season Event Quests Are Boring
Q. seriously, "send sticker" "take X dmg" are horrible uninteresting season quests
better make GS type map or boss fights for an entire season
A. Yes, these tasks are not particularly interesting, but they are very simple, which helps to make an easy start to the season. However, we will convey to the developers that you want to consider the possibility of making them more engaging
New Community Managers
Q. can we also get new CMs? current ones barely communicate and even when they do, it seems like talking to a bot
A. The responsibilities of a community manager include not only communication with players. All news communication, feedback collection, analyzing that feedback with developers, and so on, that involves a lot of work that is not always visible but contributes to improving the game. Regarding the comment that our responses resemble communication with a bot. We are primarily focused on honesty and transparency in communication. For this reason, we do not want to engage in verbose empty promises. Where we can guarantee something, we say so. We all understand that game development considers numerous factors and business goals. Developers strive to maintain a balance between fun, challenge, and the ability for the project to competitively survive on the market. Therefore, not every, even very cool feature, can be added quickly.
Regarding the lack of communication, we have heard you. Currently, we are working on updating the moderators' workflow and considering the possibility of conducting starboard sessions more frequently than once a week
Out of Bounds Bug
Q. When will the out of bounds be corrected?
A. This issue has been reported and will be fixed as soon as possible.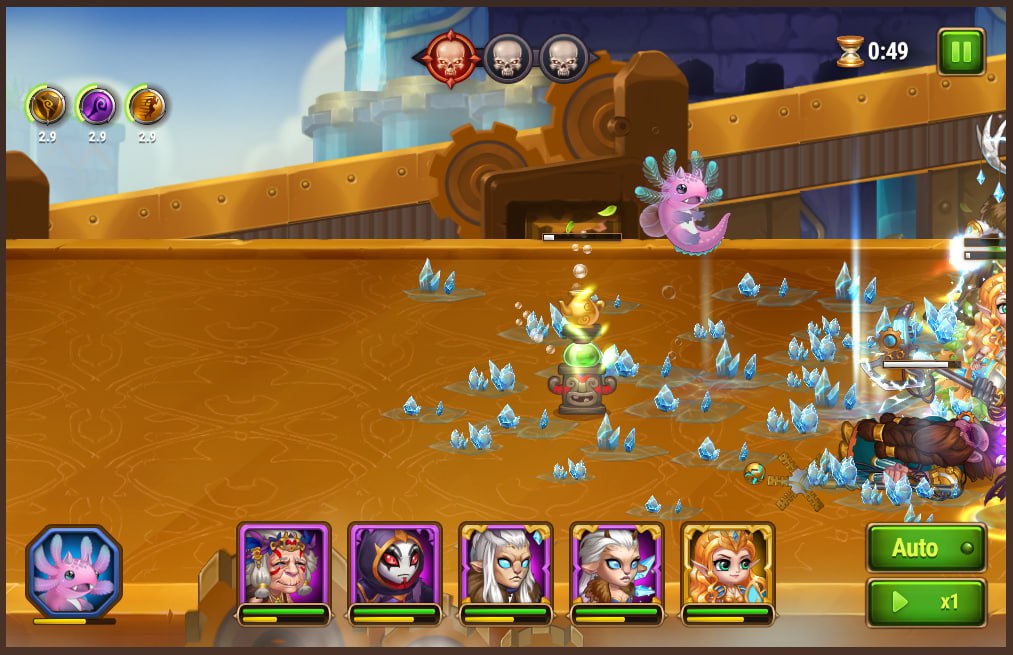 Adjusting Status Abilities
Q. Please let us remove or some resources such as artifacts, equipments, and so on. Some status need adjustments, higher rank doesn't mean stronger. Please make it removable just like Gift of the elements. If there are risk of bug, you don't have to return any resources.
A. At the moment, we do not want to introduce the ability to remove items and resources from the inventory, as it may lead to a chain of accidental resource deletions and increase the support workload. When you find out that you have deleted an item and later need it again. But we might consider it in the future as its often requested.
Adding Private Mode to Combat Training
Q. Can you please add the option Combat Training to be in private mode? Because someimes it becomes a huge spam and also many ppl train many different targets and you loose time to find yours. Its a really big training ground, does not need every move to appear in chat.
A. By the way, this is a very cool idea – we have passed it on to the developers.
Future Measures Against Cheat Scripts
Q. Scripts
A. As for the scripts. You may have seen the latest news where we announced that all battles that were completed with errors will be completed in auto-battle mode. Developers are evaluating its effectiveness – and if there are positive results, a decision will be made to deploy it to other modes
Expedition QoL Improvements Well-Received on Mobile
Q. This should be reduced to a single button click by having Raid All and Collect All buttons.
A. Yes, that would be very convenient. We have forwarded this idea to the developers and have also heard positive feedback from players on the mobile version. We hope that the developers will have time to add it
Changes to Emerald Waterfalls Specifications
Q. know it is snuck beneath the radar for most players but I'm actually really disappointed that Emerald Waterfalls is going/changing. I used to like having a guaranteed Emerald Waterfalls event running whenever a 4x sale came up for the bonus bottles.
A. The schedule of the Emerald Waterfall will be unpredictable. We cannot provide specific dates as we do not know them ourselves. It may occur periodically, sometimes happening at the x4, and other times not. Yep, it is best during the x4 to complete "buy" quests, but the "spend" questline was also updated so it worth completing anytime.
Adding Resources for Dark/Light Titans
Q. Nexters it is now August. You promised that by 24th July you would add Light/Dark weapon and crown fragments to the Elemental Coin Merchant. You also indicated that adding Supertitan souls to the summoning circle would be 2 months after release which is also long since past. So where are they?
A. Unfortunately, the development of an online game is a process with many variables. And some features may have higher priority. We understand that adding these fragments and soul super-titans has been delayed. But this week we received information that this task will be taken care of this month.
* It is speculation, but they may be indirectly expressing that the priority was given to cheat prevention, which was not part of the original plan, resulting in the inability to carry out the scheduled tasks.
Collecting 30 Soul Stones from Heroic Chest
Q. thank you for bringing back the 7 day quest, where we have to collect 30 soul stones from the heroic chest. I missed that one so much during the last two short seasons! That's ironic… It would be nice, if you can finally improve something for the community. You told us many times, that this quest will be reviewed or whatever. And in the end nothing changes.
A. The number of required showers has already been reduced. We will continue to pass on your feedback to the team – hoping that the developers will make this change in the future.
* Users are puzzled about what "showers" means in the official statement. It might be a mistake or a metaphor that is not clear. The nuance could be related to the frequency of "rain" (unpleasant quests) being reduced in line with the season.
Main Updates and Game trends
Addendum
Summer Festival
New
Satori
Why I Love Satori: My Story
Beach Skin List
Eternal Summer Season 2 All Quest
Eternal Summer Season 2 All Rewords
Summer Festival: Store Recommended
adventures 13-9 Best Route
The latest trends, Best heroes, Best teams
Important Game Updates for Players: How to Read
Tier List 2023 (on PvP)
Best Heroes 2023
Which DPS to Upgrade in 2023
Which Tank to Upgrade in 2023
Which Healer to Upgrade in 2023
Which Support to Upgrade in 2023
Which Control to Upgrade in 2023
Meta Teams
Best Teams
Guild DASHIMAKI-TAMAGO 2023.Week30
Guild War:Web31-Gold league,Place 1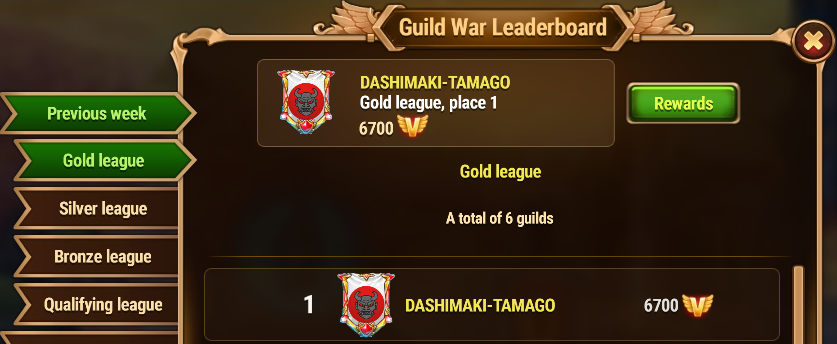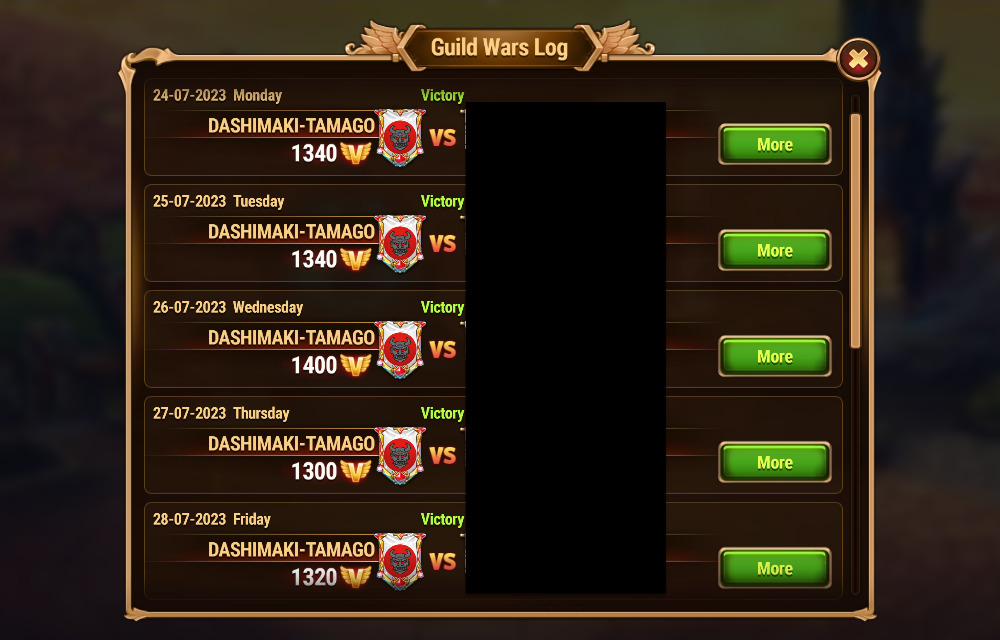 Guild Raid:Place 13

CoW: Season 4 Temporary Place 11