Report
Not much information has leaked, but there is a Rufus mini-event planned!
As usual, there will be a pet event, a Water Titan event, followed by a Cyber-con & Emerald x4 sale, and Cyber Monday!
Significant price increases and the resumption of various free gifts are the major current trends. As for player movements, there is a trend to prepare for the implementation of new heroes at the end of the year.
Upcoming Events
Events likely to take place this month
The Great Storm
Rainy Season
Cyber-con
Cyber Monday
Khorus is in Pet Summoning!
The Khorus Soul Stone was not previously included in the Pet Summoning, but was added on 11/3.
Official Community Manager FAQ
Titles are tailored to the content.
Server mergers
Q. I have three questions/suggestions all in regards to server mergers/cross-server moving.
a) It's been two years since you last merged any servers, and it's showing. Some of the lower and mid-number servers are really empty. You can easily stay in the bottom of Silver League with a half-filled guild and no effort at all. When will you merge servers again?
b) If you do a server merge, how will that correspond with Clash of Worlds ? Both servers' guilds would be knocked out of their Gold and Silver leagues and it would take them 2-3 weeks before they could compete in CoW again.
c) If you don't merge servers any time soon, at least let people transfer their accounts for free. I know that one server move is free, but if you've already used that in the past, and now find yourself on a dead server, you'd have to pay. Moving servers already puts you at a disadvatage as you have to use all artifact keys before you move (btw, why?) and then you have to climb arena again too, so the least you could do would be to give everyone a free-server move ticket maybe once a year. That'd be better than the mere avatar you get for playing the game for a year.
A. I've got some answers. There won't be merges on the Web or Facebook in near future, and by near future, I mean the next few months. But there are no plans for abandoning the merges altogether, so at some point in the future, some merges are likely to happen. Regarding your concerns with the Clash of Worlds – they are very reasonable, thank you for sharing them, I've passed them on to the developers to consider what can be done about them
When Iris's soul stones will be included in the hero soul stone chests?
Q. When Iris's soul stones will be included in the hero soul stone chests? With the next WinterFest on its way, isn't that too much delay with this particular task.. Because Bronze League players are still struggling to get her soul stones from the CoW merchant shop..
A. Iris and Amira are still considered to be exclusive for CoW for now, there are no plans for near future to add their Soul Stones into soul stone chests. But Fafnir might be added there, at least there are plans to add him into the Heroic Chest and to some other Shop at some point (ToE maybe). There is no ETA for that right now, but I will keep asking and let you know as soon as there will be more info
Dungeon rework
Q. Can you please ask the developers to make the Dungeon more fun please?
A. Yep, I've share with them already that Dungeon rework suggestions are back!
Monopoly money
Q. Please also add the possibility to pay with Monopoly money. 🙂
A. Sure, next update. But we do not accept cash, so you will need to put them on your bank account. From there – easy
Buttons to delete the message
Q. Can developers add some buttons to delete the message in hero-wars? If we even type something wrong, we can't delete back! 🙁
A. Even for Twitter it's almost too hard! I will share this, but look, our in-game chat will never have as much functionality as a full-blown messenger or social platform. I definitely agree that some chat updates would be very much welcome, but even among chat updates delete function won't be the first thing to be implemented
NEW Chapter(s) in the Campaign?
Q. When will we see NEW Chapter(s) in the Campaign? The PvE portion of this game is really lacking in comparison to its PvP portion…
A. No idea, it's not in the work right now. Also, a very little percentage of players have actually played through the whole thing and learned the whole story, that's one of the reasons against it. Also, the campaign was structured around a very specific story, and this story is complete now. That's why there is a higher chance of some completely new PvE-mode happening, rather than just new Chapters being added to the Campaign.
CoW is getting New and exciting prizes ?
Q. CoW is getting repetitive and tiring (more like a job than a game… to be honest, and the majority of us are just clocking in, doing chores, just like the Guild Raid, ToE and the daily dungeon digging… deep down we understand that, unless you're super spenders/top 1000 players, no amount of efforts will change the fact that ToE and Asgard will just grant you a consolation prize of only 50 emeralds each…) So, in addition to NEW and exciting prizes, what other new element(s) can we expect to spice it up?
A. I can't talk about that just now, but there might be some interesting changes along the way. I can't guarantee anything right now, but definitely will the developers know that there is a demand for some everchanging elements in the mode that will keep it fresh;
No plans of adding Skyships
Q. I was drawn to this game because of its fantasy world setting and original stories – a HUGE dominion to explore (well, up to 15 chapters…). But now, I feel trapped in the same war map day in and day out, with no end in sight… That's why I saw a glimpse of hope when Danny sneaked out the secret of SKYSHIPS game mode for mobile – when will we see this game mode in the web version? In addition to ship building, NEW enemies, buffs, and prizes, I'd like to see more lore & stories mixed in this new game mode, like an odyssey, an action RPG adventure which opens up new areas of the HW dominion, following a said hero, like Galahad, on his journey of vengeance, pursuit of his new lover(s), discovering/collecting materials to fix/make NEW BIG Swords… great adventures with new chapters adding in every 4 months…. Thanks for reading & responding!
A. There are no plans of adding Skyships mode to the web at the moment. Web and Mobile sometimes "adopt" content from another version of the game, but it's more about Heroes and Titans, less so about whole new game mods
Tower Raid improvements
Q. can we please at least have 1-click random tower chests?
A. I will see if it's already in the QoL backlog or no, it definitely should be there. Right now the developers are working on some CoW-related QoL-updates.
Main Updates
Incurable Optimist
Spooky Festival
Spooky Festival Store
The Furnace of Souls
Ghost Candy
Spooky Festival Doll
Spooky Festival Mini Game
Spooky Festival Hidden Quest
Light Spirit Summoning Sphere
Iyari Doll
Amon Doll
Guild DASHIMAKI-TAMAGO 2022.week43 / week44
Guild War:Web31-Gold league,Place 1 / Place 1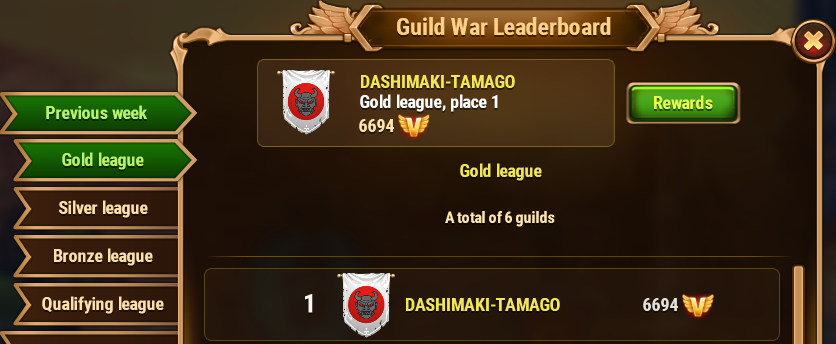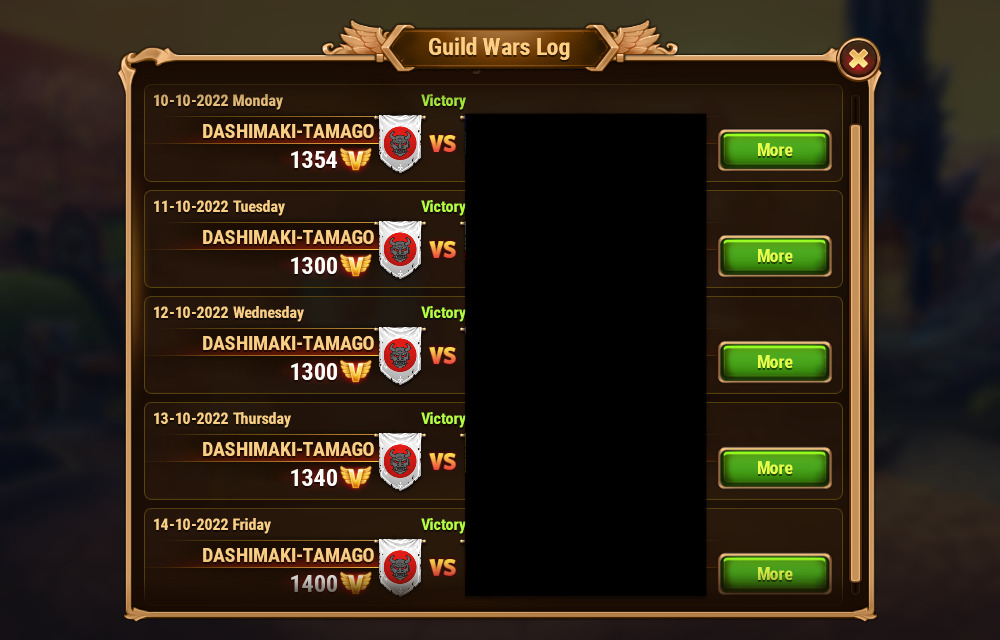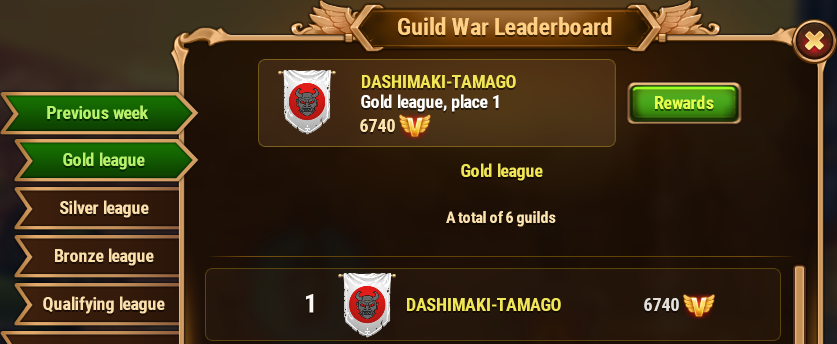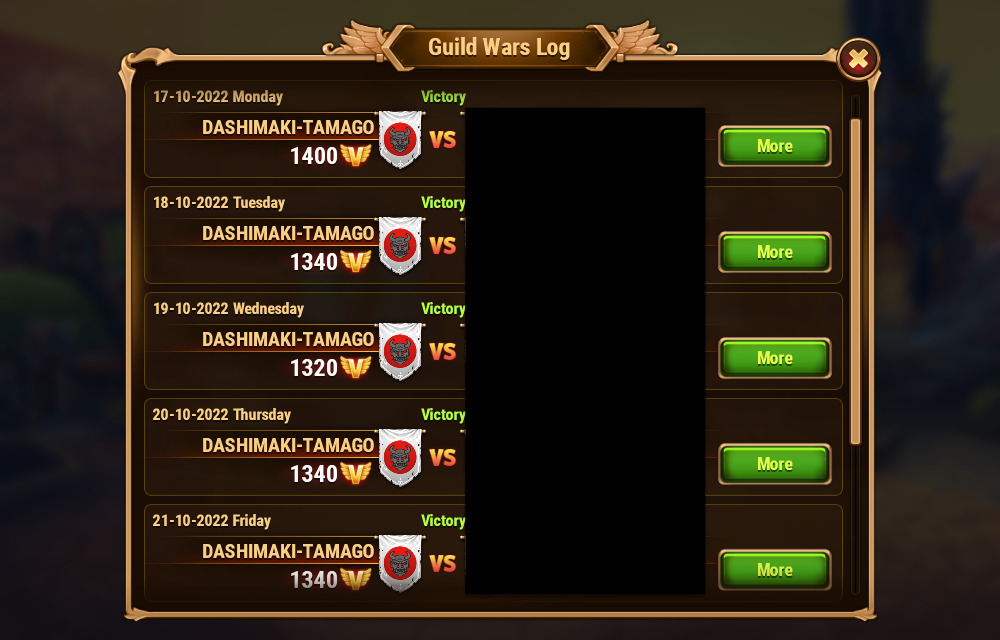 Guild Raid:Place 11 / Place 8


CoW: Season1 Temporary Place 17 / Place 22