Report
Upcoming Events
April Events
If the past year is as usual, Spring Rebirth will be held.
A new hero, Julius implementation event will be held. The content will be almost the same as the "Mind of the Old Grove". Daily quests should be noted.
A new titan will be added during April. For this reason, a Tenebris (Super Titan of Dark) implementation event is expected to be held. We believe that the content of the event will be almost the same as previous Titan implementation events. It is a good idea to save as much Titan Potion and Titan Skin Stone as possible!
This year's Masquerade Skins are now available
K'arkh's physical attack is expected to be a solid force multiplier. It is a lower priority than armor penetration. Currently K'arkh is not a trending DPS like Ishmael Dante Iris, but he is a constant force to be reckoned with!
We feel that Yasmine's armor is less important than other Yasmine skins. For top players, however, the current Yasmine is exclusively for attack. That, too, is the purpose of the Yasmine tank. Given that, it doesn't seem so bad.
Celeste's magic penetration can be a countermeasure against Thea, which has recently become popular among top players for use in defense. However, the scenes where Celeste is especially needed are against Dante tanks and Chava, so I feel it is somewhat subtle.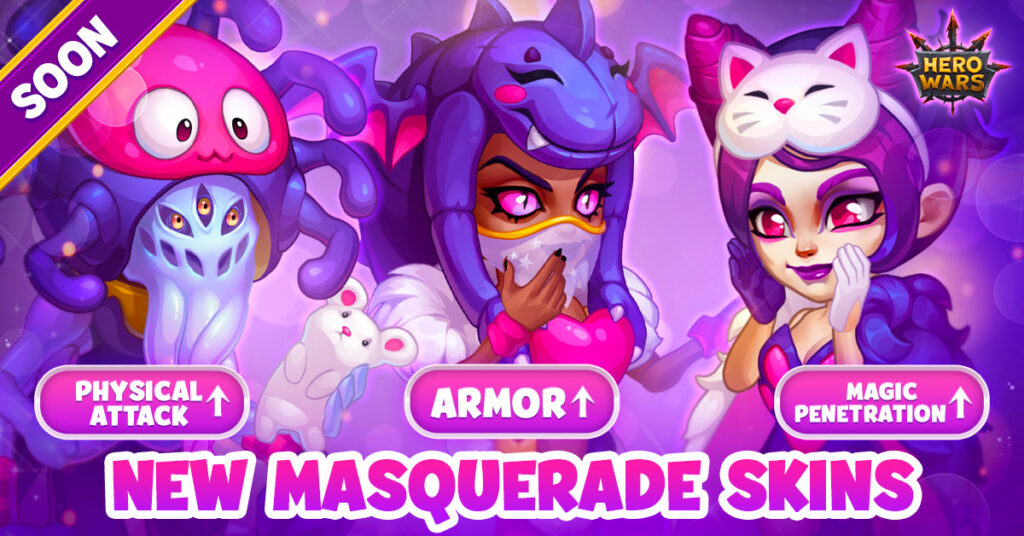 Julius is scheduled to make an appearance.
The genius cat who is said to be Orion's daddy.
If the style is the same as the mobile version of Hero Wars, he will appear as a tank capable of cutting debuffs!
Based on what we've seen so far, the format of the event is likely to be the same as Massy and Shroom's implementation event, "Mind of the Old Grove"!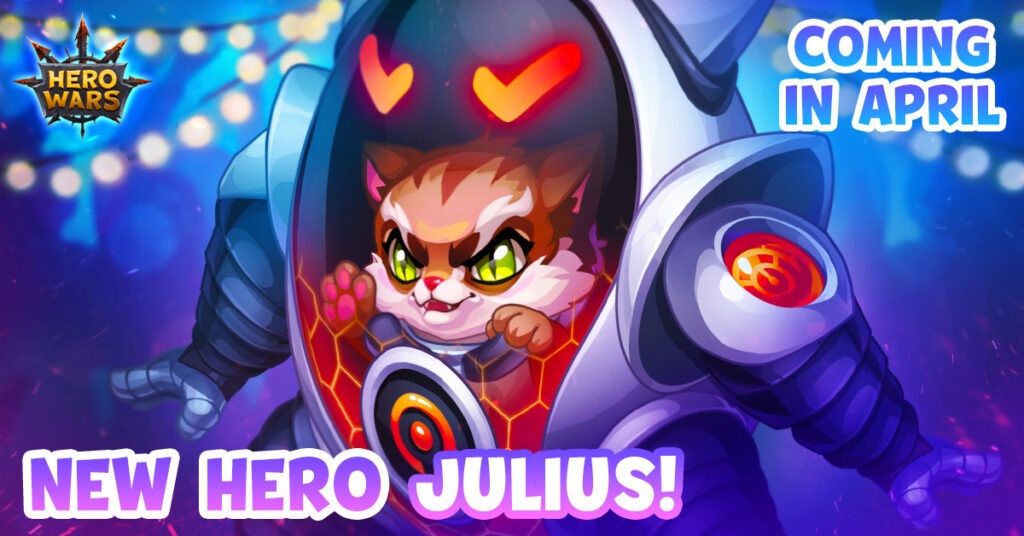 Mind of the Old Grove
April's Hero of the Month is Aidan
Aidan is a very active countermeasure to Ishmael and a pair of Corvus. He is a hero who should collect as many soul stones as possible.
Hero of the Month
Official Community Manager FAQ
Titles are tailored to the content.
I hope we can get some weeks off before season 3 starts
Q. 5 wars are left from this season (including the currently ongoing one). I hope we can get some weeks off before season 3 starts, just like we got it before season 2. Can you please confirm or deny this?
A. Hello! The gap between seasons was not intended the previous one was implemented due to several factors: The holiday season rush and the necessity to add some hot updates.
By design, CoW is supposed to be a permanent ongoing mode just like Guild Wars
I cannot revert back to the old user interface
Q. I am getting a new awful web interface in the web version of the game that keeps growing the user interface as I increase the browser window size and the upscaling makes all the graphics look grainy at every size. I cannot find a setting to turn this horror off and revert back to the old user interface. Help?
EDIT: I have run some tests and confirm this is definitely an account specific setting as logging into other accounts from the same PC and browser, all the other accounts get the old (working) user interface. Please expose this setting to the user so we can switch it off!
A. Hi! We are getting lots of reviews regarding this feature. Some players gain profits from the bigger screen, and some find it not as appealing as we intended. When we collect a significant amount of data – developers will study it and will apply some tweaks to make it better and suitable for everyone.
Please add the 1.5x speed up to dungeon battles
Q. Please add the 1.5x speed up to dungeon battles (similar to how it was added to campaign and tower). It would be easy to add and would make it much easier for us players.
A. Hello! This suggestion has been addressed already. Developers will add this feature in upcoming updates.
Plz fix that we have to fight at first a mixed titans in dungeon
Q. plz remove/fix that we have to fight at first a mixed titans combo in dungeon, i/we can not finish thise kind of quests as almost all our strong titans will die after
A. Hey! Enemies in the Dungeon are generated according to a specific algorithm, and we don't want to mess with it without a really good reason. But I see your point that for a high-level player, these kinds of quests might be very hard to complete. Thank you for that feedback, I will pass it on to the developers!

New Titans are coming
Q. when the new Titans are coming out?
A. One of the Titans by the end of the April
New hero
Q. New hero maybe?
A. Stay tuned for the sneak peeks
Plan for next CoW season
Q. plan for next CoW season?
A. There will be new rewards, such as Guild frames. No big changes in game mechanics, though.
Will we get updates for the new Titans ?
Q. When will we get updates for the new Titans in the Circle of Summoning and Elemental Tournament Shop ?
A. After the release of the second Supertitan, most likely somewhere in May, but that's not finalized yet
Add NEW elements to those upcoming Events
Q. the Annual B-day Celebration @ HW is getting dull & boring, especially for those who are still with HW after 2+ years. I appreciate the funny Event Wallpaper, the NEW animation clip, the new art work (that smiling Kayla was SO cute!), those NEW avatars & frames, and the NEW Mrs. Wheels in the live stream – all else were just same old same old routine stuff – the similar discounts, the same quiz format, the same click-to-collect in campaign maps, and the same 7-day "fight to get the cake back" actions….this time you could use the same Asgard Stonecold team for all 7 days… except for those new players who had limited heroes, I think that the majority of us would fight no more than ONE (1) time each day – just to get those same-old prizes (it was a rare chance to see Lilith growing REALLY BIG to fight her Ex, though). Thus, once the quiz was over, the week long event was pretty much over – the last 3 days were really uneventful. It's high time for Nexters to do another survey, to plan and to add/combine NEW elements to those upcoming Events (i.e. Summer Fest, Spooky Fest, Winter Fest, Cyber Con). Is it too much to ask Nexters to aim High and imitate Apple (and its Apple Events), or Tom Cruise's Mission: Impossible series or the latest John Wick Chapter 4? Will HW wow us once again? Thanks for reading this long post and for your sincere efforts to make HW great again (MHWGA)!
A. Hello! Firstly, thanks for your love and interest in the game.
We appreciate your valid criticism. I may assure you that lots of changes are planned for this year. There will be polls, research, tests e.t.c targeted to improve, streamline and optimize players' experience. I will share sneak peeks, as soon as I am allowed to.
Crossroads of the world
Q. can you be more transparent about what is "crossroads of the world" and why we are not allowed to even play it? Also there were no changelog, no news, nothing.
You silently added this gamemode only to very specific players, that not cool.
I even created new alts to figure out what is this mode, but none of the alts unlocked it, then HOW to get it?????
A. So, Crossroads of the World is an alternative start for some of the new players. As you might have figured from our ads, quite a few players are interested in this kind of Tower-themed puzzle, and our team decided to try and add them to the game and see how newer players will like it.
Why not all the new players have it? Because we are still testing it – we are still gathering info on whether new players like this new little mode, whether it makes them stay or leave, whether it leaves a good first impression or a bad one, etc. We don't want to give this new mode to everyone only to learn that it's a terrible idea and we need to get rid of it. Also, it was created specifically for newer players, who are unfamiliar with the basic Hero Wars gameplay and might expect something more puzzle-oriented at first.
This kind of testing is widespread in gaming and in f2p-gaming especially – developers always try to make the best experience for players without forcing everyone to play something that might be not so great. There are many things that we test in smaller groups first before releasing for everyone! Remember us speeding up the combat in Campaign and Tower? Before we did that, we gave this feature to just a few players and made sure that it didn't make the game worse for them, that it make them like the game more, that it didn't break anything, etc.
The same is happening right now with the game screen size – this change was released for a certain part of the community (players were chosen randomly), and we are gathering their feedback at the moment.
We never considered Crossroads of the World as a new game mode for existing players, and right now we are not sure if we will show it to more new players or no. But, if you are really interested, let us know, and we will discuss with the developers if we can make it so all of you can check it out in some form at some point in the future! But no promises just yet, initially we didn't plan anything like that.
Main Updates
Addendum
Time for Pranks
Wrath of the Earth
New
It's time to move it! All Quests
Non Special Events
Mini Events(Heroes)
Guild DASHIMAKI-TAMAGO 2023.week12
Guild War:Web31-Gold league,Place 1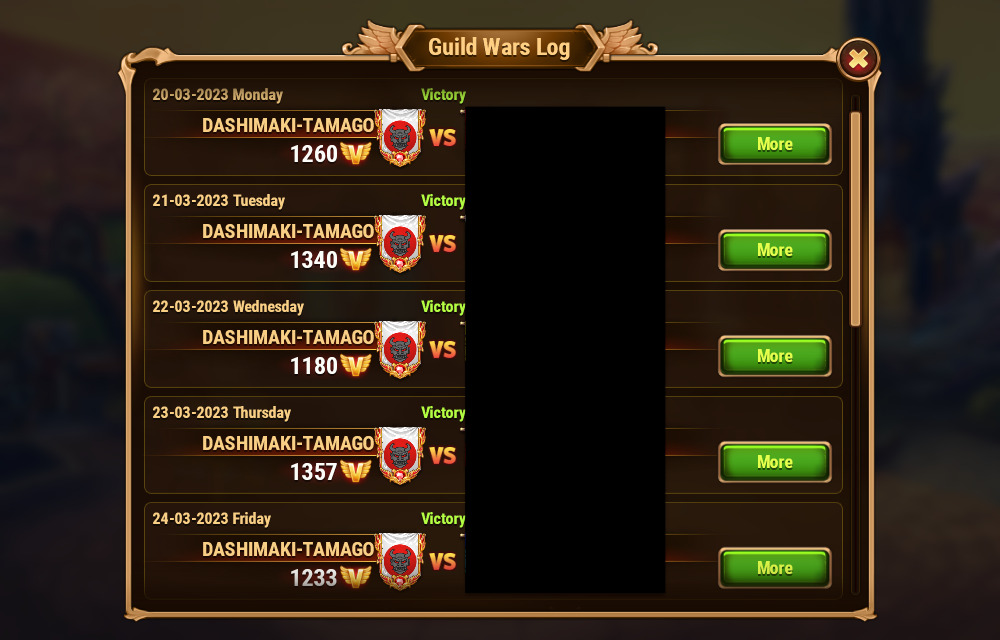 Guild Raid:Place 11

CoW: Season 2 Temporary Place 20