Report
Upcoming Events
Events in After
As in previous years, the following events may be held
Dominion Day
Event held in place of Unity
Summer Festival
Solar Skins are added. There is a dedicated store
High-definition game screen
The following feature releases appear to be in the user-by-user verification phase.
The game screens have been expanded to provide a high-definition experience.
The dimensions of the basic drawing size have been adjusted to 1,998 pixels x 1,278 pixels.
The reduction process automatically scales the game screen to fit the browser's display area.
The icons of heroes and other characters have been resized to enhance their visual quality.
Screenshots are not significantly impacted. When using the browser function to save the play screen by right-clicking, the image size now adapts to the display area.
Playing Environment
Titan update and new skins
The introduction of new skins next week will have a little impact on Guild War, CoW, and ToE.
In cases where both sides have reached their maximum power, patterns that were previously easily defeated using the auto feature may now yield different results.
It will take some time to determine which patterns are still winnable and which ones are not.
Official Message
Hi! We've brought some news for you!
Titan Brawls, the special "Clash of the Titans" event, and new Champion skins for Mairi, Ignis, and Avalon will come in Dominion on June 23, 2 AM UTC. Complete quests, unlock skins, win battles and earn rewards!
And Gleaming Defense Seal fragments will become obtainable from Gleaming Seal Chest this week!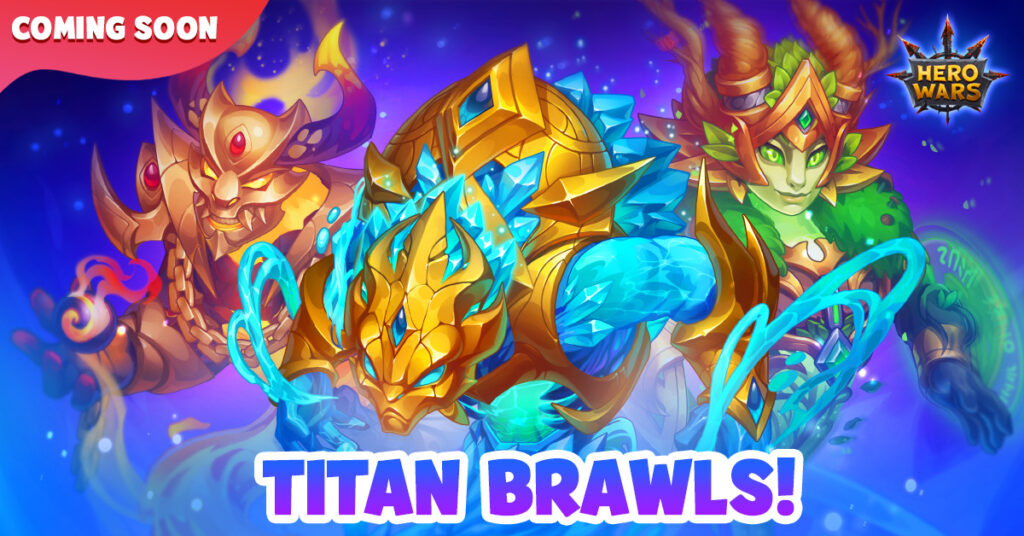 Official Community Manager FAQ
Titles are tailored to the content.
HWA extension(Hero Wars Assistant extension)
Q. HWA extension which Nexters said is allowed updated this. Is this allowed
A. Thank you for the report! We will pass it on and discuss it with the developers. At Nexters, we do not encourage the use of third-party software as it goes against our terms of use. Not to mention, using such software can be detrimental to your hardware and personal data. Creating such software and developing measures to combat it is an ongoing race, which we hope to stay ahead of. In the meantime, we remind you that discussing such software also goes against the rules of our platform and will be deleted (we prohibit discussion of this topic, among other things, to prevent the spread of information about such malicious programs). If you suspect a player of cheating or have found a link that distributes such software, please report it to our support team
We don't encourage the use of such programs
Q. You mentioned you it is not allowed to use third party but clearly CM said its fine in his message. Can you please update us on this matter.
A. I want to emphasize that we don't encourage the use of such programs. As the company is not responsible for any negative consequences to your personal data and ruined gaming experience that may result from the use of such software. We will prevent discussions about it on our server and we reserve the right to block and ban active users who get an unfair advantage. Also, our stance on the use of any particular software could change over time, as our game as well as the software change over time.
A use button in the inventory
Q. can we get a use button for chaos particles and everything in the inventory please?
I really wonder why some items don't have it.
it would be very helpful.
A. Hi! Nice idea. We will pass it on to designers!
Sumple 1: With button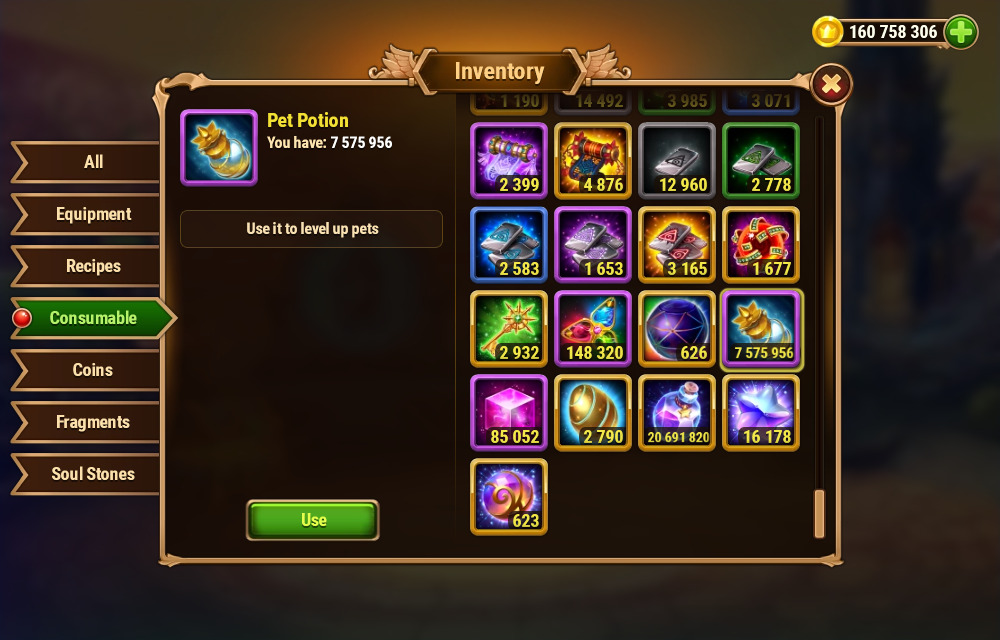 Sumple 2: Without button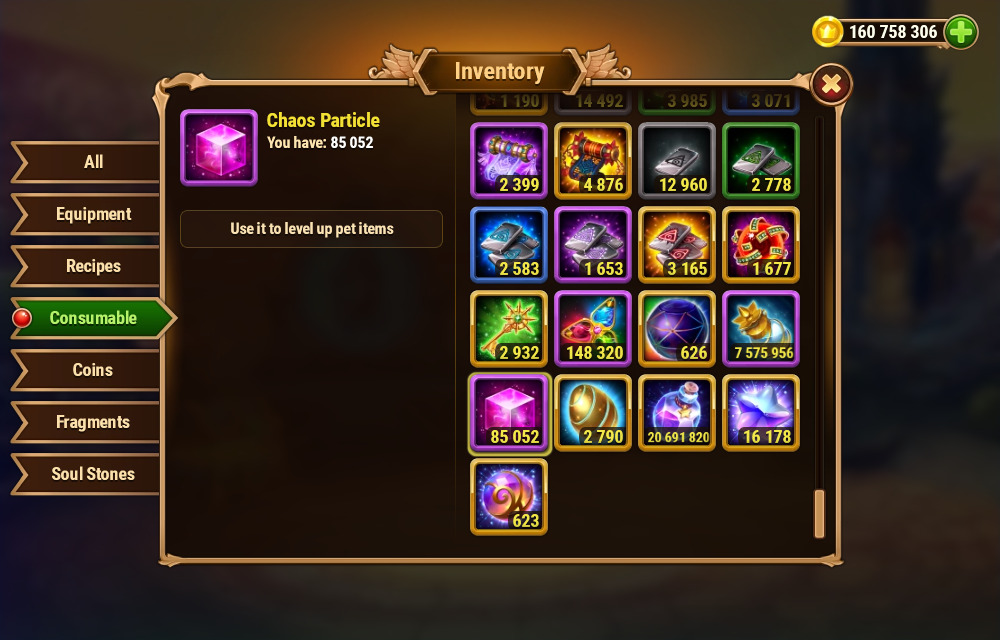 Add the information about the bad luck protection
Q. can the developers add the information about the bad luck protection to the game? So that everyone can see when the next guaranteed totem will drop? Right now er have to ask again and again the support. That would help us a lot.
A. We will bring this topic to them.
What is Guaranteed Totem Drop
Heidi has never been Hero of the Month
Q. Heidi has never been Hero of the Month. It is time for Nexters to stop monkeying around and give Heidi his due. I am certain many players will go ape and bananas over him being selected in July. I realize that Heidi is a guy and not the gorilla of my dreams, nevertheless, he is a good hero. Heidi for July or August Hero of the Month!!!! So lets get this post to Starboard! (AI was not used in the creation of this post).
A. I went to find out when Heidi would be Hero of the Month, but I slipped on a banana peel on the way back and woke up with amnesia. Such a monkey business.
Hero of the Month
This new event format for Heidi event is awful
Q. This new event format for Heidi event is awful for several reasons

1) You can entirely miss that the Snake Charmer event is even happening as it appears in the place that bundle offers normally appear, which a lot of people ignore. It should appear under "Special Events" tab and/or big unmissable graphic you can click on like major events (like brawls, hero launch, the great storm etc)

2) You cannot see all rewards at once under a given mission branch, only the next mission. This makes it impossible to do resource planning.

Please do not use this format for events in future.
A. Regarding all these questions about Heidi Event and its misunderstandings – We received a lot of feedback regarding this inconvenience. The developers will be working to fix these flaws in the next iteration of such Events. On our part, from the CM's side, we launched a notification in-game mail to clarify this aspect.
Stop letting people cancel battles
Q. Please for the love of god would you STOP LETTING PEOPLE CANCEL BATTLES in CoW and Asgard??? Why is this so hard to do when you already force the battle to replay on auto-mode for people who get disconnected mid fight!??
A. Developers are working on it. It is not as easy from the tech side as it might seem.
Extending the Guild War by a few hours
Q. Hi Team, The current Guild War time is really not convenient for us in the Americas (Canada, US, centra/south america). With people being required to go back to work after covid, would you please consider extending the Guild War by a few hours? Thanks!
A. Hi! We will pass it on.
Clash of Worlds not working – is the ranking points system
Q. Clash of Worlds mode is a significant feature – to me personally, it's the most interesting and challenging part of the game.
I think that 3 seasons are enough to get some insights about what's working, and what's not.
One of the things that is clearly not working – is the ranking points system.
It makes no sense that Top 20 guilds should be punished for getting draws, while smaller guilds can out rank them because they had a big gapped victory.
I think it's time to change it.
I'm sure lots of players might have better ideas than the ones i'm about to suggest, and i'm not sure if you should make a survey among all players, or focus on Top 50 guilds, but anyway – here they are:

1. Tie breaker – we finished season 1 out side of Top 30, even though we were there most of the time because we got a draw against a big guild on the last match, while smaller guilds won their battles and passed us by. 2nd season we finished Top 10 for the same reason (we got a big win against a small guild and others were tying their opponents.)
I don't think Time should be factor, but it makes sense to determine a winner by the number of hits left.

2. Narrow down the error margin – In season 2, the number of targets were reduced. the affect was – that it just made it easier to reach max points, even for smaller guilds. so we now get more draws –> means that ranking doesn't represent your skill/power – but mostly your luck.
max score should be a hard task.

3. Create some sort of "Champions League" for Top 30/50 guilds. like in GW where you have Gold league, which only 6 guilds participate and you can get in/out once a week. so only Top 30/50 guilds can be there, and they can get delegated/qualify every end of season. (that leads me to a nice idea for seasons break – use that time for qualifying rounds)

4. This league can have different points system like x2 factor for rankings points, or less hits allowed, or higher buffs for defense.

A. Thank you for your detailed feedback and ideas. Our game designers are currently actively studying feedback on the seasons. We are glad that this mode is generating such a response and active discussion. We will pass on your wishes and designers will look into em'
Addendum: This request and the understanding of its premise are correct in some areas, but there also appears to be a misunderstanding in other aspects. The reliance on luck and the randomness of draws are indeed significant factors, and even rank adjustments can be implemented. It is true that the current system may not be suitable for many individuals in the top guilds, but there remains an aspect of skill and competence that is still valued.
Many players aren't attacked during the brawls
Q. You did it again, many players aren't attacked during the brawls. That was already pretty unfair for the previous brawls. And it was reported so many times. Why is there no solution so far? Is it so hard to implement some true randomizer? And if so, then add some own implementation. Save the information how often someone was already attacked… and then show the ones with the lowest number.
Why do some customers of Hero Wars have to show you some ways how to handle this?!
A. Hey! Yep, the algorithm refuses to be cured. But we've done something different about that: during the event at the end of each day the players affected (those who were attacked less than 5 times during the day) will receive a letter with personal reward/compensation.
Letter will contain the number of Brawl Coins corresponding to the number of "missed opportunities" in a shape of attacks on your defense that were never made. If you did get attacked and you just were defeated each time – that's another story, not an algorithm issue and you won't get any mails at the end of the day
Example: you were attacked 3 times during the day, you lose all three. At the end of the day you will get rewards for 2 more attacks that you didn't even get a chance to win. If you wasn't attacked once – you will get Brawl Coins for all 5 defenses.
Titan brawl that causes the titans to move like heroes
Q. The fights are bugged. Titans are acting as heroes, total trash. We are waiting for it to be fixed.
A. It's being worked on, I hope for a quick fix.
Titan's new skin lifting policy
Q. The new skins for titan will there be made able to buy for 10k (titan skin stones) in 3-12 months??? it will be nice to know since if we not close to maxing our titans it will be worth to wait for us since the skins is very overpriced
A. Don't have an exact answer for that just yet
Main Updates
Addendum
Snake Charmer
New
Snake Charmer Quests Tasks
Snake Charmer Event Shop
Hero Events Strategy Guide
Tier List (on PvP) 2023
Best Teams
What is Manual Yasmine?
Astrid and Lucas teams
Clash of the Titans
Brawl Shop (Clash of the titans)
Was there any impact from the addition of the Titan Skins?
Country Servers and Country guilds
CoW Season 4
Guild DASHIMAKI-TAMAGO 2023.Week24
Guild War:Web31-Gold league,Place 1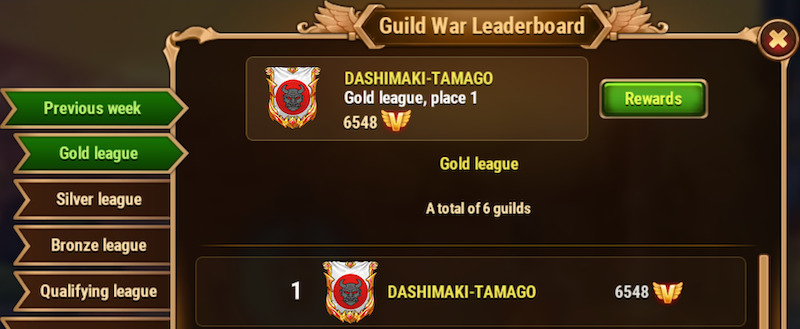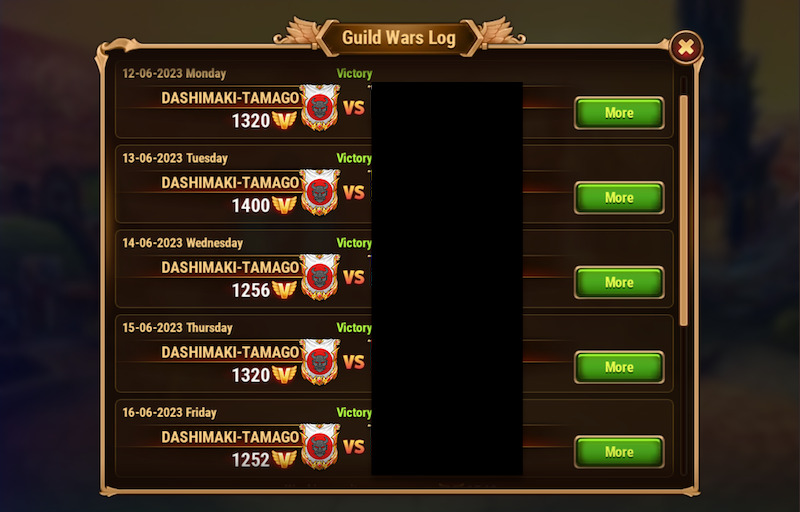 Guild Raid:Place 13

CoW: Season 3 Temporary Place 2