Report
Upcoming Events
Events in August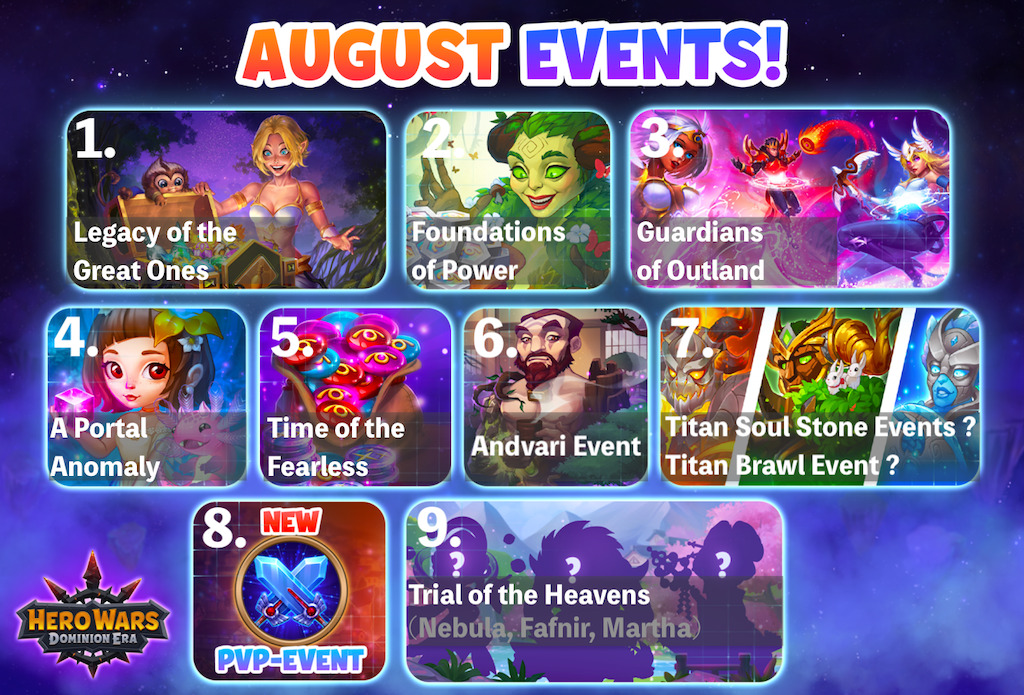 The official announcement has revealed 9 events, presented in no particular order and without known dates. Among these events, the dates for the following 2 are currently unknown.
6. Andvari Event
Perhaps an adjusted version of the Thea event.
8. PvP Event
Details unknown. Once took the form of a brawl.
Mojo's Brawls
Unlocking the Possibility to Acquire Dark Light Titans Normally
The prohibition on acquiring Dark Light Titans through regular means has been completely lifted.
It's official—now all Titans are free to be unlocked!
The long-awaited Titan Souls of Fire, Water, and Earth event has made its triumphant return, and a conducive environment for nurturing Titans of all attributes is now in place.
From this point forward, you can freely select and nurture the Titans you desire without being overly concerned about the acquisition conditions.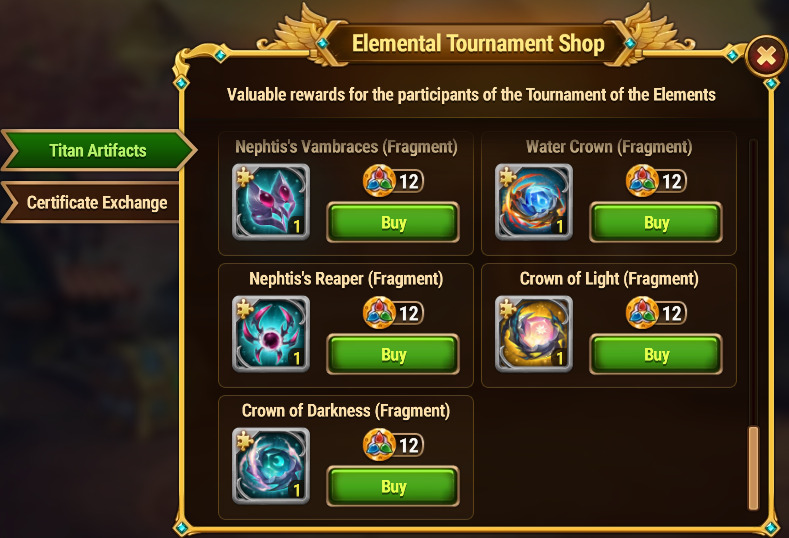 New Summoning Circle Base Drop Rates
Likely, the base drop rate for any of the 5 super Titans is 0.5%.
So, for Tenebris and Solaris individually, the base rate would be considered 0.1%.
Previously, each of the 3 super Titans had a rate of 0.17%.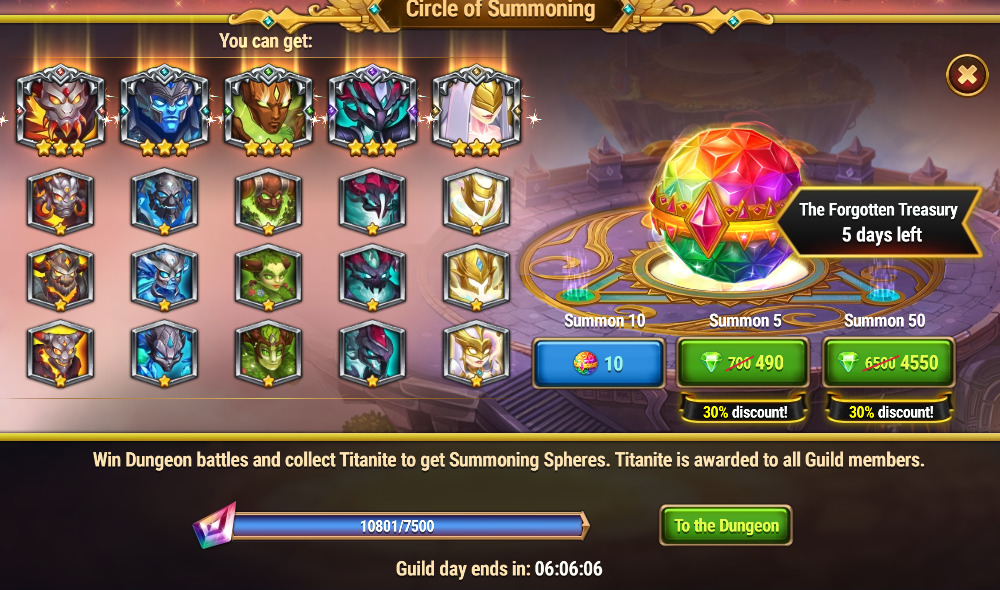 Official Message
Hey everyone, we have great news to share!
The Dark and Light Titans Artifacts will be added to the Elemental Tournament Shop later today — use your Elemental Tournament Coins to strengthen your Titans!
Tenebris and Solaris will also appear in the Circle of Summoning later today — a great opportunity to get their Soul Stones from Summoning Spheres and evolve them even further!
Revised Schedule for Season Event Task Updates
Up until now, tasks used to refresh based on your daily schedule (usually at 5:00 AM).
The update timing has been harmonized with other events at 2:00 UTC.
Special attention should be given to your daily quests.
Official Message
Seasons Quest Renewal Time Is Changing
Hello everyone! Those of you who have Eternal Summer Season 2 active might have already noticed that the renewal time for Quests in Seasons has changed. From now on, Quests in all new Seasons, starting with Eternal Summer Season 2, will refresh at the same time for all players, which is linked to the time of the Season start on the server side. With the current Season start time, Season quests will update every day at 2 AM UTC.
This change was necessary to fix two issues. First, some players with unusual time zones were experiencing a very short first day of the Season. Second, other players were having a similar issue with the last day of the Season. Both issues prevented players from completing their quests within the given time. Now, everyone should have exactly 24 hours to complete their Daily Quests. Additionally, we are trying to make Seasons a universal in-game activity that all players can experience at the same time, and this change helps to accomplish that.
We apologize for not informing you of this change beforehand and for any issues some players may have experienced due to the update. As a token of our apology, we have sent a little gift to the players with active Eternal Summer Season 2. Please, press reload the game (press F5 with the game window open) and check your in-game mail to claim it.
Game message
Brave warrior! Recently, we've changed the quest refresh time for Eternal Summer Season 2. Due to technical difficulties, you could have experienced quest refresh issues because of that. We are sorry for the inconvenience, please accept Eternal Summer Season 2 EXP for these quests and continue your journey in Dominion!
Note: this letter is available till August 25, 2 AM UTC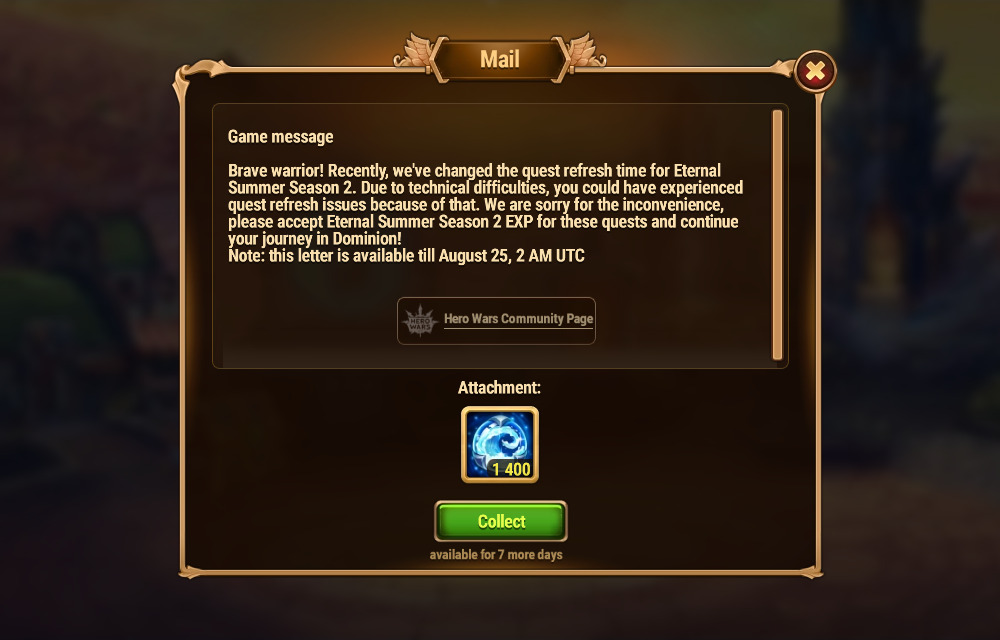 A Fresh Look for Strongford: Visual Overhaul Underway
The main menu is undergoing a captivating visual transformation.
In addition, a new edifice is being unveiled. Humorous hints about its function are embedded within the images, like Chava's Mansion and Titan in the Sky. Yet, the true nature of this structure remains tantalizingly undisclosed.
Official Message
[Soon] Strongford Visual Update!
Our team continues to work on freshening Hero Wars: Dominion Era and making it more fun to play. Soon there will be a wave of significant changes happening in Dominion, which we will gradually unveil to you throughout this month
Today, we are excited to share with you one of these changes — the Strongford Square visual update! This is the first step towards refining the game's visuals and interface, which we will continue to work on in the future.
Check out the fragment of the updated Strongford square view to get a glimpse of the upcoming visual style. What are your thoughts on that? Share with us!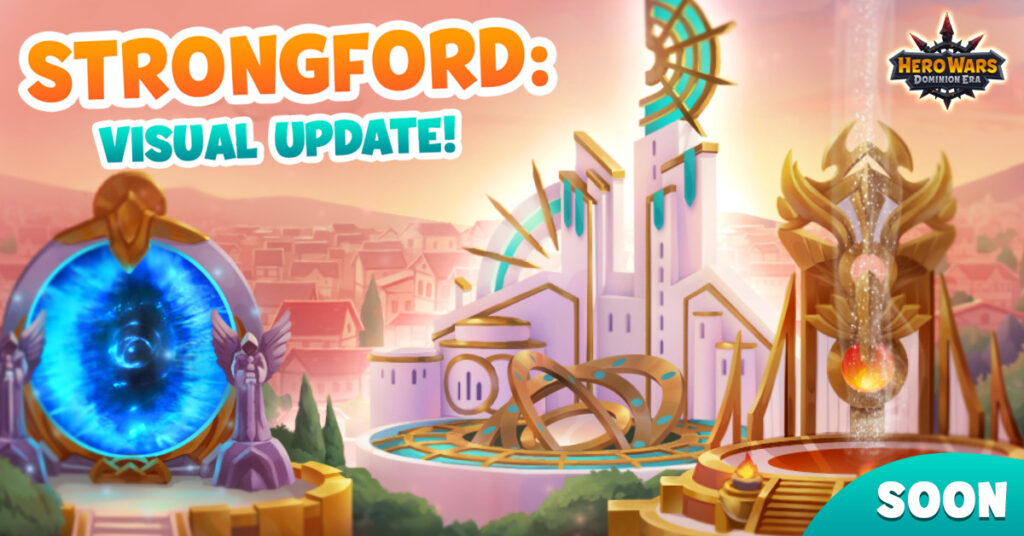 [Soon] New Building in Dominion!
Recently, we unveiled the refreshed look of Strongford Square, and some of you have noticed a building that doesn't exist in the Dominion yet.
And today, we are ready to show you its interior — guess what this building might be, and share your thoughts on that in the #news-discussion channel!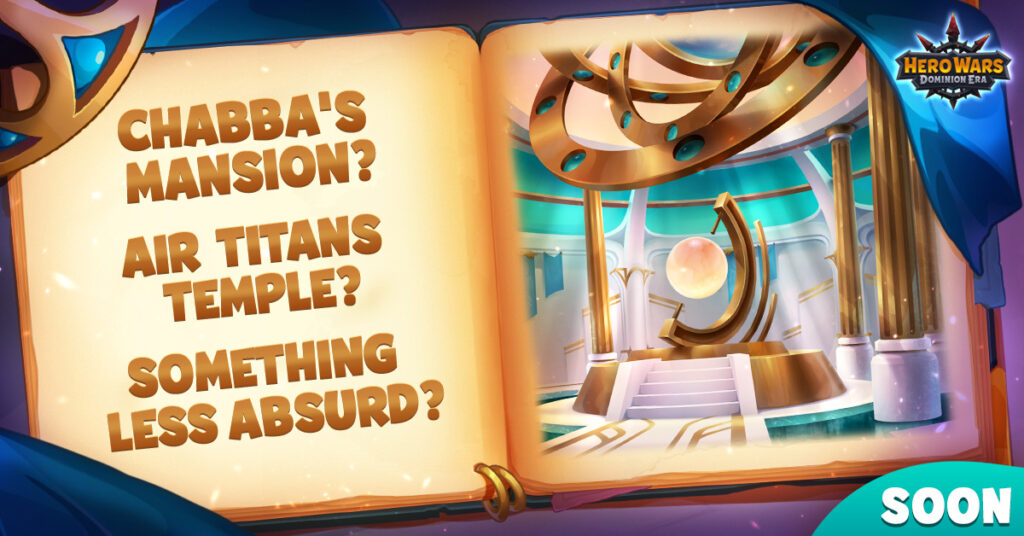 Call for Queries to the Director: Closed, Answers in September
The window for submitting questions has now closed.
Expect a treasure trove of answers to be unveiled come September.
Summary of Questions to the Director
Official Community Manager FAQ
Titles are tailored to the content.
Regarding Winterfest's Unauthorized Clone Accounts
Q. I think my query is quite too soon but based on the time Nexters spent on dealing with cheating script and many updates are being planned, I should raise it now so that you can have enough time to discuss with game devs about solution for this matter.
During Winterfest, some players often use dozens of clone accounts to send gifts to main account. It's not easy for other players to spot out and report unless main account is abnormally shown up on the "Present received" ranking. Last year, you only retrieved rewards for their place in the "Present received" ranking. For gifts main account received from clone accounts, you said it was not possible to do same way. This is unfair to righteous players.
Hence, please think over and introduce a workaround to tackle this thing.
A. Thank you for reminding us in advance, we will remind the developers about this feature
Inadequate Rewards in the Eternal Summer Season 2
Q. Since the Iris Health skin is the grand prize in the Eternal season golden ticket and since the 71+ level rewards are diminished by 50%, pretty much, I think it would be quite reasonable for the Iris skin to at least be of a higher level – like level 40-50 or so. A level 1 skin as grand prize is quite underwhelming… Please star if you agree.
A. Currently, the developers are actively working on changing the seasons. As you may have noticed, both the rewards and the duration format of these seasons are being modified.
We will pass on your feedback.
Nerfing of Heroic Chest Quest in Seasons
Q. should just make it open 7 chests…
A. Yes, this task was a matter of discussion recently. Hopefully, developers will address it.
Request for Enhanced Season Rewards for Free-to-Play Players
Q. Can we have some change in points system of the upcoming seasons, so that non-gold ticket holders can get some boxes/chests that are present after the Grand Prize in any particular season, because even after completing all the quests in a season non-gold ticket holders falls short by 120 (+/-) points from getting 2/5 (depends on season) such boxes/chests… My suggestion is to upgrade points of 1-day tasks from 350 to 450 points, so that both gold ticket holders and non-gold ticket holders will get some extra boxes/chests…
A. Yep, I've highlighted this in our recent meetup with the devs team and they said that they will continue to tweak the reward chains for the seasons.
Desire for Provision of an Event Calendar
Q. Hi Nexters. Instead of these silly cryptic teaser images without dates, how about you give the community what it actually wants which is a full calendar of actual named events for the month with actual dates next to each, so we are not in a constant state of guessing or have to rely on third party websites.
Yes, I understand that you would like to see specific dates for the start of events, but we warn that the order of their appearance in the game may change for a reason. Let's imagine that we commit to a specific date, and you prepare for a particular adventure, but due to circumstances, the date changes, and something else starts. It would be quite disappointing and frustrating. That's why, at the moment, we have reached a compromise to provide players with a general impression of upcoming events. If our pipeline becomes clearer, we will certainly consider the option of informing with more specific dates
Improvement Request for Guild Raid Log Display
Q. Suggestion: Personally, I'd like to see hall of fame results and rewards based on the server I'm on and not just all servers, because the earlier servers have a major advantage over newer ones. If not the rewards, as least be able to filter the ranking by servers for comparison. In addition, we should be able to see the previous weeks results, similar to Guild Wars, so we can better plan attack orders and team compositions.
A. Yes, I agree it would be a nice QoL feature.
Request for Stats Reset
Q. Nexters. You may notice that a number of people have requested the ability to refund glyphs, skin stones, ascension nodes, etc from heroes similar to what you can already do with Gift of the Elements. The reason is that sometimes getting a skin or advancing a glyph actually makes the hero weaker not stronger. For example getting Magic Defense might directly work against a hero that needs to take magic damage to proc their ability. Getting Health might directly work against a hero that wants to ult as soon as possible (as energy gain scales off percentage health taken). Unfortunately by the time you realise these mistakes, it is too late as you cannot reverse the investment and are stuck with a permanently gimped hero.
I assume the reason Nexters have entirely ignored this repeated request is that you are concerned about people using this as a way of advancing new heroes by reclaiming old resources from old heroes instead of spending fresh $$$
If that is genuinely the case can I offer a suggestion that you at least allow players to disable individual skins and glyphs by supplying an on/off toggle for each? That way players can still achieve the required downgrade in power.
The same on/off toggle could be provided for Ascension nodes for that hero for the same reason as glyphs and skins, sometimes you don't want Magic Defense or Health but are forced to take these nodes in order to advance in the Ascension tree.
The same on/off toggle could be provided for skills. For example Jorgen's third skill works directly against him in certain fights where you want to focus on killing the front unit not the rear one, so it would be good to be able to switch this skill off.
To be clear I prefer the option to refund resources but I think my alternative would achieve the desired outcome whilst alleviating Nexters fears.
A. All I can say at the moment is that possibilities to make the heroes' leveling process more convenient and less punishment for mistakes are being researched.
Understanding the Benefits and Drawbacks of Martha's Health Skin
Why is Heidi's Health skin considered risky?
Why do people say not to unlock Isaac's armor penetration skin?
Main Updates and Game trends
Addendum
Summary of Questions to the Director
New
Understanding the Benefits and Drawbacks of Martha's Health Skin
The Forgotten Treasury
The Forgotten Treasury Tasks and Returns
Archaeologist's Tool
Riotous Growth Tasks and Returns
Rainy Season Tasks and Returns
Scorching Days Tasks and Returns
The latest trends, Best heroes, Best teams
Important Game Updates for Players: How to Read
Tier List 2023 (on PvP)
Best Heroes 2023
Which DPS to Upgrade in 2023
Which Tank to Upgrade in 2023
Which Healer to Upgrade in 2023
Which Support to Upgrade in 2023
Which Control to Upgrade in 2023
Meta Teams
Best Teams
Guild DASHIMAKI-TAMAGO 2023.Week32
Guild War:Web31-Gold league,Place 1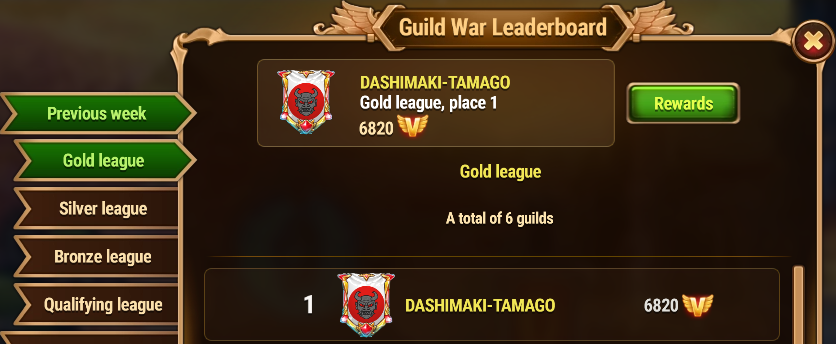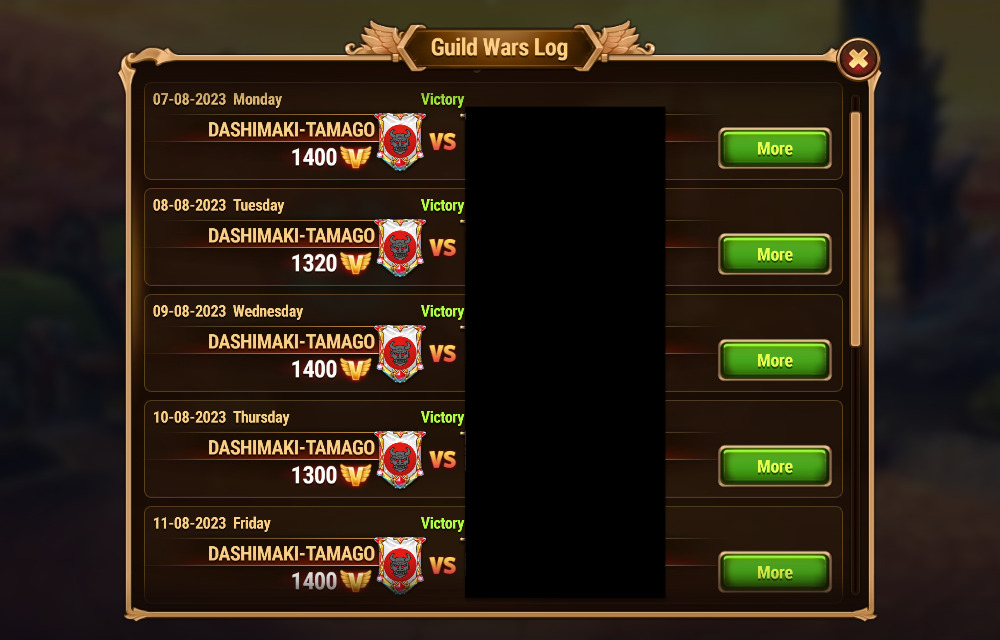 Guild Raid:Place 9

CoW: Season 4 Temporary Place 11