Report
Upcoming Events
*Three days from 6/12 will be a double events.
Events in June
As in previous years, the following events may be held
Dominion Day
Event held in place of Unity
Summer Festival
Solar Skins are added. There is a dedicated store
About the Emerald Sale
There will be a pirate event: As in previous years, the Emerald Sale may begin on Thursday.
It is unknown whether x4 or x5 will be held.
Emerald x5 Sale
Emerald x4 Sale
Cosmic Artifact Chest Updata delayed
Due to the delay in adding the Solaris artifact, users were compensated and Solaris artifacts were distributed via the Mail feature according to the number of uses.
All Dark and Light Titan artifacts are now available!
Cosmic Artifact Chest
Official Community Manager FAQ
Titles are tailored to the content.
Can we gift the Totem, if we have them all?
Q. Daniel did not answer the question in the Live stream. Can we gift the Totem, if we have them all?
A. The main prize for Cosmic Season is a Totem fragment, both for those who maxed Light and Dark Totems and for those who didn't. And yes, if you have Dark and Light Totems maxed out already, you can gift this Totem or exchange it for Emeralds.
Explanation of why the season's rewards were reduced
Q. Can you tell a reason why the season's rewards were greatly reduced from the previous season? Here is a comparison of rewards between Cosmic and Frozen treasure seasons. The rewards themselves are mostly the same, but the amount is reduced by 20-60%
A. The answer is simple: the Frozen Treasure Season was not a regular season, it was a festive event that we meant as one of the holiday celebrations and activities. As such it was purposefully made more rich on rewards beyond our usual Season's value. I understand that is very easy and seems logical to compare these two Seasons as they have a lot of rewards in common, but that is not a fair comparison
Consistency of Cosmic Season Rewords
Q. Apologies if this has been addressed somewhere else but why are there no Solaris Soul Stones in the Cosmic Season but there are Tenebris Soul Stones? Further that, there are no Gleaming Defense Seals as a prize, both in the Quest Rewards AND in the chests (at the end of the season), but yet the two Tanks' Soul Stones (who need these seals) are available as prizes. The whole thing seems a little inconsistent given that we have to pay $$ for a season that's not complete. If anyone feels the same, please star this and let's hope to get some answers. Thanks!
A. As you know, most of our new entities like Heroes, Titans and Pets are usually can be obtained exclusively through the dedicated event, and then they are unavailable through any other means for some time. Solaris was released very recently, so we didn't want to trivialize her too quickly.
But I agree that it feels weird not to have the full roster there, and we shared your feedback with the devs.
Regarding Gleaming Defense Seals, I understand they seemed missed out and together with the support team we've already relayed these questions to our developers team.
I guess the developers didn't make the reward list with consistency as the main priority for the Season rewards, otherwise, we wouldn't put there Heroes' equipment and Eternal Seeds and everything else that's not related to Cosmic Titans. Most of the time the team just thinks about overall value and usefulness but bearing a Season theme in mind.
Including now back to back seasons with no break
Q. Dbl fold increase in events over last 6 months. Including now back to back seasons with no break.
A. We do not consider increasing the number of activities a problem. A few years ago game has considerably fewer quests and activities – THIS was a problem. More things to do is always better than fewer things to do. Every player has a will to consider in which activity to participate or not.
Resource Release of Dark and Light Titans
Q. Nexters cannot really say the "All Light and Dark Titans are already in Dominion" until all their resources are fully available to be got via normal means.
Many people such as myself are holding off on spending any emeralds at all on the new titans until Nexters adds all the resources to the various chests, summoning spheres, particles, and elemental coin merchant that are supposed to contain them.
I understand when I proceed in investing in these titans, I will need to spend a lot of emeralds to get the totems. That is unavoidable.
However I am not going to waste unnecessary emeralds on other aspects just because Nexters is stalling adding the resources properly to the game.
I will wait to see how Nexters acts before investing anything.
A. Thanks for bringing up the list! We've talked about the Elemental Tournament Merchant already in the past, and we will gradually update other Boxes with relevant items. Quick note: not sure if new Titans will be added to the Chest of Support/Marksman/Defender/Supertitans or they will get their own new Chests of that nature. Don't have a 100% approved information on that one just yet.
Fixing price inflation on a more regular basis
Q. Fixing price inflation on a more regular basis especially when it doesn't favor nexters but keeps competitive price balance.
A. We updated the prices last month and considered continuing to do this approximately every month.
Future QoL updates
Q. Zero QoL increases that the community has been asking for: Dungeon rework, Exchange for Pet Pots, fixing bugs in CoW, Access to all Minion fights on Mondays, eliminating animations that slow the game down (tower, dungeon, airship), etc.
A. QoL improvements are in the plans for this year. We will share when there will be info.
Add the same QoL as CoW to GW
Q. And since I'm here, already complaining and trying to improve things, can we PLEASE, FOR THE LOVE OF FLUFFY KITTENS AND PUPPIES EVERYWHERE get the same features in GW that we have in COW?
NAMELY the ability to set specific targets to specific people which blocks off others taking the target, and the ability take a target into combat training in the same way we can on COW? We could add a Guild war tab so we keep everything separate, too. I hate the fact that this isn't the same as GW when, really, it absolutely, positively, without any glimmer of doubt, should be.
A. This question has been regularly raised and we see players' interest in these QoL changes. Currently, we have a number of such features in the "wishlist". The developers planning to allocate their time for these tasks. Unfortunately, at the moment, we cannot announce exact dates for the implementation of such QoL features, but we will share the news with you as soon as they become available. As you can see, the developers have currently focused on implementing new content – adding super titans and new activities.
Break between CoW seasons
Q. current CoW season is about to end in 3 weeks.
can we please ask for a permanent break between seasons – to have some rearrangement and recharging time? I would suggest a 1-2 weeks off.
Even with less targets than last season, CoW is still very intense – we need a break.
A. And we have good news regarding this question! The developers have assessed the community's request on this matter and have decided to introduce breaks between seasons. The break between each season will be approximately one week. We hope that this improvement will make your gaming experience more enjoyable and relaxed!
We want option to sell star mana
Q. We want option to sell star mana.
A. Hello! We've discussed with the devs, that amount of star mana in the rewards shall be reduced (and it was). Star Mana is part of the issue with the excessive resources alongside Pet Potions e.t.c. We regularly address it to the devs and hope that they will design a way to deal with it.
The topic of server migration
Q. Once upon a time, when it was a normal game, developed with patience, even if also with money, the control of older servers to not invade newer made sense.
Long ago you changed that. Now its obvious, huge guilds live on higher servers, number of server means nothing, and those on small servers get invaded and cannot leave.
For example, server 1 till 6. Small numbered servers, with very limited movement for those who was born there.
Server 1 should be one of strongest servers, if not the best, oldest plazers live there, but is just the opposite, if i visited 10 or more srv on the way, he is amongst the weakest in the game. Reason, it was many times invaded, sometimes by group of guilds, ppl lost motivation. Had nowhere to go, so dropped game.
On srv 5 and srv 6 if we remove the superguilds that invaded, is similar story. Nothing to do with huge.
From all only srv 2 is kinda noramlly developed, although is more like average than strongest.
So this policy does not work anymore and has nothing to do with the in game reality. Many servers also were destroyed, so please think about a bigger field, where players can move, even over theyr server of origin.
I think that useless bordering became also one of the reason for people to leave.
Thanks
A. The topic of server migration is a matter of discussion, and we see that there are many requests from players for changes to it. At the moment, we cannot say that there will be specific changes. However, this topic is raised and discussed at developer's team meetings.
Main Updates
Addendum
Legacy of the Great Ones
New
Flawless Artifact Chest
Beginner's Guide
Is the new hero strong?
Corrupted Galahad can beat by solo
Corrupted Orion can beat by 2 heroes
Emerald x5 Sale
Guild DASHIMAKI-TAMAGO 2023.Week22
Guild War:Web31-Gold league,Place 1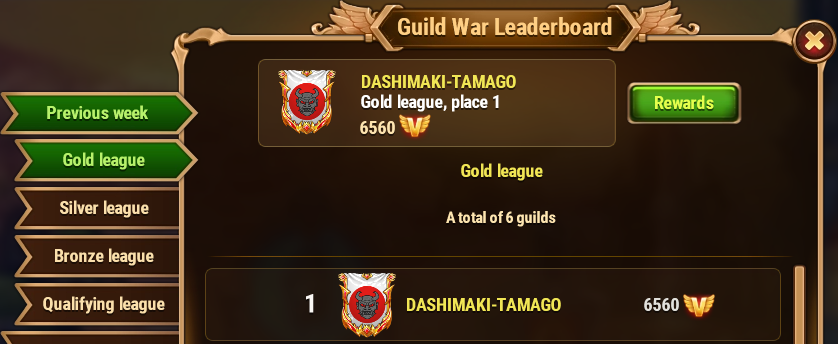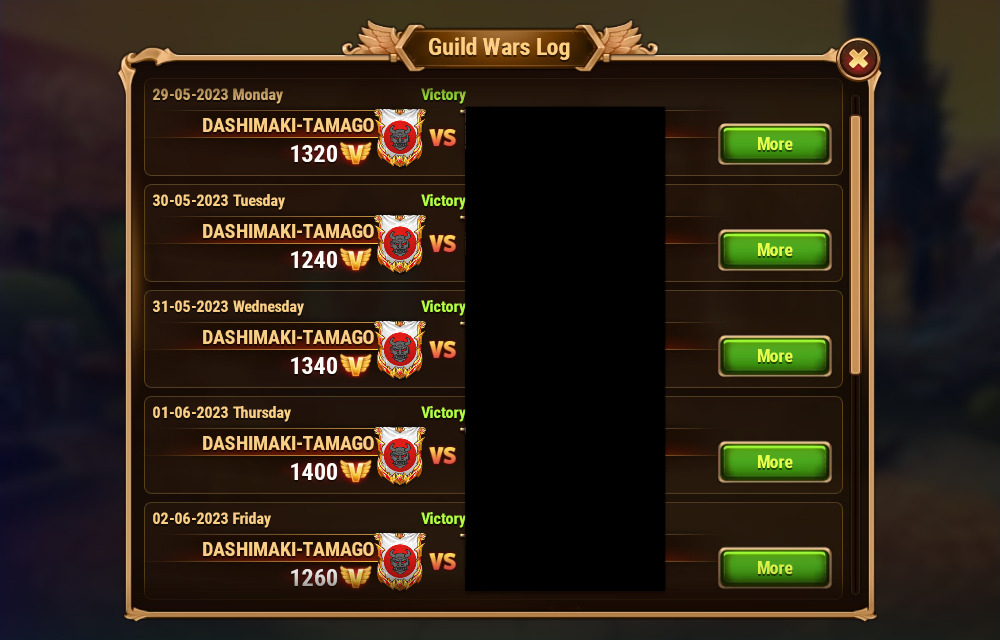 Guild Raid:Place 10

CoW: Season 3 Temporary Place 12