Report
Upcoming Events
Event Calendar Format

September Events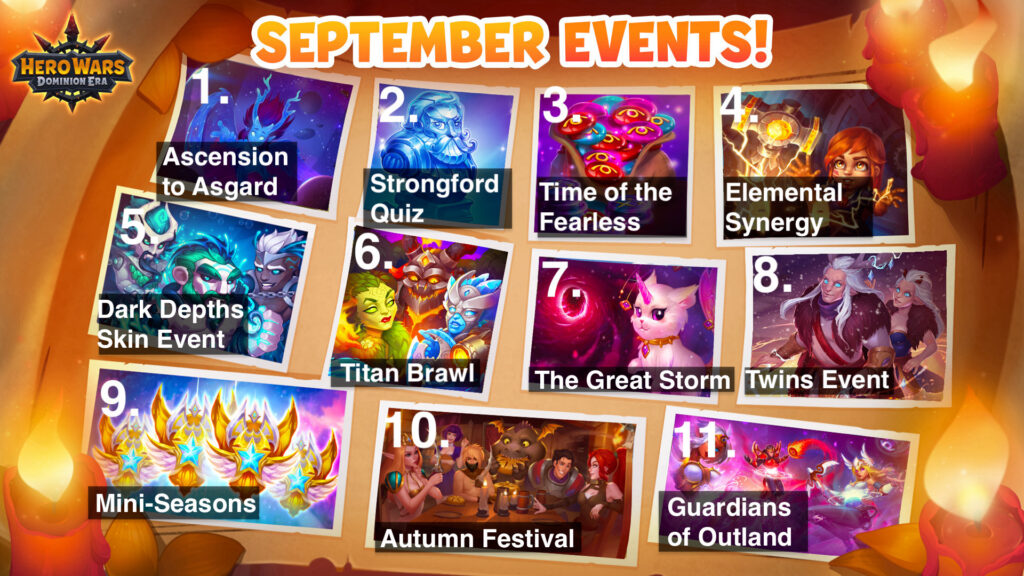 The official announcement has revealed 11 events, presented in no particular order and without known dates.
Among these events, the dates for the following 8 are currently unknown.
3. Time of the Fearless
4. Elemental Synergy
8. Twins Event
It is presumed that the event will be in the same format as the Andvari event.
Wrath of the Earth (Andvari event)
10. Autumn Festival
New Event Preparation
Preparations are underway for the upcoming event. Materials are currently being prepared, including the following images:
Image 1

Image 2

Image 3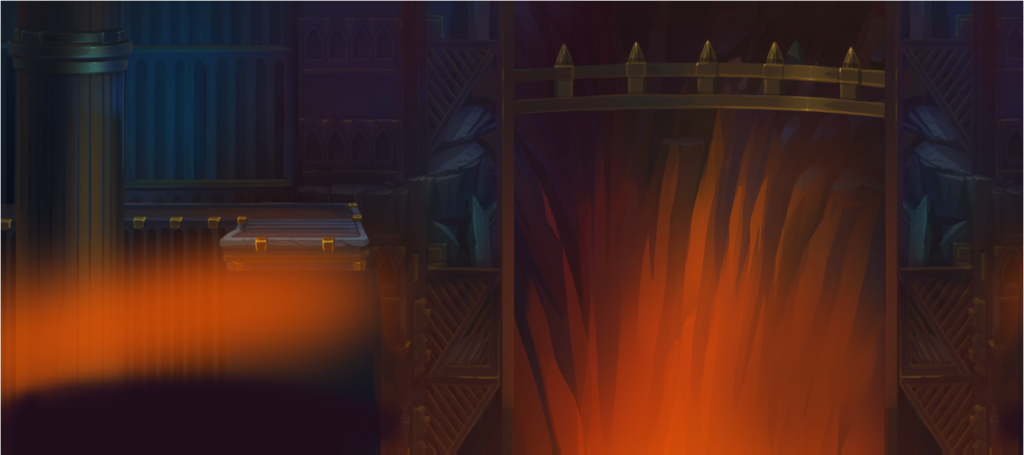 Note: This image is a manipulation of the layers for clarity and is not an exact representation of the in-game content.
Investor Presentation
In August 2023, GDEV, the holding company of Nexters which operates Hero Wars, released an investor report. The report can be found here.
When evaluating the report, consider the following:
Revenues have shown continuous growth through 2022.
Hero Wars remains the flagship product.
Significant numbers have been achieved in both web and mobile platforms.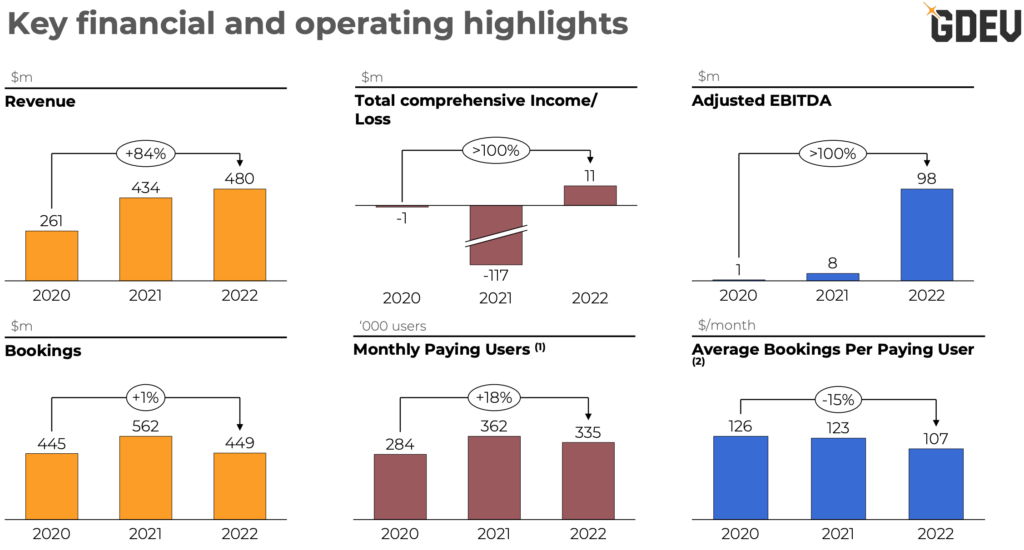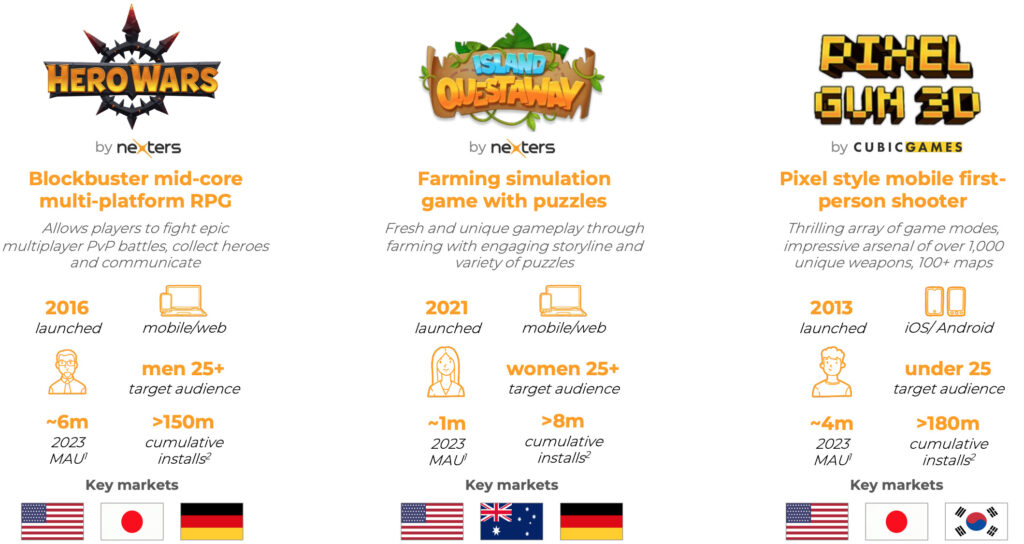 Free Emerald tasks have been made available to all players
Previously, they were only accessible to a random selection of players.
As of now, we believe that this feature is not advisable for use.
Official Message
Complete Tasks and Get Emeralds!
Emerald Tasks that previously became available to some players now are open to everyone – so check them out, if you haven't already! And if you have – make sure to give it another look, there now might be better deals to find (but that still depends). You can find this tab right beside the Merchant.
Important to note that the tasks type, rewards, and frequency of their appearance will be managed by our partner company, which provides this service to us — Hero Wars: Dominion Era.
Free Emeralds
Official Community Manager FAQ
Titles are tailored to the content.
Energy Rewards Obtainable in Event Quests
Q. hi can you PLEASE tell the developers to CHANGE this be "NO expiration date" like the other energy gift we got? Also the LEVEL UP 230 energy…please let it be "No expiration date" and able to SAVE in the game mail. THANK YOU for your consideration. God bless you. Blessings from Taiwan.
A. Hello! I understand that this would be a nice addition and will help to "store" some game resources for the "better times" But this will drastically affect the game economy. There are no signs of any development in this direction at the moment.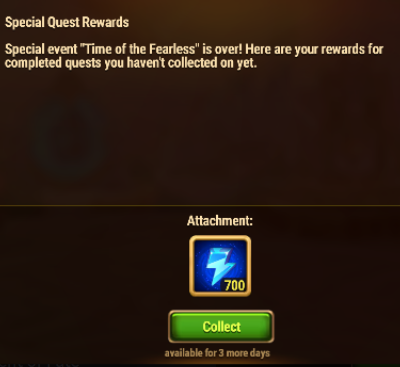 Displaying the Number of Pet Potions on the Secret Wealth
Q. When's the Secret Wealth shop going to show the number of available pet potions?
A. Thanks for the feedback! We will add it to the suggestions list.
Secret Wealth
Desire for Reset Button Beyond the Gift of Element
Q. thank God for the "reset" button in the gift of element…PLEASE have that button as well for glyph and all the leveling up pages so we can RESET our past mistakes. THANK YOU for your consideration.
A. We will pass your comment to the designers' team and hopefully, they will continue their work on developing this feature for the rest of the game mechanics.
Reset Bug in Rarity Fair
Q. I am not from an English-speaking country, so please understand that my English is not very good.
I really like this game because I can enjoy it in my spare time.
However, due to serious bugs like yesterday and today, I don't know if I should play this game anymore.
There was an emerald sale yesterday, so I made the investment I had been waiting for.
My Dante was Orange + 3 level, but I upgraded it to Orange + 4 level at the luxury market. The level at the time was 115.
As the Rarity Fair reopened, we upgraded from Orange+4 level to Red level.
My level was 115, but it was possible to upgrade to red level in the Rarity Fair, so I did that.
I was angry, but since I had no screenshots or hard evidence, I hoped that talking to the game company's robot would solve the problem.

Today I had no solution and was wondering if I should play this game anymore so I decided to do a test.
My Rufus was level 115 and Orange +3.
The Rarity Fair has opened up and Rufus has been put to the test.
The Rarity Fair has opened and my Rufus has been upgraded to Orange +4 level. Then, when the luxury goods market opened again, I took a screenshot.

Even though the level was 116, it was possible to upgrade to red level.
And after a few minutes my Rupus rolled back to orange +3.

I don't know why this happens to me, and I'm tired of talking to robots from game companies.
Of course, I think the same situation could have happened to other heroes I don't know about.
There was also an item that Dante and Rufus were wearing before the upgrade, but I don't remember.
Only my emeralds, which were like cash, disappeared, and my combat power remained the same.
What on earth does the operator do to someone who wastes every minute? For two days I couldn't talk to anyone but the robot.
Where can I find emeralds?
How do I communicate with the game operator and resolve this issue?
A. Hello! We've seen your messages in the drommbot in-box, we will return with the answers when we get details from the support team.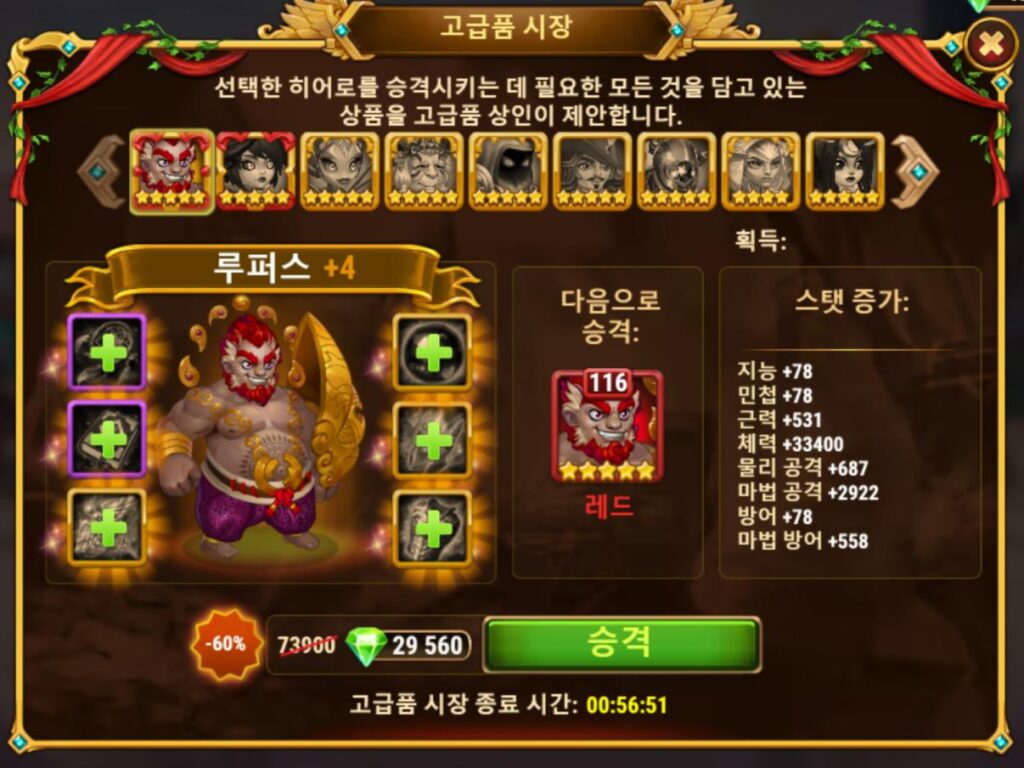 Rewards for Web-based Elemental Tournament
Q. Nexters, the Web version of Hero Wars has such poor rewards for Tournament of Elements compared to the Facebook version of the game. Please raise the Web version rewards to match!
A. FB and Mobile are different platforms, so such differences are possible. But we will pass your concerns to the developers.
Adding Energy Display for Guild Battles and CoW
Q. i think, it would be a great and very welcome QoL upgrade, if we could see not only the health but also the ENERGY of enemy squads by default. It's quite a pain in the !+/!"/!" to watch the battle, wait for last moment, make screenshot (and if you miss the last moment, start all over again. See the xxx we need to mop today as reference… Thank you in advence
A. Thanks for the nice visualization! I think it would be a neat feature. I'll pass it on to our designers.

Bronze Guilds Want to Participate in CoW
Q. Some time ago our guild promoted from Bronze to Silver on server 2.
We played in CoW(Clash of Worlds) and basically had a walk over in both matches that week. Twice 7500 points against some server 150+ guilds.
After a week we got kicked out of Silver and no more CoW.
Basically our guild that exists of veteran players should not be excluded from CoW when much weaker guilds are allowed to enter.
Some suggestions:
– Make CoW available for Bronze guilds
– Change the migration policy. Guilds on lower (crowded) servers have no where to go. When the spreading of guilds would have been better, most strong guilds would compete in CoW.
– Create a CoW qualification for Bronze teams on Sunday, so they do have a chance to enter.
A. Hello! The CoW mode is specifically designed as a mode for powerful and competitive guilds, so we currently have no plans to remove the restriction on Silver and Gold guilds. However, your argument about some old Bronze guilds being stronger than new Silver guilds is also valid. It seems that the solution may lie more in the migration policy – we will consider what can be done about it, but we make no promises that this will be addressed in the near future
Make CoW More Challenging. It's Too Easy for Top Guilds and Gets Boring
Q. the cow season will end soon and it is time to ask my question again. When the pointing system will be changed ? top 20, even top 50 are boring fights with max points. Do not remove the draw but at least make them to not happen that often. This season and last seasons top 20 are always 7500:7500 which is … really boring. Players will stop playing it or paying attention. In GW one fail and you will not win, in COW with allowed 20 fails on titans where almost all guild has like 30 x 2 max titans is pretty much enough for these guilds to get max points on titans. Same goes with the heroes, and with reducing the buffs it is so easy.

Please consider this in your next updates to make COW tougher, it will be tough for weaker guilds but they can't finish top 20 anyway, so no point having that easy guild fights
A. At the moment, we do not plan to strengthen buffs and make battles more difficult for weaker guilds. If developers decide to address this "draws issue", they will be looking for ways to resolve it differently – for example, by considering the remaining attack attempts or something similar. However, such changes are unlikely to be expected in the next season
Do Not Make CoW More Challenging
Q. Totally disagree with this proposal…
Game is heavily influenced by scripts…cheaters will get an incredible advantage if CoW is tightened…with help of HWS can simulate current power and this will play a fundamental role in result…until devs learn to deal with security of game, tightening CoW is a catastrophic mistake

Also, do not forget about social aspect…real people with real lives are sitting behind monitor…we do not work in this game…Guilds in which 1-3 players have keys to entire carfleet (passwords from other teammates) will receive a colossal advantage…
There is also a huge problem in combat balance and total randomness…devs should deal with fundamental game aspects…not satisfy ambitions…
A. This is not a simple task that can always be solved with just one fix. Developers are working on protecting the game, which helps block certain functionality of third-party programs. However, some of these programs operate on a completely different level, so developers are proposing a different approach to solve this problem. They are adding functionality and improving the game so that you don't need to use third-party programs to gain an advantage. One such feature is the addition of training battles. This development is ongoing, and we hope to see other improvements in this direction.
Main Updates and Game trends
Addendum
Keyboard Shortcuts
Clash of the Titans
New
Chest of Support Titan Skins
Nature Season All Quests
Nature Season All Rewords
Cosmix Box
Depths of Horror
Dark Depths Store
Dark Depths Skin List
Restless Souls Box
Depths of Horror All Quests
Depths of Horror Tasks and Returns
Guardians of Outland Tasks and Returns
Foundations of Power Tasks and Returns
Adventures 9 Best Route
Soul Stones
The latest trends, Best heroes, Best teams
Important Game Updates for Players: How to Read
Tier List 2023 (on PvP)
Best Heroes 2023
Which DPS to Upgrade in 2023
Which Tank to Upgrade in 2023
Which Healer to Upgrade in 2023
Which Support to Upgrade in 2023
Which Control to Upgrade in 2023
Meta Teams
Best Teams
Guild DASHIMAKI-TAMAGO 2023.Week36
Guild War:Web31-Gold league, Place 1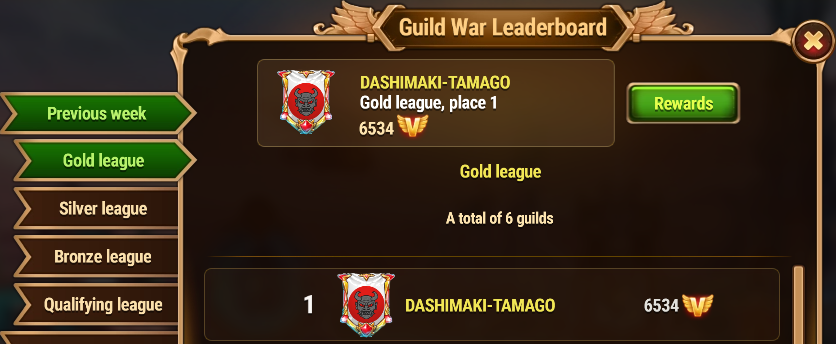 Guild Raid:Place 10

CoW: Season 4 Temporary Place 10