Report
Upcoming Events
Event Calendar Format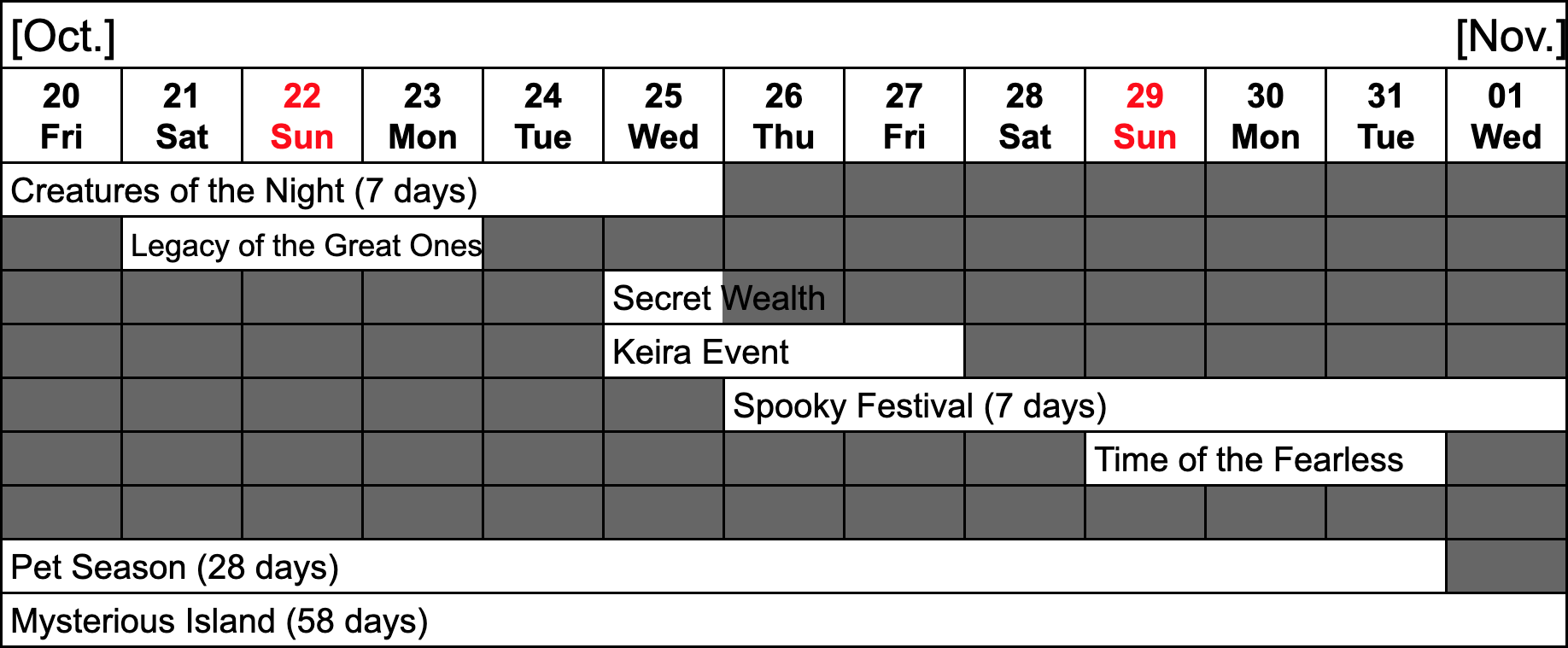 November Events
If all goes as usual, Cyber-con will be held.
Cyber-con
This year's Demonic Skins
They all have their merits. I would say the order of importance is Julius > Amira > Mushy and Shroom.
Except for Julius, the others are not essential, so they are considered to be of lower priority.
Mushy and Shroom
Julius
Amira
Related Event: Spooky Festival
Absolute Artifacts Are In the Game
Performance ceiling increased by more than 50% compared to current power
Please refer to the forecast commentary for the order of upgrade, etc.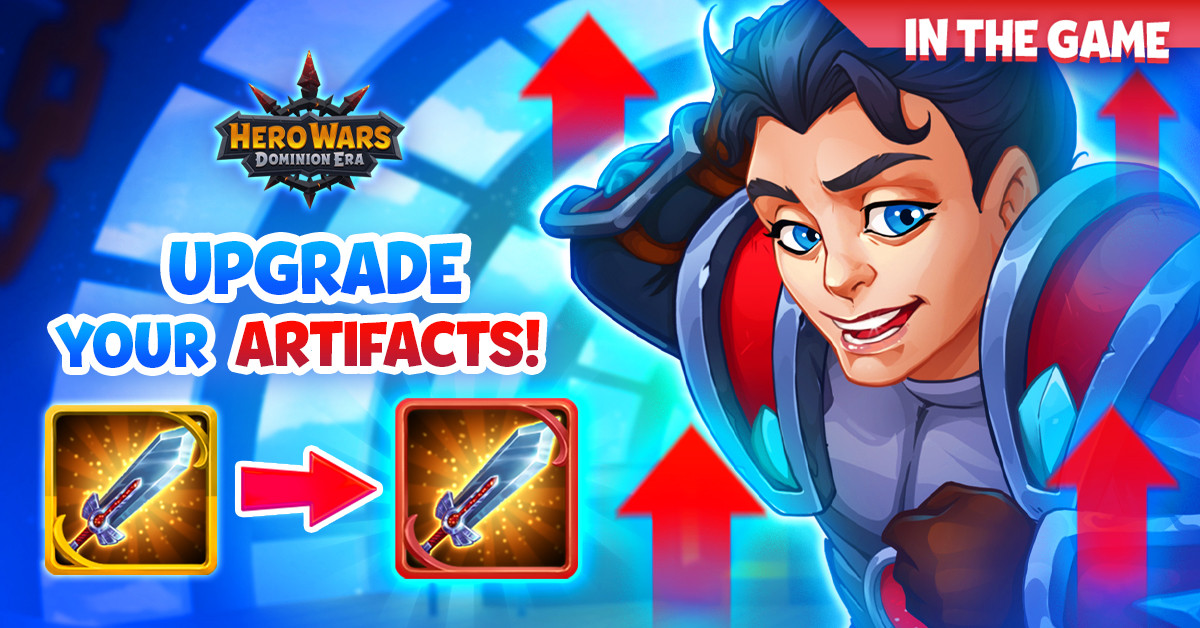 List of Absolute Artifacts
Absolute Artifact Essence
Absolute Artifact Scroll
Absolute Artifact Metal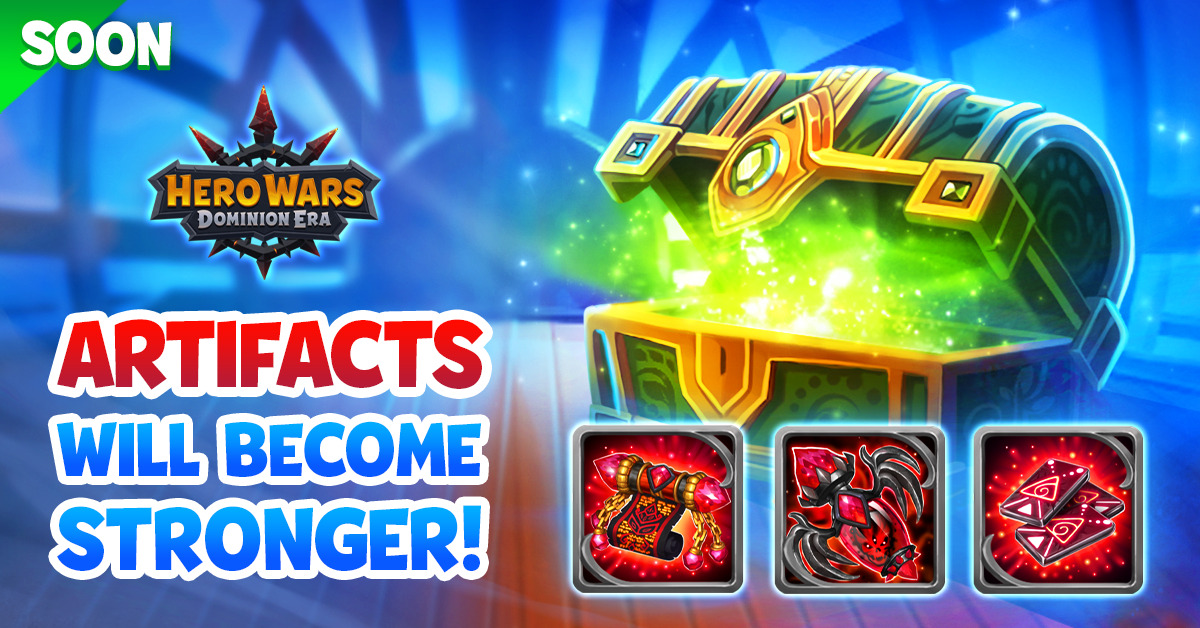 Absolute Artifact materials are here – Official Message
Hey everyone! As was promised and foretold — the Absolute Artifact materials are here! And with their introduction, the max level of Artifacts was increased to 130. So make sure to check them out and use your Absolute Essences, Metals, and Scrolls wisely!
You can get the new Artifact materials from the Expeditions and from the Artifact Chest on Airship starting from Chest Level 6.
And to give you a bit of a head start here is the link, go to our website to get 10 Artifact Chest Keys!
https://community.hero-wars.com/post/2552
And don't forget that on October 21 at 2 AM UTC will start the updated Legacy of the Great Ones event — so it might be a good idea to hold on to your Artifact Chest Keys for just a little longer! 😉
Introducing Absolute Artifacts and FAQ- Official Message
Hello everyone! We have received numerous questions and reactions regarding the announcement of new Artifact levels, so we will try to address them all in this message.
Like any online game, Hero Wars is constantly evolving. There was a time when there were fewer heroes, a smaller campaign, and some game modes didn't even exist. But new content, modes, and adventures are constantly being released to support its life and its community. For example, new skins are being introduced, and the Ascension allows players to see heroes' abilities from a new perspective…
The game meta should be changed from time to time to prevent stagnation. Sometimes, this needs to happen, for example, we have received lots of feedback that some heroes are noticeably stronger while others are considered overpowered. Currently, the developers are focusing on upgrading Artifacts. Let's see what changes it will lead to in progression.

FAQ
Q. Will new Artifacts be added to chests?
A. Yes, they will be added to Artifact Chests.
Q. Will there be any exchange of old Artifacts for new ones in the near future?
A. No.
Q. Will some players level up for emeralds?
A. Yes, just as before.
It is always the player's choice on how to allocate their time and resources. In turn, the developers strive to optimise the game-play flow and provide a fair number of opportunities to enjoy the game
Artifacts Guide
How many Reds come from the Artifact chest?
Artifacts Will Become Stronger!
Pet Season Apology Rewards
As an apology, 5,000 season experience points have been distributed due to an error in quest rewards for 30 pet season days!
Please note that there is a limited time frame to claim these rewards.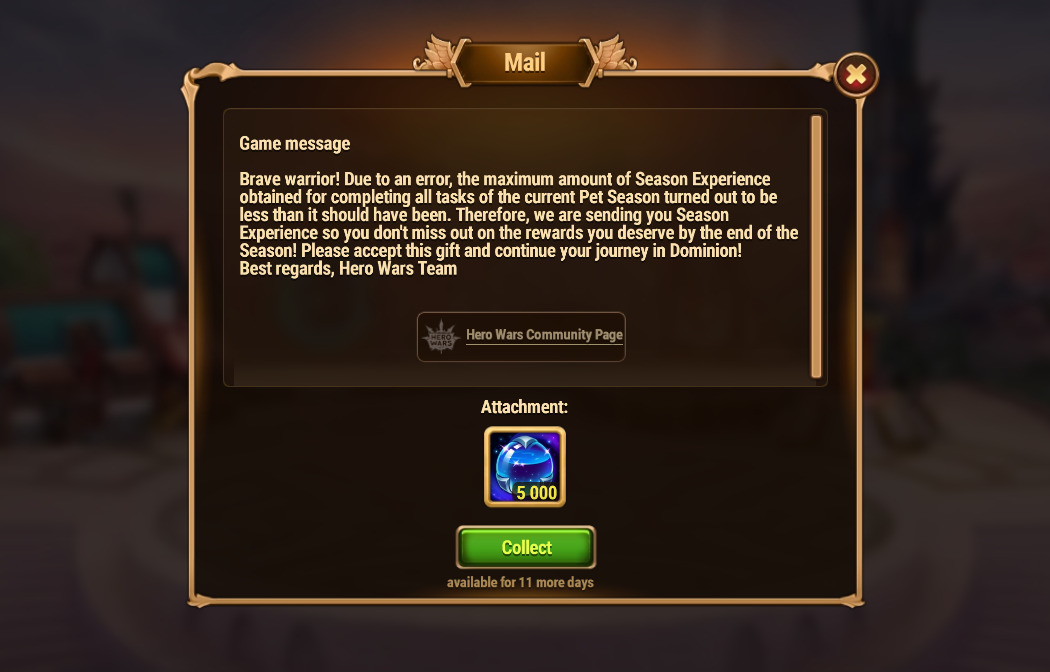 Official Game Message
Brave warrior! Due to an error, the maximum amount of Season Experience obtained for completing all tasks of the current Pet Season turned out to be less than it should have been. Therefore, we are sending you Season Experience so you don't miss out on the rewards you deserve bu the end of the Season! Please accept this gift and continue your journey in Dominion! Best reagrds, Hero Wars Team
Valkyrie Favor Renew
Currently, this is just a visual update.
However, there might be some changes in the future, as per the original update announcement.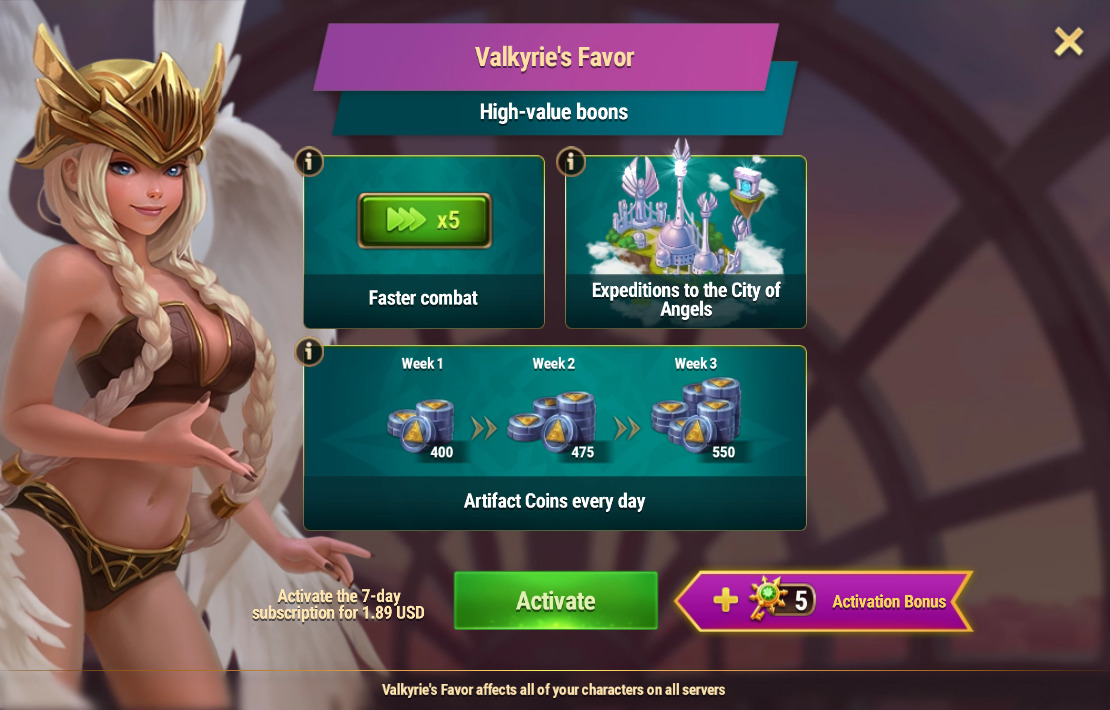 New Hero: Octavia
A new hero will appear in the mobile version!
One theory is that it will be Octavia.
Image 1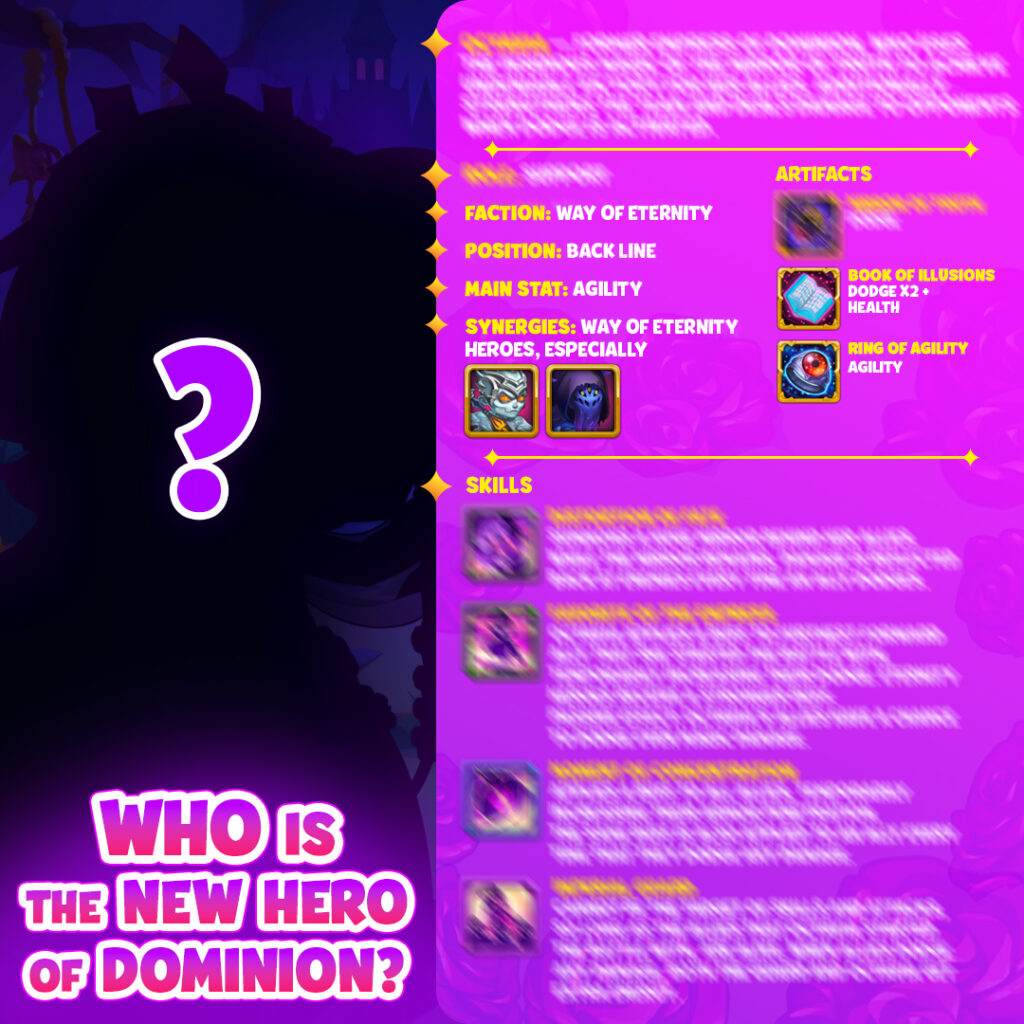 Image 2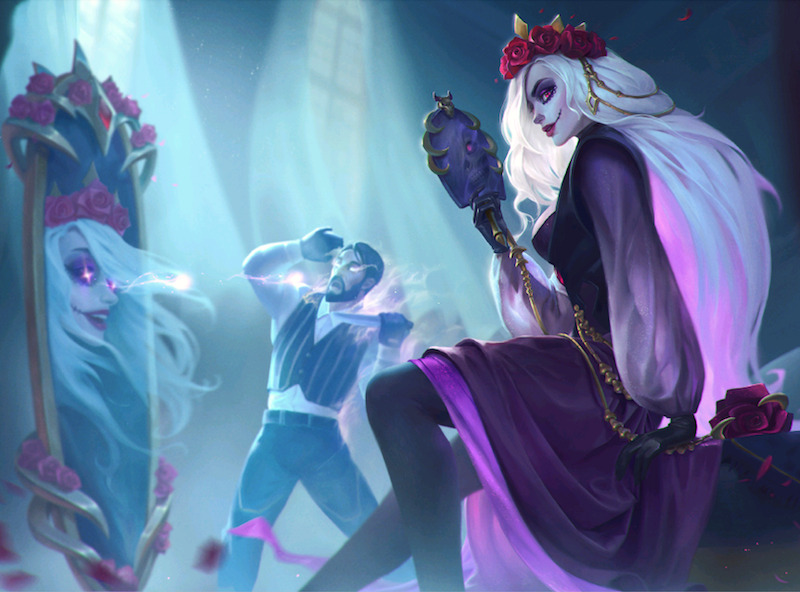 Explanatory video (Hero Wars Central)
Official Community Manager FAQ
Titles are tailored to the content.
Rework of the Legacy of the Great Ones
Q. Absoltue (red) artifacts are appearing on Oct 19. The "Legacy of the Great Ones" event will occur on Oct 21. Will the event be updated to offer "Absolute Artifact Chests"? Or will players continue to get Flawless chests that are now meaningless?
A. Hi! Yes, The event will be revamped to suite the upcoming changes. Stay tuned for the announcement.
Legacy of the Great Ones
Problems with Unattainable Season Rewards
Q. CMs, several players complained, that you cannot reach level 70 without buying a good ticket in the current season. It's only possible to reach level 68, that's a huge blow.
I hope it's just a bug, but how can that happen?
Please check that, fix that or send out some compensation. It was always possible to get all prizes without the gold ticket. At least the bottom half of the prizes.
A. Hello! All players will receive a letter with compensation in 24 hours.
Pet Season All Rewords
Issues with Free Emeralds
Q. Hi CMs, so today we want to state few things about the "free emeralds" stuff.. It was initially started as an "experimental feature" which was initially given to few players only, but later on almost all the players are included in that experiment. So its been over a month and half now since it was rolled out, and it seems that this one and a half month is enough to reach a conclusion whether it should be a permanent part of the game or not, I mean its ultimately the developers final call whether it will be permanent or not.
But no issues if this much time period is not enough to reach a conclusion then I would like to jot down the important problems that people are facing. In this one and a half month, many people have expressed their displeasure regarding that, and some of the common problems are:

1. The surveys that are present in the free emeralds tasks, asks for too much of personal information.. It asks about the address, zip code, phone number, sometimes it even ask to give them location perms as well, and hardly anyone in the game wants to put their privacy at stake by sharing that much detailed info
2. Sometimes it even asks for webcam perms, now this is something that is too confidential as per individual's privacy matter.
3. The amount of emeralds that are given as rewards for going through a survey/completing tasks in some other game is too low
4. Sometimes people even didnt receive any reward for completing a survey or completing a task in some other games

In conclusion, an in-game survey will conclude whether it will be a permanent feature or not.
A. Hello! Thank you for the detailed feedback on the free emeralds feature. The statistics for this feature are still being processed: We have received a lot of feedback from both players in the comments and our support team. Yes, some of the offers there are strange and possibly compromising. However, since they are provided by a third-party provider, we have no control over them. Nevertheless, when we receive a complaint about certain content/survey/task, we pass it on to the provider for action to be taken. Such content is not suitable for our game and audience. If you have not received a reward for completing a similar task, it is also a reason to open a ticket with support, and our specialists will try to assist you.
Free Emeralds
Encouragement for Smart Attacks
Q. Here is another suggestion for the developers. How about incentivising smart attacks? Imagine the following: In case of a draw, take all the "unused" attacks of a guild and award 1 point for each unused attack to the score. Thus you will resolve the issue of too many draws and actuall reward smart playing by a guild. Simple and quick to implement.
Of course you could also limit the number of attacks in total, but from a psychological pov, this will create pressure of "not losing" and does not incentivise/ award smart fighting.
A. Whoa! That's an impressive idea! I bet Designers will look into it.
(If this idea is implemented, no mistakes in CoW will still be important, and those who make messy attacks with the excuse that they don't have time will have no place.)
Issues with Antivirus Software
Q. Hi CMs, recently many people faced a lot of trouble when AVAST and AVG antivirus software interrupted the login to the game. Now it's quite lucky that all of that started on Saturday, else it would have started on weekdays then it would have been even more trouble for the people since they wont be able to participate in Guild Wars or CoW either.. But we have two questions in connection to that incident:
1. What happened all of sudden in the game that an antivirus has to interrupt it, I mean, Antivirus software is crucial for maintaining the security of an individual's monitor, and when some people somehow contacted support specialists, then they got a reply in which it was stated to include hero wars in the exception list, but thats not a good thing. It's more like a temporary solution. What's the complete solution for this, I mean before this antivirus didnt interrupt us, while playing the game, whats changed all of a sudden?
2. Although its a little bit lucky that it was Saturday-Sunday when it struck the players, and "may be" players might have interrupted with their Guild Wars and CoW, unless they have a demotion/promotion battle on Saturday and if they mainly used to attack in CoW on Saturday.. So isnt it fair that players should be atleast compensated for the daily rewards that they have lost during those two days? Although if they get something extra as compensation from developers as a condolence reward, then it would have been good, but atleast they have been compensated for their daily rewards loss..
A. Hello, this issue was addressed and fixed. We apologize for the delay in finding a solution. It required coordination with third-party partners, which resulted in some temporary delays.
Compensation for Antivirus Software Issues
Q. So, any compensation for the people that couldn't access the game over the weekend, due to AVG/Avast blocking it due to being flagged as scams.

Any compensation for the Dark titan skin level up bug, which the devs/cms keep ignoring?

Or are the CMs going to simply ignore this once more.
A. Collective compensation for these issues is not provided. Requests are considered by the support team on an individual basis.
Transparency of the Development Team
Q. Hello, could we learn about the Dev team's composition and average headcount? Some of us have invested significantly in this game, expecting high-quality products. However, it appears that this expectation is not being met. Providing transparency on the team structure would help us adjust our expectations accordingly.
A. Thank you for your interest in our Dev team and your passion for the game. While we appreciate your support, we cannot disclose specific information regarding the team's composition and average headcount due to confidentiality reasons. We value transparency and will provide updates on our progress to help you adjust your expectations accordingly.
(Many Players really don't understand what CM are saying…)
Main Updates and Game trendsaaa
Addendum
Letter to Winter Claus
New
Keira Will Become Stronger!
Keira's Brawls
Keira's Brawls All Quests
Brawl Shop (Keira)
Vex
Creatures of the Night
Creatures of the Night All Quests
Creatures of the Night Shop
Artifacts Will Become Stronger!
Legacy of the Great Ones (New Style)
How to Defeat the Amira with Dante Tank
Guild DASHIMAKI-TAMAGO 2023.Week41
Guild War:Web31-Gold league, Place 1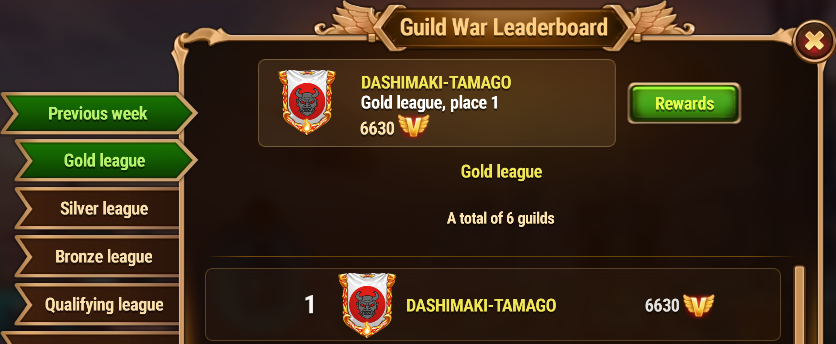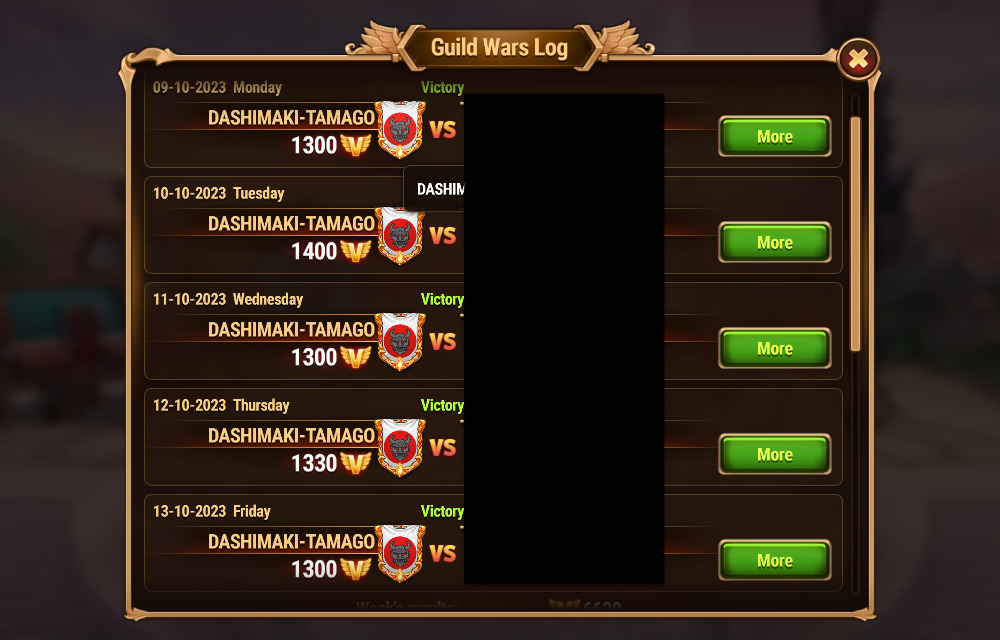 Guild Raid:Place 10

CoW: Season 5 Temporary Place 22