Report
Upcoming Events
Sat, Oct. 07 – Mon, Nov. 27 : Mysterious Island, Seasonal Adventure (58 days)
Wed, Nov. 01 – Fri, Dec. 01: Halloween Calendar (30 days)
Thu, Nov. 02 – Fri, Nov. 03 : Secret Wealth #3 (New Ver.)
Thu, Nov. 02 – Sun, Nov. 05 : Guardians of Outland
Fri, Nov. 03 – Sat, Nov. 04 : The Forgotten Treasury
Sat, Nov. 04 – Sat, Dec 02 : Champions Season (28 days)
Mon, Nov. 06 – Thu, Nov 09 : The Great Storm ( > Map Guide)
Thu, Nov. 09 – Thu, Nov. 16 : Interplanetary Travel (Stellar Skins event)
Fri, Nov. 10 – Mon, Nov. 13 : Elemental Synergy
Sat, Nov. 11 – Sun, Nov. 12 : Secret Wealth
Mon, Nov. 13 – Tue, Nov. 14 : Time of the Fearless (1 day) ..and Perhaps x5 Sale
Mon, Nov. 13 – Mon, Nov. 20 : Emerald Waterfalls
Fri, Nov. 17 – Mon, Nov. 20 : Ascension to Asgard **schedule change
Fri, Nov. 17 – Mon, Nov. 20 : Legacy of the Nature *
* Announcements only
Event Calendar Format

* Announcements only
November Events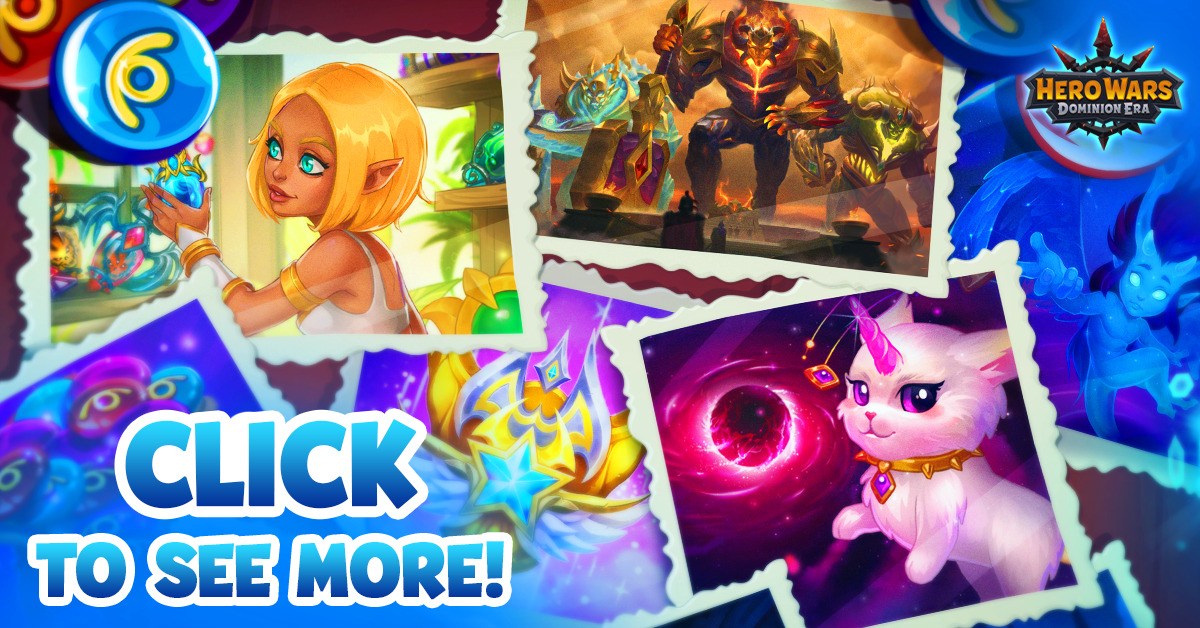 The official announcement has revealed many events, presented in no particular order and without known dates.
Among these events, the dates for the following some are currently unknown.
Official announcement
As you can see in the picture, there will be a lot happening in November:
Special Halloween Calendar, The Great Storm, The Elemental Synergy, Ascension to Asgard, Time of the Fearless, Special events with new Stellar and Cyber skins, New Map Part in Seasonal Adventure, Legacy of The Great Ones, Event for Nature Titans, The Guardians of Outland, Champions Season and one more event, which we will tell you about later!
Which events are you looking forward to the most? Share with us! Please note that the depicted November events may be subject to change — in that case, we will definitely inform you in our posts!
The Great Storm
Elemental Synergy
Time of the Fearless
At this time it is unknown whether it will be for 3 days or 1 day.
Each will most likely be held at the same time as the Emerald x4 Sale or Emerald x5 Sale, respectively!
Time of the Fearless (3 days) and x4 Sale
Time of the Fearless (1 day) and x5 Sale
Special events with new Stellar and Cyber skins
It is currently unknown whether this is a single event or two separate events.
In the past, the following Cyber-con and Stellar Skin Chest have been held. However, these were separate in past events, so it is unclear if there will be one set
Cyber-con
Stellar Skin Chest
Legacy of the Great Ones
Event for Nature Titans
While it's not explicitly stated, it is likely referring to the following three events.
Riotous Growth, Rainy Season, Scorching Days
One more event which we will tell you about later!
Based on previous announcements of a winter notice, there may be a new Hero or Ascension opening event.
Important Game Updates for Players: How to Read
October's Hero of the Month are Lian
Lian excels at influencing battle situations with her charm.
While she may not be the most powerful hero, she is easy to control and can be utilized by both beginners and advanced players.
Soul Stones can be obtained at the Grand Arena Shop, so they are not of high priority. If you are planning to open a Honorable Guardian Box, I would recommend preserving them.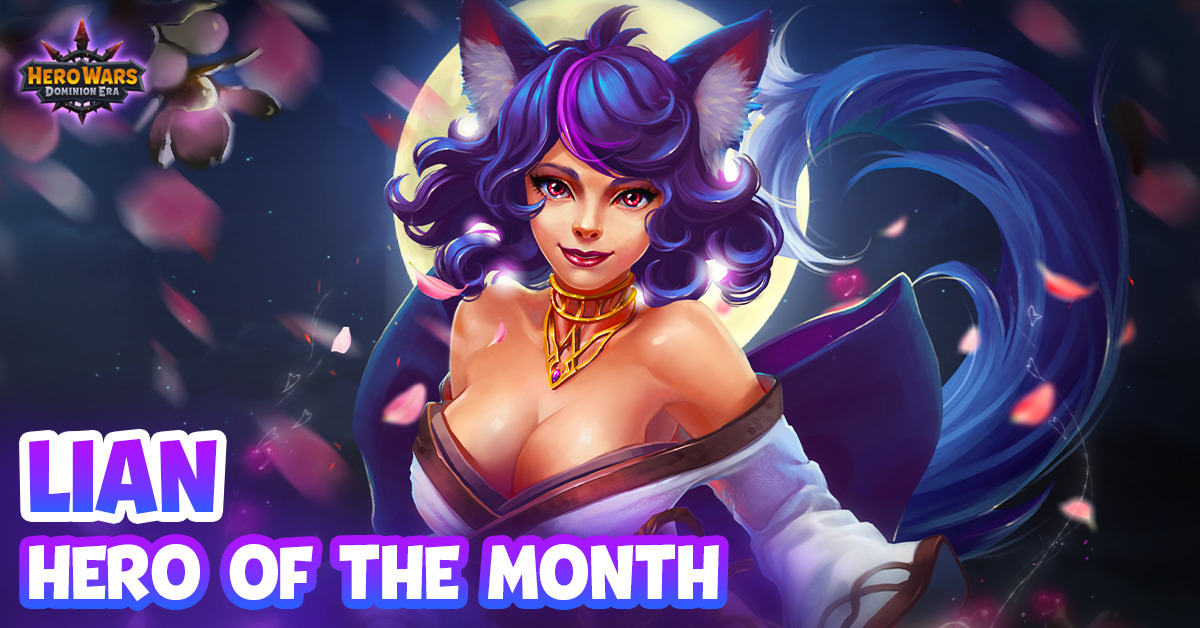 Hero of the Month
Lian
This year's Stellar Skins
The crucial point will be whether they will be offered in the Stellar Skins Chest, which was very unpopular last time!
If it is included in the Stellar Skins Chest, you will have two options: try your luck or wait for the general release. The good news is that, unlike the Beach skins, there is a precedent for the ban to be lifted!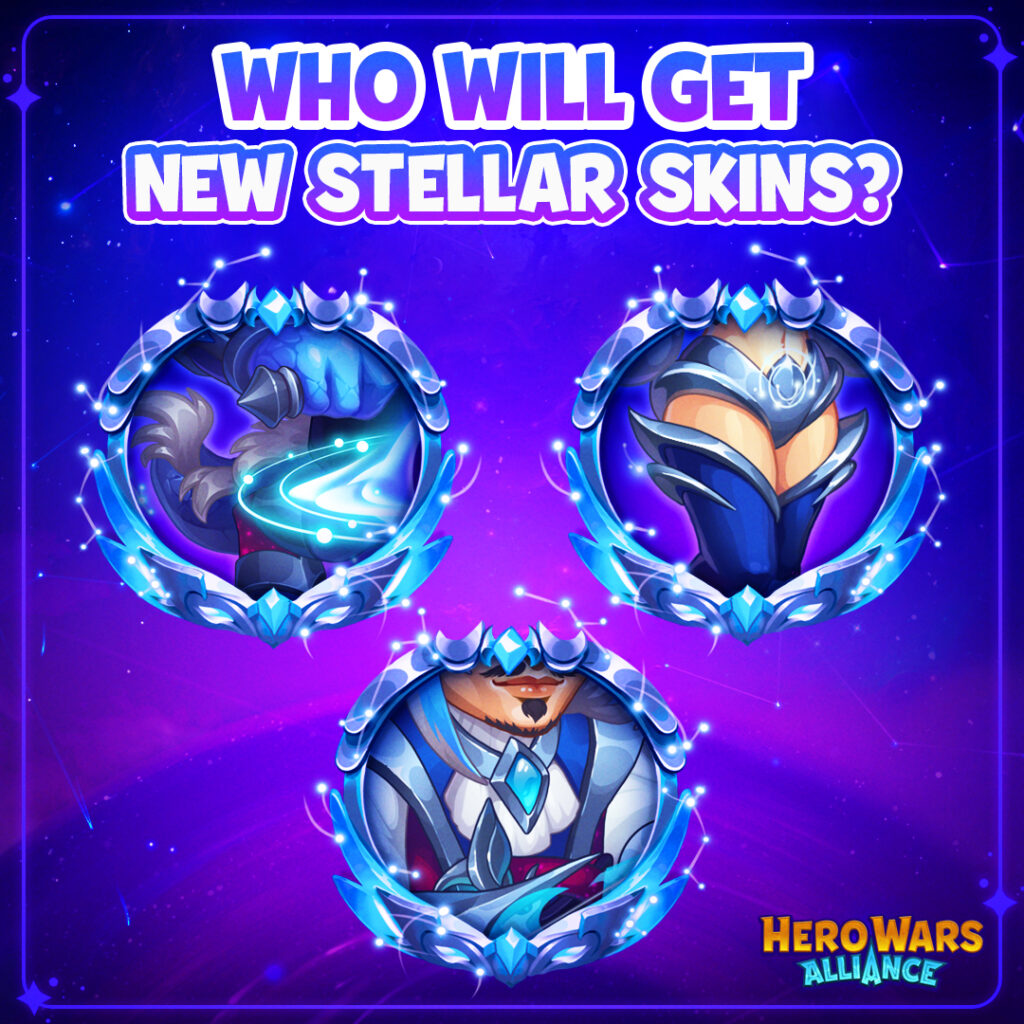 Iris
Sebastian
Fafnir
Related Item: Stellar Skin Chest
Mysterious Island: War Flags & Patterns!
Update scheduled for release next week.
It is mentioned that it can be utilized in Arena and Guild Wars. Therefore, it is assumed to be usable in most game modes.
People who have been saving up Explorer Moves can expect to have an advantage.
Official Message
Next week, a new part of the Mysterious Island will open in Dominion Seasonal Adventure, where you can find War Flags and Patterns — special items that you can use in battles to strengthen up your teams in Arena and Guild Wars modes!
In the new part of the Mysterious Island map, you will be able to find two types of War Flags, each with a unique Ability! In addition to their unique Abilities, War Flags can hold up to three enhancements called Patterns, which, depending on their type, can boost various stats of the Heroes in your team!
You will be able to get War Flags and Patterns, as well as more details about the new features, by exploring the new part of the Mysterious Island map!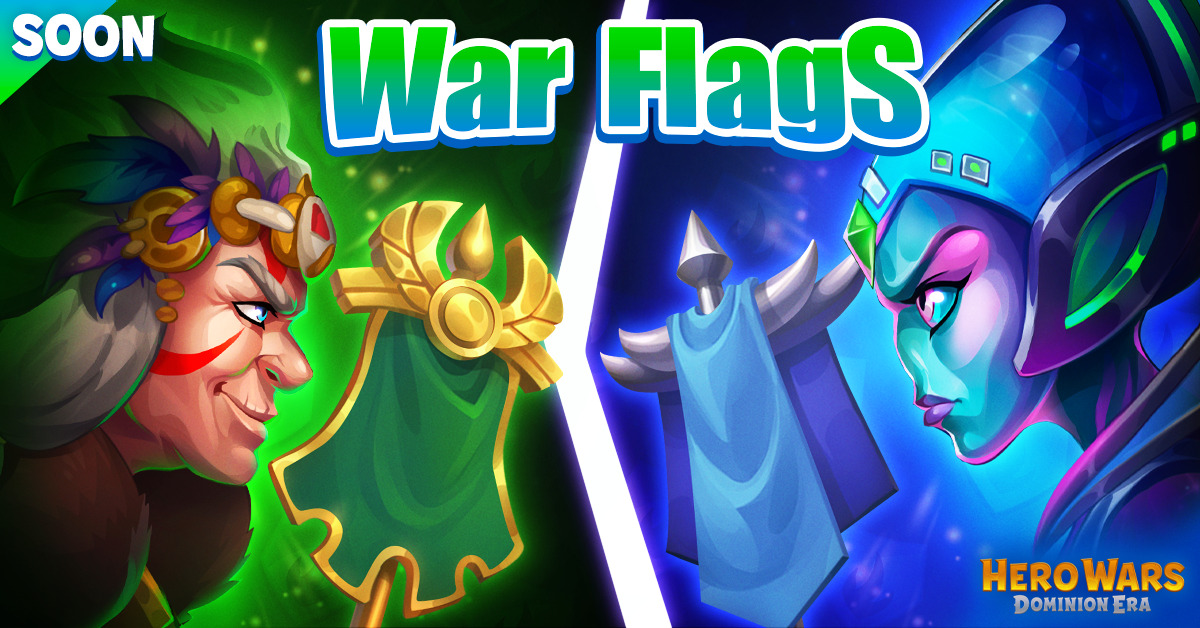 Mysterious Island
Explorer's Move
Portuguese Language Added!
The language selection is increasing by about one each year.
Portuguese is now supported as the 13th language!
Guild language designations are not yet supported at this time.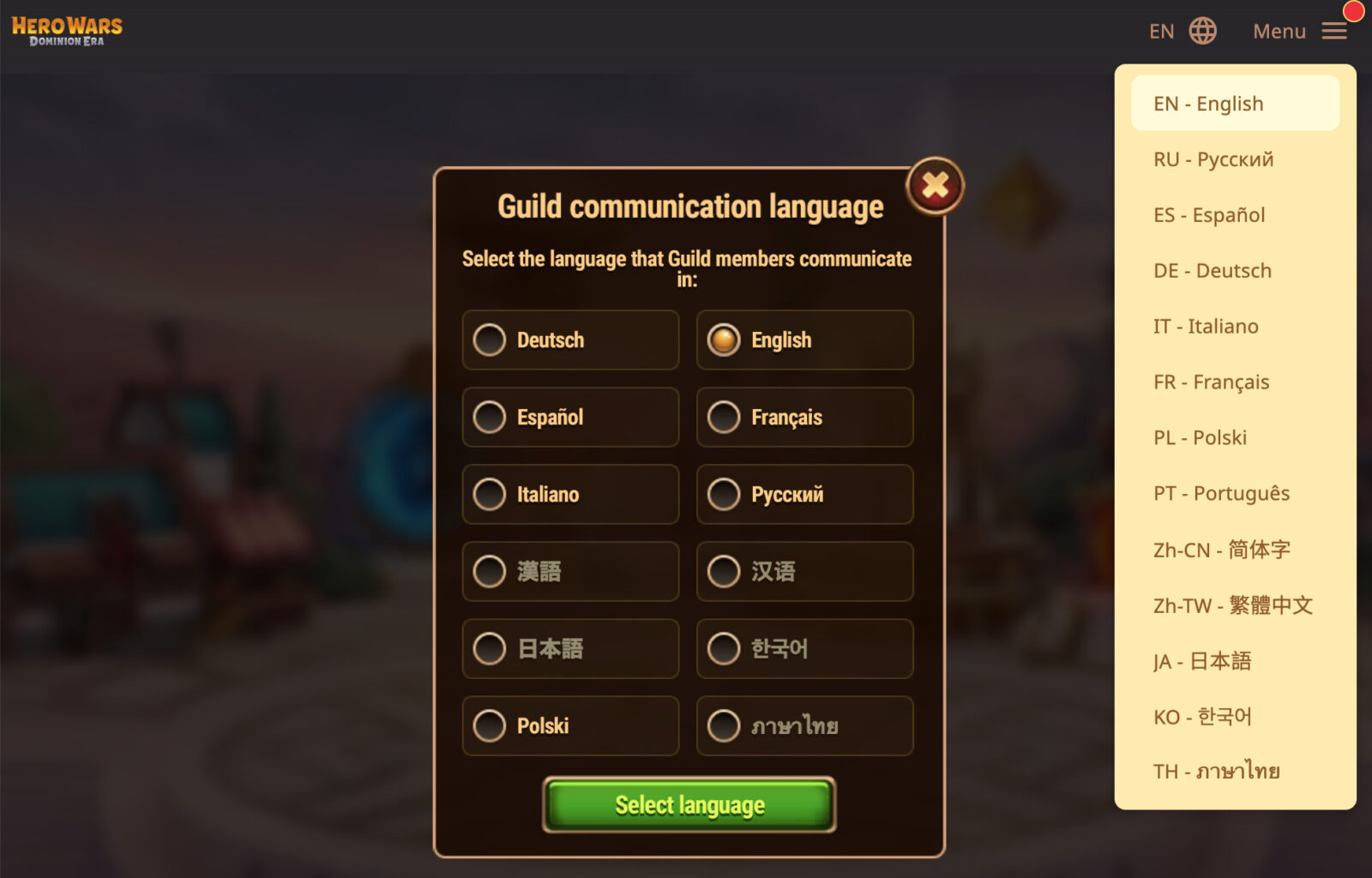 Official Message
Hey everyone! Good news for our Portuguese-speaking players: from now on, you can play Hero Wars in your native language! Just make sure you changed the language in the settings and you're ready to go!
If you found a mistake in translation or just want to leave your feedback on this update, contact our support team!
Olá, todos! Boas notícias para nossos jogadores que falam português: de agora em diante, vocês poderão jogar Hero Wars em seu próprio idioma! Basta alterar o idioma nas configurações e pronto!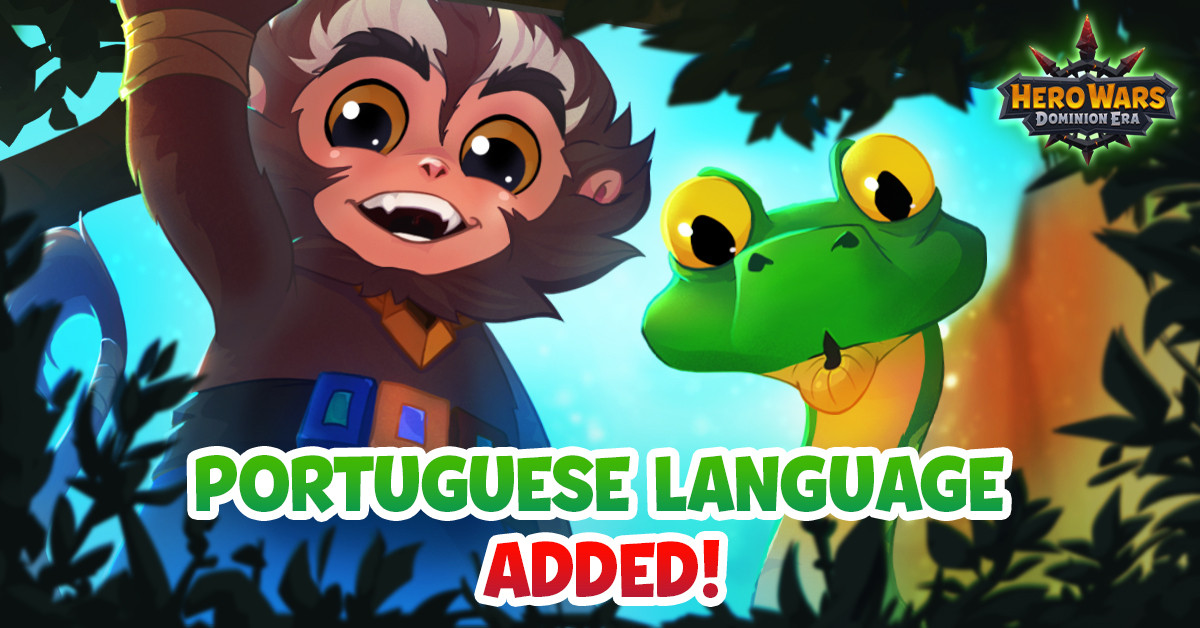 Raymond became multilingual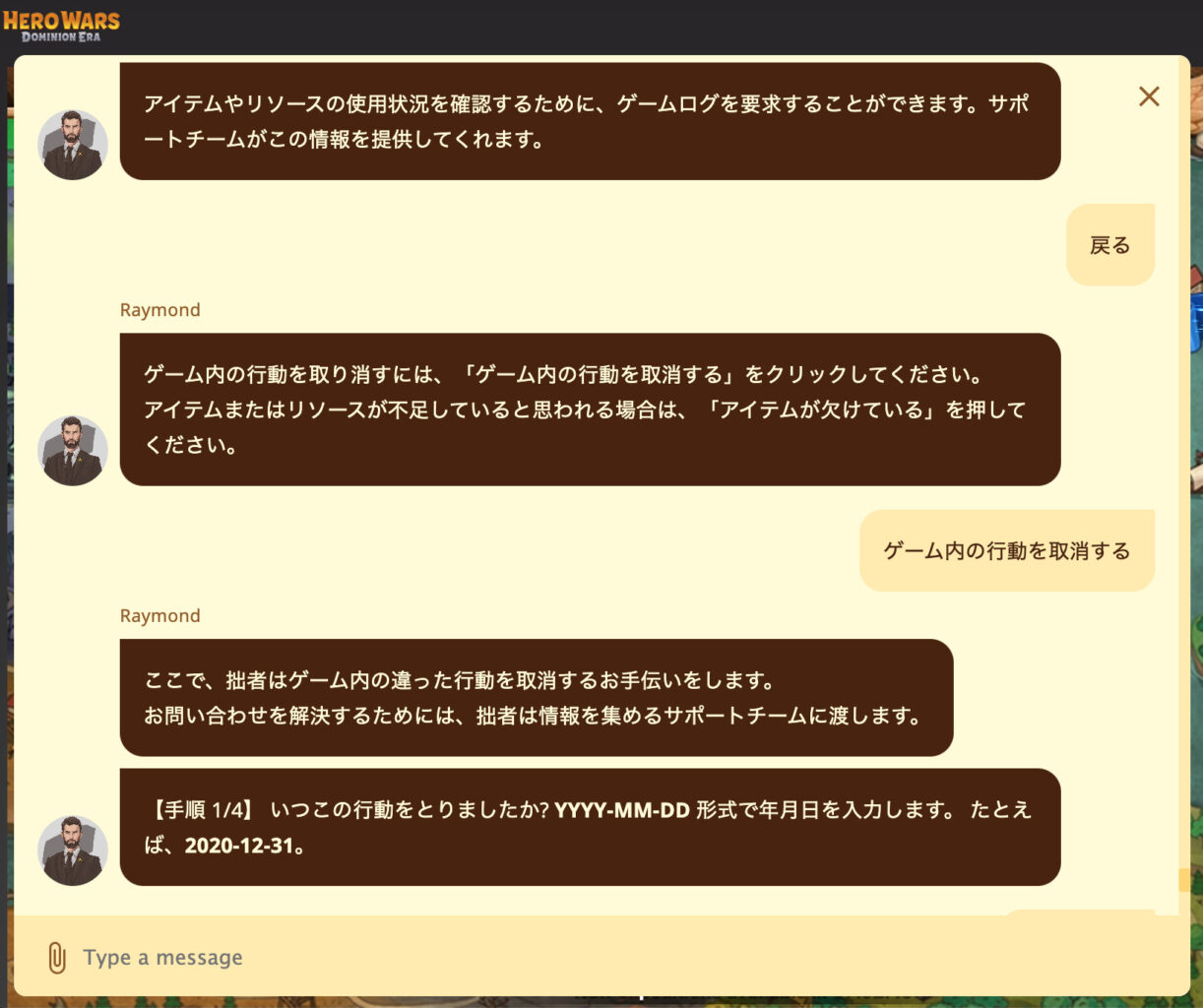 About the GDEV 2023 2Q Report
https://www.gdev.inc/press-releases/financial-results-2023-Q2
GDEV is the holding company for Nexters.
I've read the report and personally focused on the following points:
Hero Wars is considering a future-proof concept through rebranding.
Sales have slightly decreased, but within an acceptable range of fluctuation. Mobile version sales are down by 13%, while PC version sales have increased?
The development structure has been shifted from Russia to outside the country, and there has been a replacement of engineers working on the game. The average salary has increased.
*This is the personal opinion of one user and is not intended to influence investment decisions.
GDEV announces results for the second quarter and first half of 2023 (excerpts)
Hero Wars, our flagship global mid-core franchise, recently conducted a soft rebranding with names of mobile and PC browser versions of the game being changed to "Hero Wars: Alliance" and "Hero Wars: Dominion Era" respectively. The rebranding is designed to differentiate two versions of the game and create a more distinct identity for each version in the future. As part of the development of DTC (direct to consumer) channels, an external web shop for mobile players was launched at the end of Q2 2023, providing us with an alternative method of monetization.
Platform commissions decreased by 22% in the second quarter of 2023 compared with the same period of 2022. The decrease in platform commissions was primarily due to a 13% decrease in the revenue generated from in-game purchases when compared to the prior period, amplified by an increasing portion of revenue derived from our web platform which is associated with lower commissions compared to mobile and social networks.
Game operation costs increased by $6 million (or 30%) in the first half of 2023 vs. the same period in 2022 to reach $27 million. The increase in game operating cost was primarily due to an increase in average salaries of our employees as a result of the relocation of personnel in the second half of 2022 from Russia.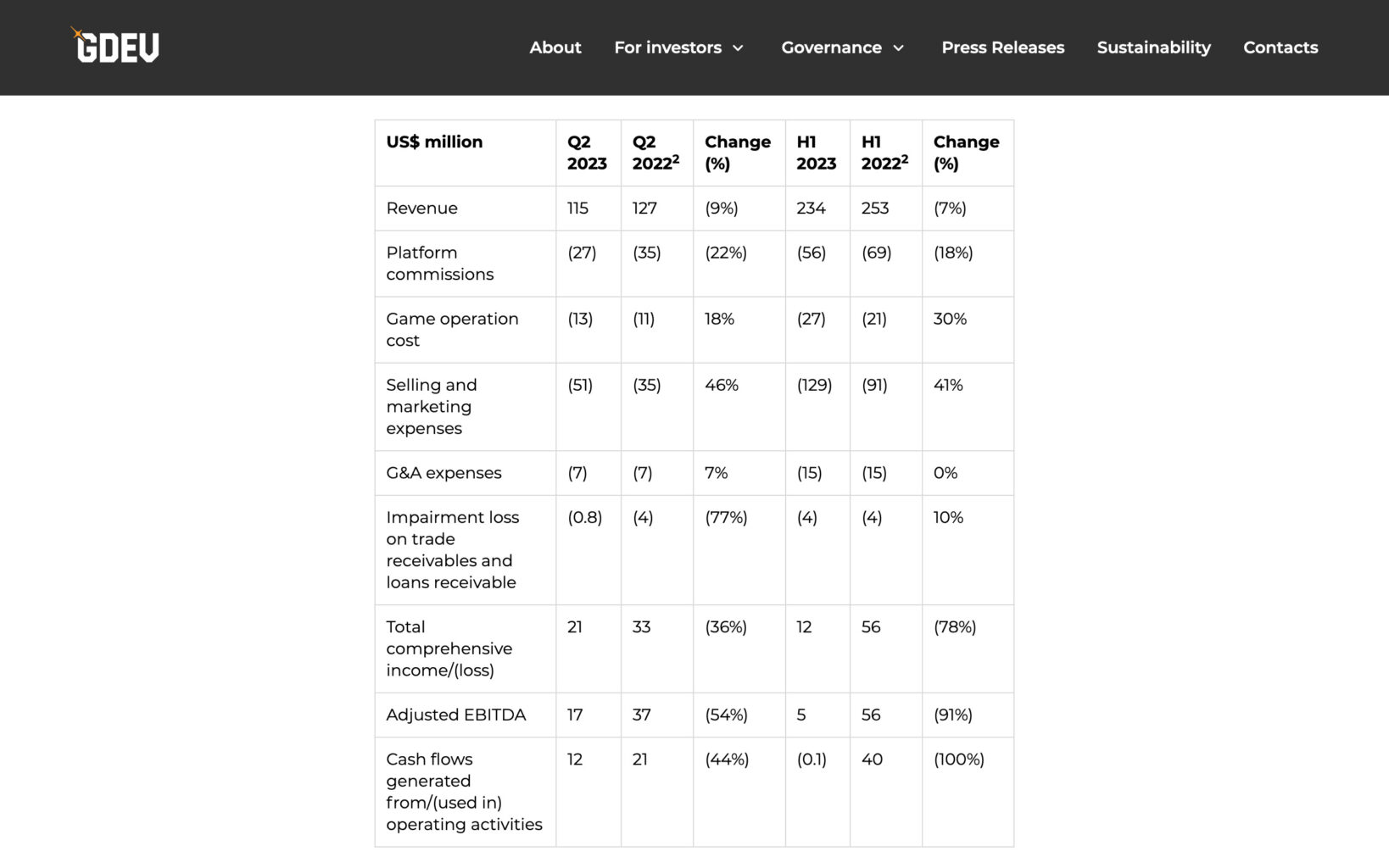 Official Community Manager FAQ
Titles are tailored to the content.
Spooky coins post Spooky Festival
Q. Hi Nexters. There is a rumour floating around on this wiki page that this time around Spooky Coins will not outlast the event. I suspect this page is simply wrong.
Just to squash this rumour can you please confirm that like past years any unspent Spooky Coins will go into our inventory after the event.
A. Coins will stay in the inventory. This article will be corrected.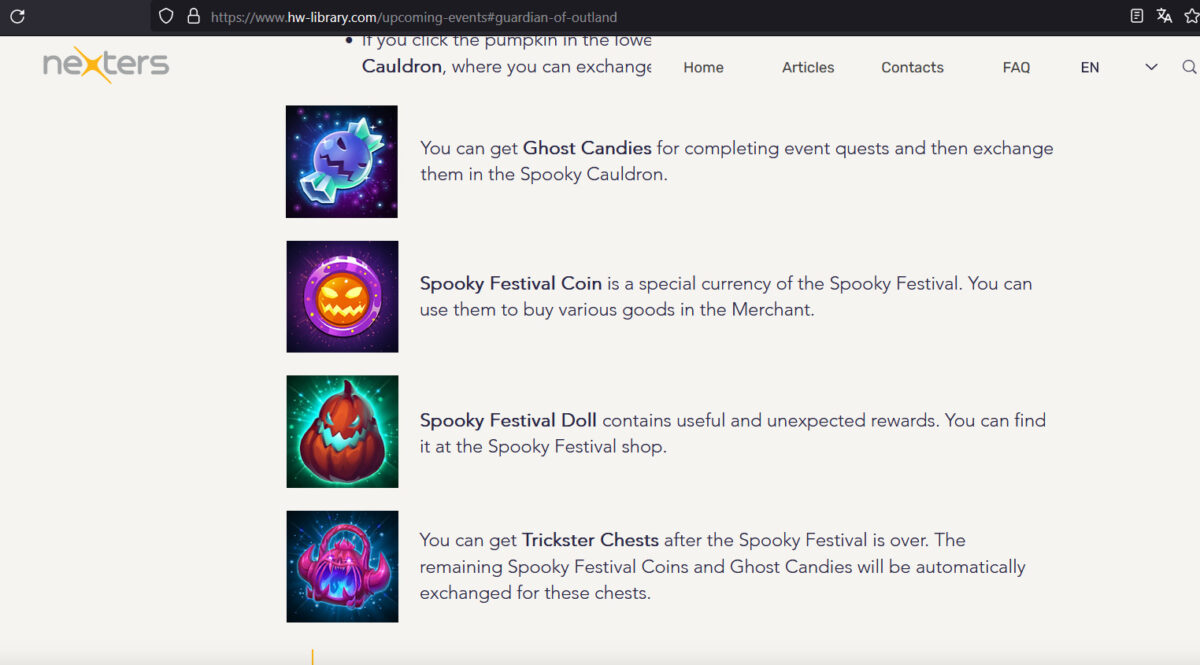 Inclusion of a loot box summary
Q. could we have a summary window of looting loot boxes? it would improve the quality of the game, and I suppose it is not hard to implement, as it is already in use in campaign raiding.
A. Agree. I've passed it to the devs. This window 100% deserves a redesign.
Lesser Absolute Spirit Summoning Sphere can not chooce elements
Q. Hey CM's. I just got a light totem from the Lesser Elemental Spirit. Normally I would be very happy, but this time I was a bit confused. I don't have a single Light titan, and this was my first totem. I've been told that your first and second totem guaranteed is the totem from your strongest titan element. This bothers me. Could you maybe take a look at this, check how it worked and maybe help? Because this is pretty disappointing for me.
A. I'll check it with the devs and return to you with the results.
Absolute Spirit Summoning Sphere
Automatic update for Valkyrie favorites
Q. So Nexters is now forcing us to check to the box to store our credit card information and automatically charge us for Valky's Favor. If we don't check the box then we can't make a payment to renew it. This is shady business practice. You should give customers the option to auto-renew or not like every other legitimate business.
A. Developers often received requests from players to make it more convenient to pay for a subscription. So that players wouldn't have to manually purchase it every week and wouldn't be afraid of losing their accumulated level. Now developers offer such a solution. Naturally, to enable auto-renewal, you will need to save your card information. You can opt out of auto-renewal at any time. Thanks for the feedback. I'll inform the developers about the "checkmark" option.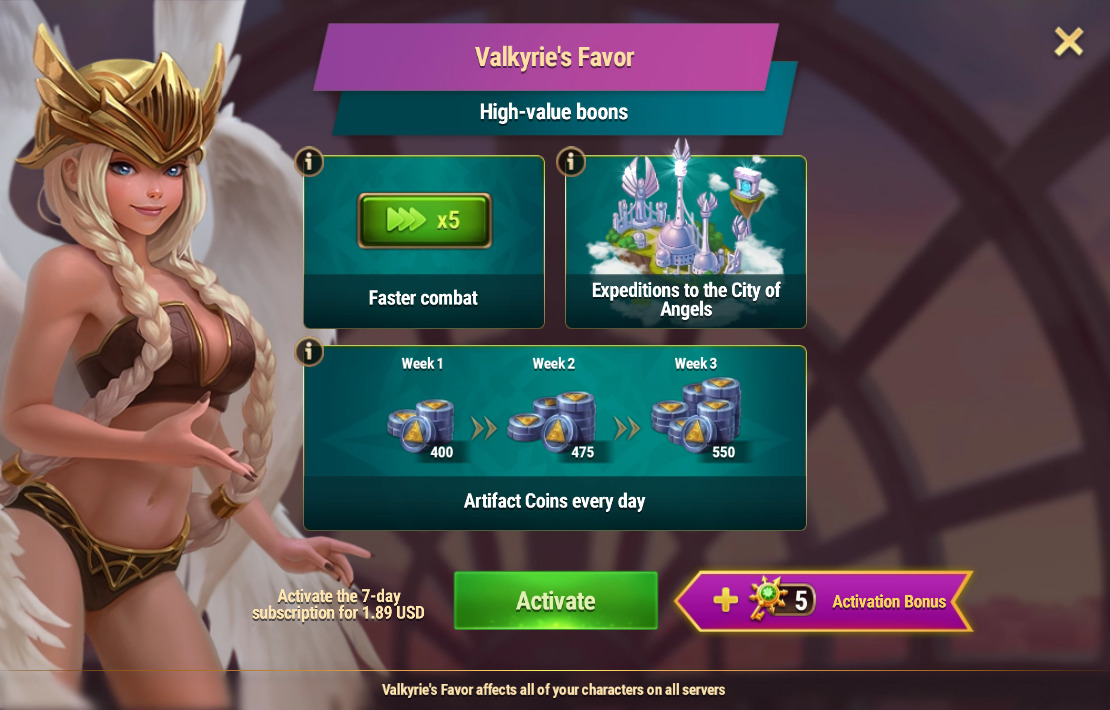 Designation of Lvl 100 artifacts as training opponents
Q. To Nexters: Is there a way to add a 3rd function in Combat Training stating "lvl 100 artifacts"? Right now the difference with a "Maxed team (full artifacts)" there is no clear way to test targets. Might as well go back to "Guild Battles" only.
A. Combat Training update is in the plans.
Combat Training
Separate member recruitment sections for both Facebook and web versions
Q. Can we have separate channels for fb and Web recruitment respectively? Easier for the players
A. Sounds fair. We'll consider it.
Related Article: Country Servers and Country guilds
Main Updates and Game trends
Addendum
Artifacts
New
Beat Sebastian: Effective Counter Strategies
Secret Wealth #3
Champions Season All Quests
Champions Season Rewords
Halloween Calender
Aurora and Galahad: From Dating to Married
Great Dungeon Go
The latest trends, Best heroes, Best teams
Important Game Updates for Players: How to Read
Tier List 2023 (on PvP)
Best Heroes 2023
Which DPS to Upgrade in 2023
Which Tank to Upgrade in 2023
Which Healer to Upgrade in 2023
Which Support to Upgrade in 2023
Which Control to Upgrade in 2023
Meta Teams
Best Teams
Guild DASHIMAKI-TAMAGO 2023.Week43
Guild War:Web31-Gold league, Place 1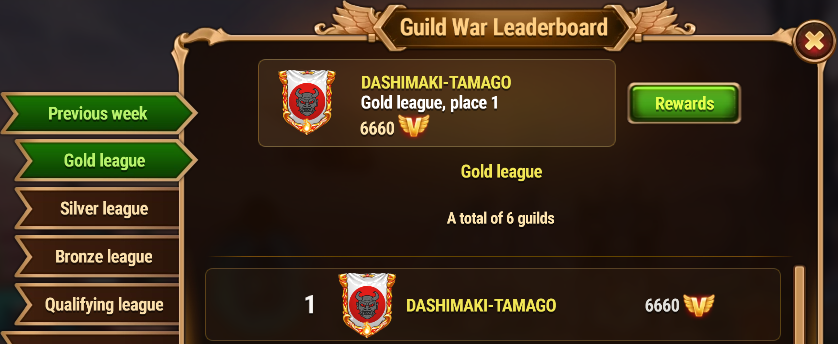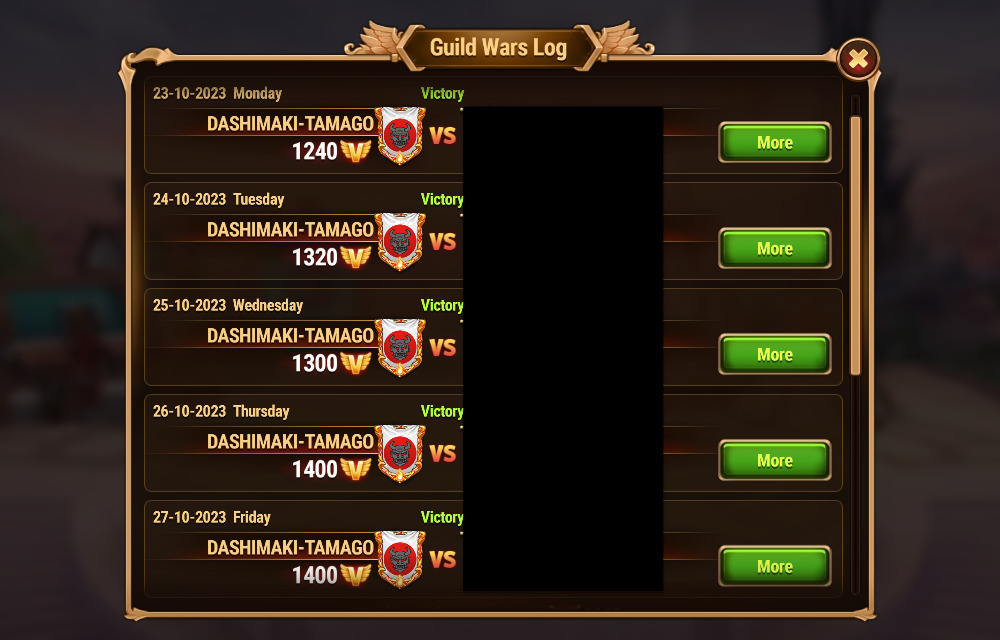 Guild Raid:Place 7

CoW: Season 5 Temporary Place 20